"I'm very happy to share that the Deep Blue Project in Nigeria was launched this month. OCIMF were very well represented at the launch by executives from some of our member companies located in Nigeria and attending on behalf of Industry. You can read the full article in this newsletter."
---
Managing Director's Log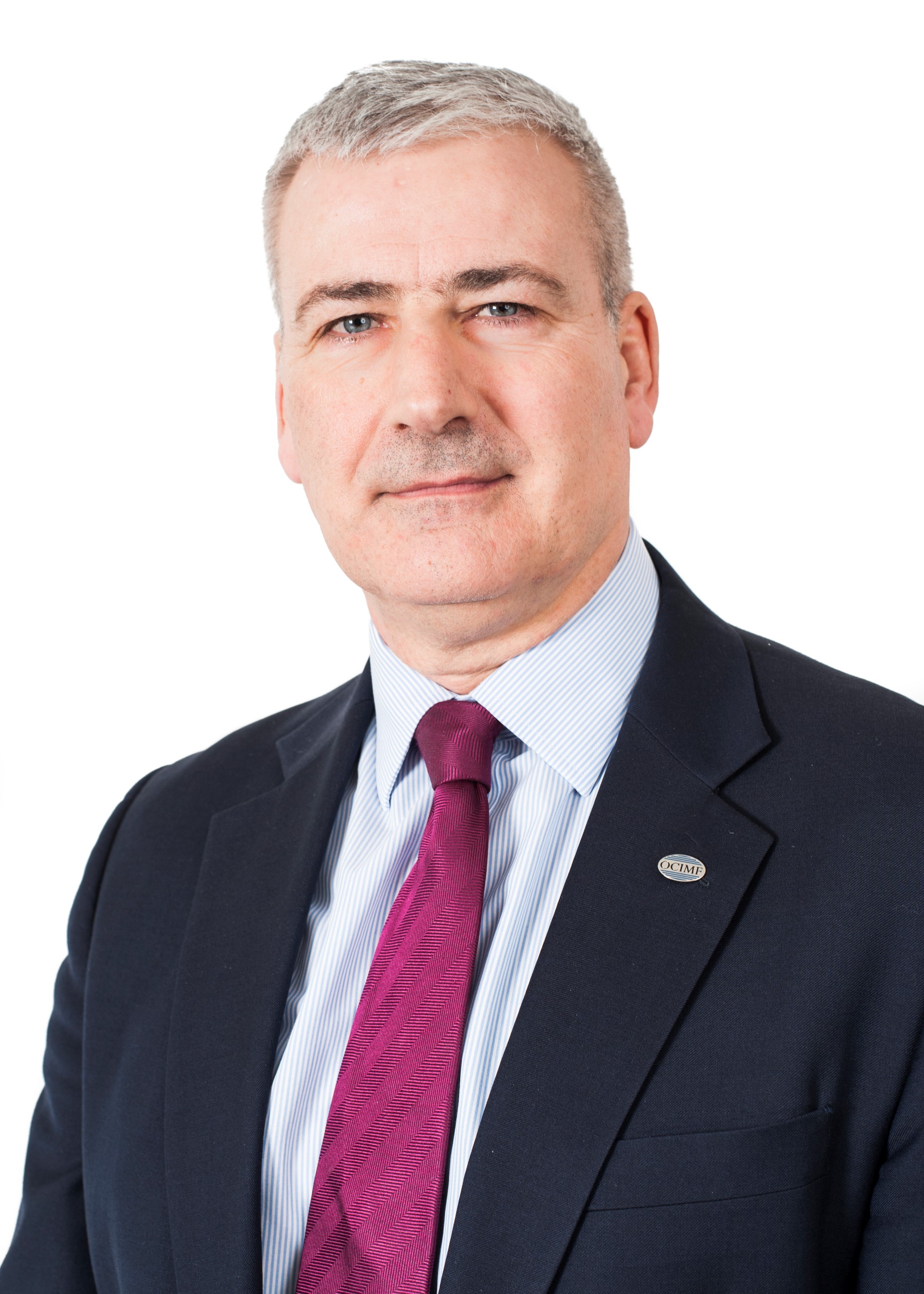 Hindsight is a great thing! It helps us identify learnings, highlights errors in our assumptions and shapes the way we deal with similar problems in the future.
I hardly imagined in June last year we would still be dealing with the effects of the Covid-19 pandemic in the middle of 2021. While we seem to be making progress, there is a long way to go before all individuals in the world are offered vaccinations and we witness anything like life before 2020. Knowing what we know now, I do not think anyone will be surprised if we are still impacted to some extent in the middle of 2022. However, the world keeps turning, tides continue to ebb and flow, flora and fauna go through their daily routines and so from a non-human perspective, the pandemic does not even register so much as a 'blip'.
Climate change, on the other hand, will impact everything unless we act. In comparison to the pandemic, climate change took much longer to be recognised or proven and accepted. Some may say that it isn't such an urgent issue as the pandemic and that we still have time to find solutions. Others may argue that if the pandemic hadn't happened, then we would have been able to put more focus on climate change to date. I know I'm comparing apples and oranges with these two very different issues, but it is interesting to note that in one case we are starting to see the tangible results of working together and focusing on an urgent problem. It is my hope (and belief) that the same can be done by working together and focusing on solutions to reduce greenhouse gas (GHG) emissions. I draw your attention to the article on IMO MEPC in this edition of the newsletter, where you will note some progress is being made on shipping's role in GHG emissions reduction, but there is still much more to do. There are many other initiatives underway, including GHG emissions reduction at berth (see article on DNV Technology Assessment) and associated shore power projects in various locations, wind assist technology, hull form design projects, propeller design and of course new fuels. While we might look back and say we could have done it better, we will not have the luxury to say we missed our opportunity to act!
I'm very happy to share that the Deep Blue Project in Nigeria was launched this month. OCIMF were very well represented at the launch by executives from some of our member companies located in Nigeria and attending on behalf of Industry. You can read the full article in this newsletter.
I also draw your attention to the article on the joint INTERTANKO/OCIMF Tanker Accident Database and encourage tanker operators who have not already registered to please join and start entering accident data. When we have more data, we will be able to identify trends which we can work on together to provide guidance in the pursuit of continuous safety improvement.
I wish you all a safe, happy and healthy July.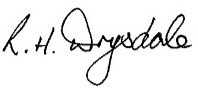 Rob Drysdale
Managing Director OCIMF
---
Do you have news that you'd like to share with our readers? If so email This email address is being protected from spambots. You need JavaScript enabled to view it. 
---
Maritime security – West Africa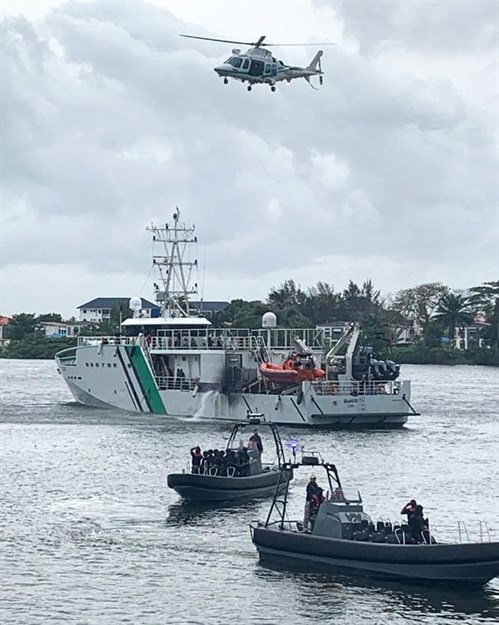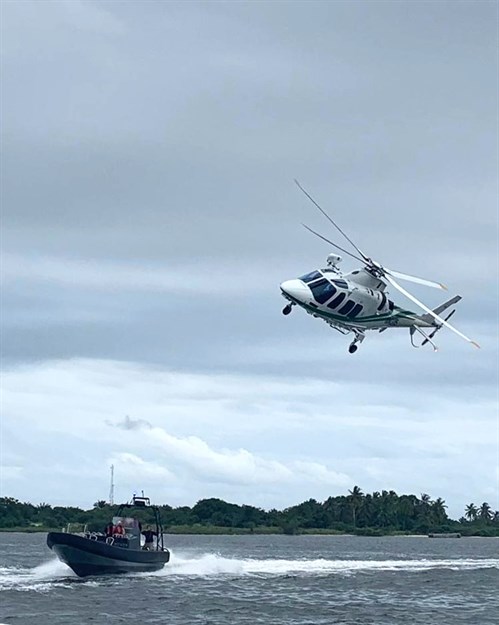 On 10 June, Nigeria announced the launch of its Deep Blue Project. This is a significant investment in military and law enforcement infrastructure to secure its maritime domain and address the ongoing piracy issue in the Gulf of Guinea.
Managed by the Nigerian Maritime Safety Agency (NIMASA), the multi-agency project will significantly increase maritime security in the region. A central command and control centre based in Lagos will oversee a network of integrated assets including two special mission vessels, two special mission long-range aircraft, 17 fast-response vessels capable of speeds of 50 knots, three helicopters and four airborne drones, providing 24/7 cover for the region. These complement the Yaoundé ICC structure offering real capability to both Nigeria and the region
An industry message was delivered at the Deep Blue launch by Osagie Okunbor, Managing Director of SPDC and Country Chair of Shell companies in Nigeria. Also at the launch were Cosmas Iwueze of Chevron and Oladatun Isiaka and Ide Owodiong-Idemeko of ExxonMobil.
OCIMF hopes Deep Blue assets, coordinated with the activities of other navies and programmes through the mechanism of the GOG-MCF/SHADE, will seriously impact on the ability of pirate groups to prey on merchant shipping.
A recording of the Deep Blue Launch can be found here.
Gulf of Guinea Maritime Collaboration Forum
Nigeria and the Inter Regional Coordination Centre (ICC) Yaoundé have announced their intent to hold the first meeting of the Gulf of Guinea Maritime Collaboration Forum (GOG-MCF/SHADE) on 14 July.
OCIMF fully supports this landmark event, which will focus specifically on counter-piracy and armed robbery. It will bring together regional, international, industry and NGO partners to advance and coordinate maritime activities working toward a set of common objectives in order to protect seafarers and ships operating off the coast of West and Central Africa. See Shade Gog 
---
OCIMF update following UK safety incident
The Health and Safety Executive issued a Safety Alert after a catastrophic failure of a Marine Loading Arm (MLA) at a UK terminal.
Lack of lubrication led to a failure of the pivot and subsequent collapse of the MLA. The Safety Alert includes several references such as SIGTTO/OCIMF Jetty Maintenance and Inspection Guide 2008 and OCIMF Design and Construction Specification for Marine Loading Arms 2019.
OCIMF is currently revising the Jetty Maintenance and Inspection Guide and will take into account immediate findings for inclusion into the revision of current guidance for MLAs.
Members should follow current guidance on the inspection and maintenance work for MLAs recommended by manufacturer and industry organisations. Taking on board key learnings from the incident OCIMF also provides the following additional guidance:
Understand and identify all the key components of the arm, including inaccessible parts and subjected parts at risk of hidden corrosion.
Ensure key components of the arm are properly maintained and assessed during inspections.
All components that need to rotate should be properly lubricated, as the MLA is designed to freewheel with the vessel.
Always consult with the OEM and other industry standards such as the OCIMF/SIGTTO Jetty Maintenance Inspection Guide when developing an equipment strategy for the MLA and other jetty equipment.
Ensure personnel remain clear. Personnel should not stand beneath the MLA when manoeuvring the equipment or when it is connected to the vessel.
For enquiries contact Ricardo Martinez, OCIMF Engineering Adviser This email address is being protected from spambots. You need JavaScript enabled to view it. 
---
Tanker Accident Database update
OCIMF and INTERTANKO's Tanker Accident Database provides an anonymous reporting tool for use by vessel owners and technical managers to document measurable accident data.
Data can only be submitted by vessel operators holding a Document of Compliance. Accident data is collected, anonymised and used solely for statistical analysis, trending and benchmarking.
To protect the anonymity of participating companies the Tanker Accident Database uses a dual-system framework. These independent systems run over standalone networks and data entered by a participating company in one system will be stripped of all identifiable attributes before being transferred to the other system to ensure the total anonymity of each accident recorded. To further strengthen data protection and participant anonymity, OCIMF and INTERTANKO have no interaction with the running of the Tanker Accident Database and no access to the data collection area. The Tanker Accident Database is operated by MIS Marine, an independent third party, on behalf of OCIMF and INTERTANKO.
Companies supplying the accident details benefit from being able to benchmark against the rest of the tanker industry. The benefit to industry is the identification of accident trends and insights. This will help INTERTANKO and OCIMF identify areas of improvement and enable development of best practices and guidance.
Despite being launched during a global pandemic many companies have already registered and begun submitting data. The more companies that join them the better the data pool becomes. To learn more about the database and register, please visit the Tanker Accident Database.
For enquiries, contact Ricardo Martinez, OCIMF Engineering Adviser This email address is being protected from spambots. You need JavaScript enabled to view it. 
---
The SIRE/EBIS transition – six months on
The European Barge Inspection Scheme (EBIS) was transitioned into OCIMF's Ship Inspection Report (SIRE) programme on 1 January 2021 to create a single barge inspection scheme within Europe.
The OCIMF-EBIS Transition Taskforce, and more recently the BIQ5-EBIS9 Inspection Working Group, have been working closely with EBIS members, SIRE Programme Participants and Submitting Companies as well as inspectors to manage the change and ensure a smooth transition. To date, approximately half of EBIS members have been approved by OCIMF to commission BIQ-EBIS9 inspections within the SIRE programme and are also able to appoint an accredited inspector, with more EBIS members being invited to go through the application process.
To provide a forum for discussion and encourage greater participation in the SIRE programme, on 30 June 2021 – six months since the transition date – OCIMF hosted a webinar for all EBIS members. The speakers provided an overview of the key developments through 2021, including the introduction of new criteria for EBIS members to become SIRE Submitting Companies. Practical guidance for becoming an OCIMF Submitting Company was provided to attendees, along with an overview of key procedures and policies within the SIRE.
The webinar speakers Sam Megwa, Programmes Director, Marc De Backer, Barge Advisor, Patrick McGroggan, Quality Assurance Manager, and Ajay Gour, Inspection Training and Accreditation Manager, were joined by Bob Brook, Chairman of EBIS, for an open Q&A session. The panel answered questions from the audience, providing clarifications to queries, most of which related to the inspection request and booking process for BIQ5-EBIS9 inspections and becoming an OCIMF Submitting Company.
The event was attended by more than 50 representatives from 26 EBIS member companies. If any OCIMF or EBIS members would like to view a recording of the event, or if there are any questions about the SIRE/EBIS transition, please contact Marc de Backer This email address is being protected from spambots. You need JavaScript enabled to view it. or Ajay Gour This email address is being protected from spambots. You need JavaScript enabled to view it. 
---
OCIMF joins new BSI Working Group
OCIMF membership regularly engages with the British Standards Institute (BSI) and actively participates on key maritime works standards under revision via the CB/502 – Maritime works committee.
The committee is responsible for the standards allocated by CB/50 in the area of maritime works and monitors European and international activity in equivalent work areas, particularly Eurocodes and optimisation of UK influence. It oversees the BS 6349 series of standards that provides guidance on the planning, design, construction and maintenance of maritime structures.
OCIMF has joined the working group revising BS 6349-1-1:2013 Maritime works – Part 1-1: General – Code of practice for planning and design for operations. This part of BS 6349 gives recommendations and guidance on general criteria relevant to the planning, design, construction and maintenance of structures and facilities set in the maritime environment. It also gives recommendations and guidance in respect of environmental and operational matters that need to be considered in planning and design of maritime works. The working group kick-off meeting was held on 15 June.
OCIMF continues support on the working group revising BS 6349-4:2014 Maritime works – Code of practice for design of fendering and mooring systems. This part of BS 6349 gives recommendations and guidance on the design of fendering systems and layouts, mooring devices and mooring system layouts, principally for commercial vessels with a minimum displacement of 1,000 t.
OCIMF Structures Expert Group members regularly participate in BSI to provide operational, inspection and maintenance expertise, especially when external guidance could potentially impact the oil and gas sector, members' operations and OCIMF guidance.
For enquiries contact Ricardo Martinez, OCIMF Engineering Adviser This email address is being protected from spambots. You need JavaScript enabled to view it. 
---
DNV technology assessment study continues
DNV, an independent expert in maritime risk management and quality assurance, held initial risk-assessment workshops on 7 and 8 June and a second technical workshop on 22 June to engage industry stakeholders in the ongoing work of their technology assessment study.
DNV is conducting a technology assessment of the emissions control strategies considered in the 2020 amendments to California Air Resources Board's (CARB) Ocean-Going Vessels at Berth Regulation. The technology assessment includes engagement with stakeholders and subject matter experts though development of a report and several workshops following their technology qualification process.
The initial risk assessment workshops on shore power technology were attended by over 40 stakeholders representing ports, terminals operators, shipping companies, equipment vendors, trade organisations, Classification Societies and several other key industry stakeholders. Threat assessment was conducted using risk assessment tools including failure mode, effect and criticality analysis (FMECA) and hazard and operability study (HAZOP). Future risk assessment workshops will address the emission capture and control technology.
OCIMF was represented by the Engineering Adviser and several OCIMF member company subject matter experts attended from the region, bringing in their valuable experience, expertise and knowledge on operations at their terminals. All stakeholders provided excellent input on engineering, operational and safety aspects of the proposed technologies, with a focus on ensuring safe operations at the ship-shore interface.
OCIMF maintains a watching brief on activities related to shore power at the global level and there are various local, national or regional efforts on this topic that may be of interest to members.
Additional details related to the California Air Resources Board At-berth Regulation available here.
For enquiries, contact Ricardo Martinez, OCIMF Engineering Adviser This email address is being protected from spambots. You need JavaScript enabled to view it. 
---
Executive Committee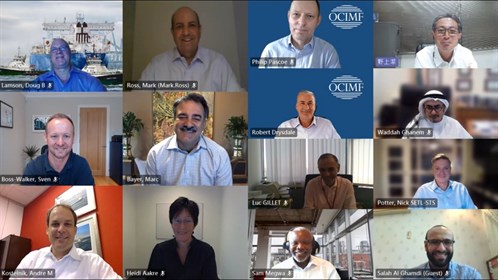 The 87th meeting of the Executive Committee (ExCom) was held virtually on 9–10 June. This was the third consecutive virtual meeting for ExCom and was held over two days to facilitate all time zones. The Chair welcomed all members, including new representative Andre Kostelnik (IMT), and highlighted the ongoing challenges of the pandemic. However, OCIMF had continued to produce excellent output during this extended period thanks to the dedication and hard work of the Secretariat staff and member representatives on committees and expert groups. Topics covered at this meeting included:
Strategy implementation update.
In-depth discussion on OCIMF's draft Environment Plan.
Secondee resourcing.
Update on SIRE 2.0 progress.
2021 financial projection versus approved budget.
Principal and Functional Committee updates.
The next meeting is scheduled for 1 December 2021 in London, but there is a back-up plan for a virtual meeting if required.
---
7-Chairs
The Chairs and secretaries of the seven committees met twice in June, first on 1 June to discuss topics where guidance was being sought by ExCom and second on 21 June to discuss output from the ExCom meeting. Also included in each agenda is the opportunity for each Chair to summarise current activities and decisions made at their respective committees to ensure everyone is updated and aligned and can feed information from others back into their own committees.
It was agreed to share summary updates from each committee on a more frequent basis via the 7-Chairs Teams site rather than wait for the next scheduled meeting.
The next meeting is scheduled for 23 November (pre-ExCom 88) followed by the post ExCom meeting on 14 December.
---
Maritime Security Committee
The MSC held an intersessional meeting on 9 June. The agenda focused on three specific areas:
Development of OCIMF's Risk Advisory Function.
Completing new guidance for the Employment of PMSCs.
Reviewing the Indian Ocean High Risk Area.
This meeting was also the last for Captain Shaikh Rahim (IMT); Rahim has served in the Secretariat and has been a long serving member of the Security Committee as Chair, Vice Chair, and member. We wish Rahim and his family many best wishes for the future.
If any member would like to nominate a representative to the MSC, please contact the Security Adviser, Russell Pegg This email address is being protected from spambots. You need JavaScript enabled to view it.
---
Programmes Committee
Chair: Ed Barsingerhorn (Shell)
Vice Chair: Dave Ingels (P66)
Vice Chair: Javed Bhombal (IMT)
Secretary: Sam Megwa (OCIMF Programmes Director)
The Programmes Committee held its quarterly meeting on 15 June. The meeting was conducted virtually. The committee discussed and, where necessary, made decisions on the Vessel Inspection Programme (VIP) project that will deliver SIRE 2.0, new criteria for becoming a Programme Submitting Company, review of work experience requirements for applicant inspectors, launching of the revised Programmes policies, procedures and user guidance, and launching of the Programmes Participants Code of Conduct.
---
IMO updates
45th meeting of the Facilitation Committee
The meeting, held online on 1–7 June, focused on the ship-shore digital information exchange. It also reviewed the Facilitation Convention, including stowaways, access to medical facilities by seafarers during a pandemic.
76th meeting of the Marine Environment Protection Committee
The meeting was held on 10–17 June and focused on reducing greenhouse gas emissions from ships. The meeting adopted amendments to the MARPOL Conventions and supporting guidelines for the short term measures, i.e. Energy Efficiency Existing Ship Index (EEXI) and Carbon Intensity Indicator (CII) rating for implementation from 1 January 2023. The future work plan was discussed, along with other technical guidelines, such as the guidelines for determining minimum propulsion power to maintain the manoeuvrability of ships in adverse conditions. Due to a lack of time, the meeting could not conclude the greenhouse gas reduction research fund, market-based measures, black carbon and lifecycle emission assessment of marine fuels. The new work programme on underwater noise was approved, and amendments to the MARPOL on the prohibition of the use and carriage (excluding carriage as cargo) of Heavy Fuel Oil (HFO) in Arctic waters were adopted.
125th meeting of the IMO Council
The meeting was held from 28 June–2 July. In addition to strategy, planning, budget and administrative issues, the Council address its reform, i.e. expansion of the Council membership and the term, live streaming of IMO meetings. The meeting approved two sessions (15–17 September and 18–22 October) of the Intersessional Working Group on Reduction of GHG Emissions from Ship (ISWG-GHG). The meeting also agreed to reschedule the 77th meeting of the Marine Environment Protection Committee (MEPC 77) from 8–12 November to 22–26 November to avoid conflict with the UN Climate Change Conference (COP 26).
Upcoming meetings
Extraordinary session of the IOPC Funds
The meeting will be held on 22–23 July to discuss the election procedure of the Director of the Funds Secretariat. The meeting will also review incident reports of the oil pollution incidents that require compensation.
7th meeting of the Sub-Committee on Implementation of IMO Instruments
The meeting will be held on 12–16 July. OCIMF submitted two papers on static towing incidents in relation to the work on the casualty investigation. OCIMF also informed the IMO about its safety bulletin on MT SANCHI and MV CF CRYSTAL collision. The meeting will also discuss other incident reports, Port State Control, IMO's survey checklist and PSC related COVID-19 matters.
108th meeting of the Legal Committee
The meeting will be held from 26–30 July, and will address the fair treatment of seafarers, including COVID-19 related aspects, such as a ban on the "no crew change" clause in a charter party. The meeting will also review liability limitation, fraudulent certificates, piracy and legal issues associated with Maritime Autonomous Surface Ships (MASS).
For more information, visit the IMO section on the member-only area of the OCIMF website.