"We rolled out our new-look website, which I hope you like. I believe it is much more intuitive than the old version and should be easy for you to navigate."
---
Managing Director's Log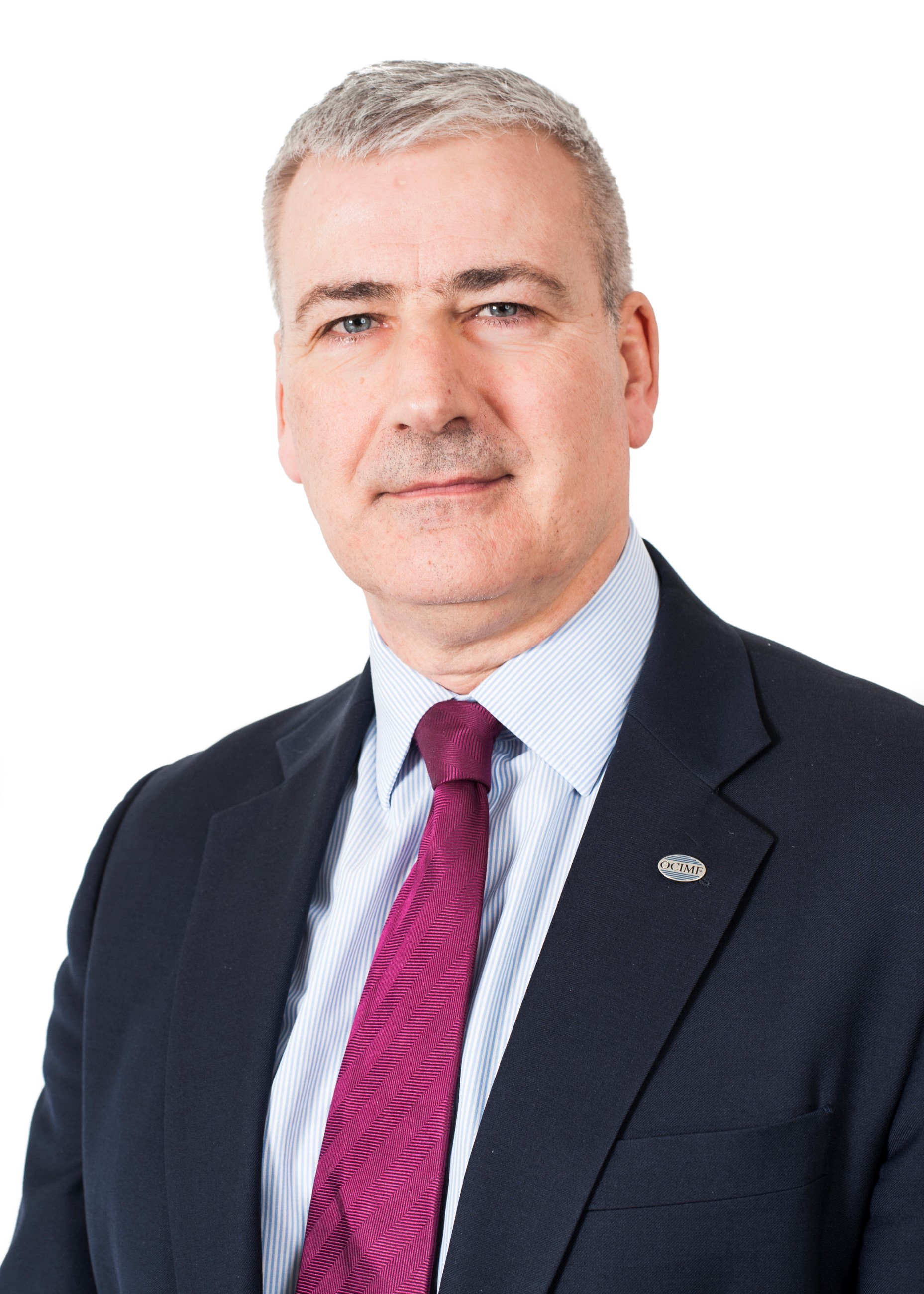 I managed to get some vacation time in July and visited relatives in the UK.
In normal years, I wouldn't have shared that information as it's not considered newsworthy, but it felt so alien being away from my home for more than a week since the start of the pandemic. Enjoying time with extended family after such a long period certainly had a beneficial effect on my wellbeing, and I have returned to work feeling refreshed and ready to take on whatever challenges come my way.

We have had a busy month at OCIMF, as you can see from the articles in this newsletter. We rolled out our new-look website, which I hope you like. I believe it is much more intuitive than the old version and should be easy for you to navigate. We have also included different languages to address feedback from our members. Please do let us know if you have any comments (good or bad) or any suggestions for improving the website further. We also kicked off the online SIRE 2.0 training for existing SIRE inspectors, which has attracted many positive comments. We will continue to try to improve the content and delivery as we progress. Please also note our 2021 Annual Report has been published during July.

I draw your attention to the GoG-MCF/SHADE article on Gulf of Guinea security, reporting on the inaugural meeting. This is a huge landmark in the journey to addressing maritime piracy, kidnap and ransom in the region. There is still a lot to do, but with the collaboration of all stakeholders I am confident of success. Recently things have been quite quiet in the Middle East, but you will be aware of the terrorist attacks on two tankers over the past few days – Mercer Street in the Arabian Sea and Alberta in the Red Sea – resulting in the deaths of two seafarers on Mercer Street. Condemnation from various countries has followed and there is a real risk of further escalation in the region. I sincerely hope that the situation is not allowed to get out of control.

Until next month's newsletter, stay safe, happy and healthy.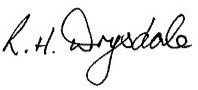 Rob Drysdale
Managing Director OCIMF
---
Do you have news that you'd like to share with our readers? If so email This email address is being protected from spambots. You need JavaScript enabled to view it.

---
SIRE 2.0 inspector training begins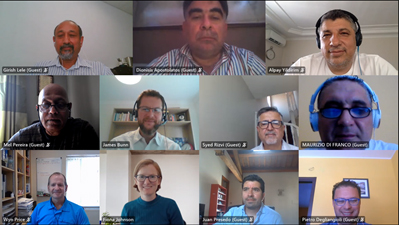 SIRE inspectors in a Human Factors training session with specialist HF facilitators
OCIMF's SIRE 2.0 training programme for SIRE CAT 1 accredited inspectors began with the first course successfully conducted from 19–23 July.
Each course consists of a segment on human factors and non-technical skills, delivered by industry experts, and has segments on technical skills as well as a focus on Ethics and Code of Conduct. Online courses are being held weekly in different time zones to facilitate the transition of existing SIRE inspectors to the SIRE 2.0 programme, which will commence on 1 April 2022. Initial feedback from candidates has been very positive. Some of the feedback has been reproduced here:
"Very informative material, fit for purpose, and excellent presentations."
"Lecturing was done perfectly, all participated. Clear explanation and questions answered during the sessions."
"Absolutely positive intercommunication, all participants had chance to speak and ask questions. Nice chance to get inspectors' opinions and ask presenters the details."
"Taken into account that this was for most of us the first experience with such a detailed online course, the platform's performance was above expectations."
For further information contact Ajay Gour This email address is being protected from spambots. You need JavaScript enabled to view it. 
---
Inaugural meeting of GoG-MCF/SHADE
The inaugural meeting of the Gulf of Guinea Maritime Collaboration Forum/Shared Awareness and De-confliction (GoG-MCF/SHADE), hosted by the Gulf of Guinea Maritime Institute, was held virtually on 14 July 2021.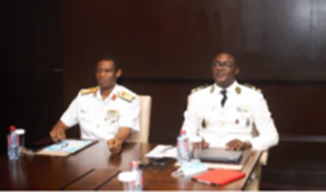 The Yaoundé Interregional Coordination Centre in partnership with NIMASA and Nigeria Navy chaired this historic first meeting. Rear-Admiral Solomon Agada (Nigeria Navy) and Captain Emmanuel Bell Bell (ICC-Yaoundé), pictured, shared their vision and strategy to the regional, international and industry audience attending. The IMO Secretary General, the Director General of NIMASA, the ICC Executive Director and the Nigeria Chief of Navy provided unifying supporting statements.
The shipping industry was represented by the Director General of the International Chamber of Shipping who highlighted that "Regional coastal states are on the right track, ramping up their law enforcement, judicial processes, and military capabilities to establish maritime security in their waters, and among these, Nigeria's Deep Blue project is notable. It is by far the most ambitious and promising project in the region right now and has the potential, over time, to be a game changer to the fight against piracy."
The next SHADE-GOG plenary meeting will be held on 14 September with the working groups meeting intersessionally. For further information visit shadegog.com 
---
New website launched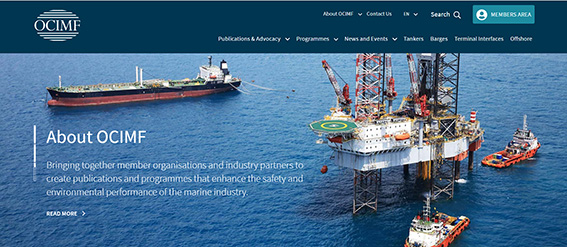 We are delighted to share our new OCIMF website. We hope that you like the new design and navigation as much as we do. The content is now available in nine languages, increasing access for our members and industry users around the world.
Members' area
All OCIMF members must register to be able to access the members only area. Please click here to register: Members Registration. You must provide your OCIMF member email address (note – the site will only accept registrations from email addresses with an OCIMF member domain). If you are unable to self-register, please get in touch using the form on the contact us page. The members area will give you access to:
AFMs
IMO news
Sharepoint (if you have access)
---
Potential joint industry project on mooring equivalency
Research institute MARIN is starting a joint industry project to study the performance of conventional mooring systems as a basis of comparison for alternative mooring systems and has invited OCIMF members to express interest in joining this project.
OCIMF supports the application of new technology when its safety and reliability can be demonstrated. The Mooring Equipment Guidelines (MEG4) provides guidance on the application of alternative and emerging technologies. One of the recommendations is that "equivalency" should be demonstrated through detailed data analysis of engineering or design studies. However, some operators and new technology providers have suggested that additional guidance is needed. OCIMF's Marine Structures and Civil Engineering members reviewed the issue and concluded that additional guidance was needed, but that this should be created by a third party. A number of organisations were asked to bid and following the review Marin have been asked to lead a joint industry project to study the performance of conventional mooring system as a basis of comparison for alternative mooring systems. OCIMF members and other interested parties are invited to register their interest in joining this project.
For more information, including indicative timeframe and costs, see Joint Industry Project leaflet or contact Ricardo Martinez, OCIMF Engineering Adviser This email address is being protected from spambots. You need JavaScript enabled to view it. 
---
ISO updates for marine transfer arms
OCIMF publications build upon a solid foundation of industry regulations, rules and standards including those developed by the International Organization for Standardization (ISO).
Some relevant ISO Standards for Marine Transfer Arms have been recently updated and are under development that may be of interest to members:
ISO 16904:2016 Petroleum and natural gas industries — Design and testing of LNG marine transfer arms for conventional onshore terminals
This international standard is in place specifically for LNG MLAs and this standard should be the primary reference for the design and testing of LNG MLAs. OCIMF's Design and Construction Specification for Marine Loading Arms also provides guidance for LNG MLAs to supplement this ISO standard. ISO employs a Systematic Review process to ensure that their standards remain up-to-date and relevant. This standard was last reviewed and confirmed as current this year, so remains valid for another five years. For additional information see ISO website.
ISO/CD 24132 Ships and marine technology — Design and testing of marine transfer arms for liquefied hydrogen
This international standard is meant to specifically address LH2 MLAs and should be the primary reference for the design and testing of LH2 MLAs. It shall be based on the standard for LNG MLAs, taking into account that the temperature of LH2 is -253 degrees C. The ISO working group have approached OCIMF seeking permission to reference material from a recent revision to OCIMF's Design and Construction Specification for Marine Loading Arms. This standard is currently under development with release expected by 2022. For additional information see ISO website.
OCIMF Structures Expert Group (SEG) members maintain a watching brief on standards that could potentially impact the oil and gas sector, members' operations and OCIMF guidance. For enquiries, contact Ricardo Martinez, OCIMF Engineering Adviser This email address is being protected from spambots. You need JavaScript enabled to view it.
---
OCIMF Annual Report 2021 out now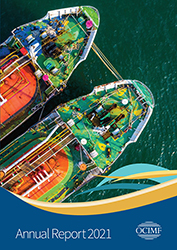 The 2021 OCIMF Annual Report, covering activities throughout 2020, is now available to download from the website at OCIMF. 
Please contact This email address is being protected from spambots. You need JavaScript enabled to view it. with any questions.
---
DNV technology assessment study near completion
DNV held additional risk-assessment workshops on 9 and 13 July to address tanker emission capture and control technology and the project team continues toward completion of the final report.
DNV, an independent expert in maritime risk management and quality assurance, is conducting a technology assessment of the emissions control strategies considered in the 2020 amendments to California Air Resources Board's (CARB) Ocean-Going Vessels at Berth Regulation.
Tanker emission capture and control technology was decomposed in an initial technical workshop held last month and addressed in this month's two risk assessment workshops. The workshops were attended by the project team's group of stakeholders representing ports, terminals operators, shipping companies, equipment vendors, trade organisations, Classification Societies and several other key industry stakeholders. Several OCIMF member company subject matter experts have continued providing their longstanding experience, expertise and knowledge from the region. OCIMF was represented by the Engineering Adviser. OCIMF provided input on engineering, operational and safety aspects of this technology, with a focus on ensuring safe operations at the ship-shore interface.
OCIMF maintains a watching brief on activities related to shore power at the global level and there are various local, national or regional efforts on this topic that may be of interest to members.
Additional details related to the California Air Resources Board At-berth Regulation available on the Ocean-Going Vessels At Berth Regulation website.
For enquiries, contact Ricardo Martinez, OCIMF Engineering Adviser This email address is being protected from spambots. You need JavaScript enabled to view it. 
---
IACS/Industry Technical Meeting
Managing Director Rob Drysdale, Publications & Advocacy Director Saurabh Sachdeva and Engineering Adviser Ricardo Martinez represented OCIMF at the Industry Technical Meeting held virtually on 19–21 July.
Tripartite brings together industry associations representing shipowners, shipyards and Classification Societies to discuss the design, construction and operation of new and future ships. These discussions lead to cooperative work in the form of Joint Industry Working Groups (JIWGs) focused on providing real outputs.
This meeting serves as an update on progress made by Working Groups in advance of the Annual Tripartite event in the autumn. High level agenda items included decarbonisation, human-centred design, design safety and digitalisation. Latest developments included updates on fire risks due to leakage from low pressure fuel pipes and on the JIWG on Anchoring Equipment. Potential new JIWGs included one on MASS and Complex Systems and one on the Modernisation of SOLAS.
OCIMF presented an update on an IMO submission to MSC 104 for a proposal for a new output to amend the Casualty Investigation Code to mandate a root cause investigation. This paper is a result of OCIMF's review and analysis of the Sanchi-CF Crystal incident investigation report and previous safety bulletins released to industry. The paper highlights lack of evidence related to human factors identified during incident investigation. It complements an effort by Intercargo on Improvement of Flag State Accident Reporting. There was strong, broad industry support for this effort, with several Tripartite members offering support during the upcoming session.
The next Tripartite forum will be held virtually later this year.
For enquiries contact Saurabh Sachdeva, OCIMF Publications & Advocacy Director This email address is being protected from spambots. You need JavaScript enabled to view it. or Ricardo Martinez, OCIMF Engineering Adviser This email address is being protected from spambots. You need JavaScript enabled to view it.
---
Environmental Functional Committee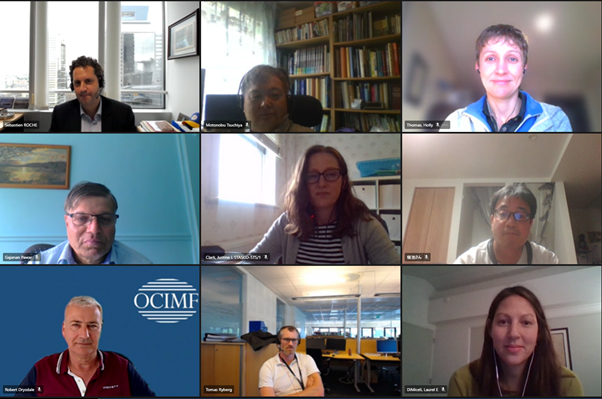 Intersessional meeting 02A, 1 July 2021 (virtual)
Chair: Sebastien Roche (Total)
Vice Chair: Holly Thomas (Woodside)
The agenda focused on three areas:
Review of ExCom feedback and finalisation of committee environmental plan.
Review of progress on emerging risks and opportunities bow ties and proposed communities of practice format.
Recent IMO meeting briefs (PPR8, ISWG-GHG8, MEPC76) focussed on greenhouse gases.
This meeting was also the last for several key members and the group welcomed three new members, so the membership remains strong. We thank the outgoing members for their support over the past years and we look forward to the strong support of the incoming members.
If any member would like to nominate a representative to the EC, please contact the Engineering Adviser, Ricardo Martinez This email address is being protected from spambots. You need JavaScript enabled to view it. 
Next meeting: 1 September 2021 (virtual)
---
Human Factors Functional Committee
Intersessional meeting, 23 June 2021
Lead: Terry Luke (Chevron)
Co-Lead(s): Victoria Norris (BP) and Laurent Routisseau (Total Energies)
Secretary: Sanchay Srivastava (Nautical Adviser)
Agenda items included:
An information paper on human factors element for Management Self-Assessment programme is currently under publication review and due to be published in September 2021.
Active contribution provided into SIRE 2.0 project that includes development of human factors training, human response tool and review of human factors related questions.
Volunteers stepped forward to participate in a joint OCIMF-Intertanko working group to progress an information paper on incident investigations.
Discussion on potential future projects and a few things under consideration, including developing positions on culture within organisations. The committee is collaborating with the likes of the World Maritime University, Sweden and the Maritime Coastguard Agency, UK to take this discussion forward.
For enquiries, contact Sanchay Srivastava, OCIMF Nautical Adviser This email address is being protected from spambots. You need JavaScript enabled to view it..
Next meeting: 8 September 2021 (virtual)
---
Expert Group meetings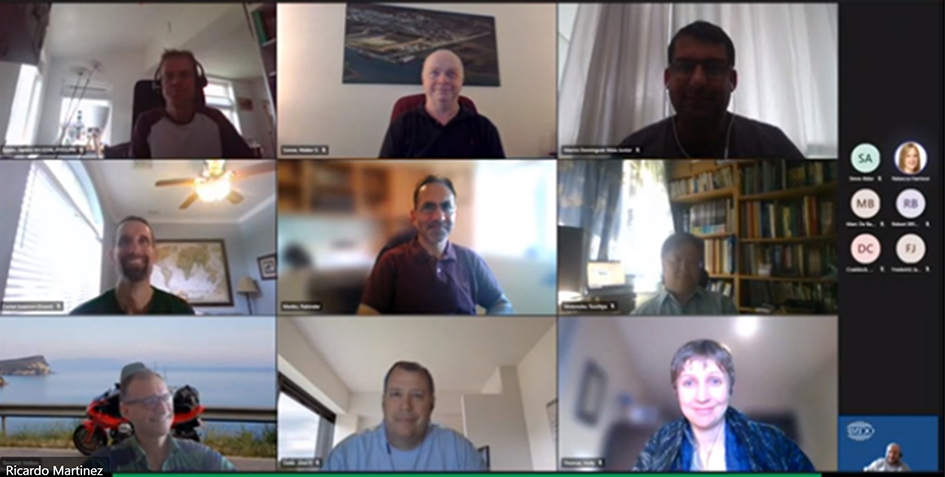 The Structures Expert Group met virtually
Structures Expert Group
3rd meeting, 20 July 2021 (virtual)
Lead: Rabinder Manku (BP)
Next meeting: 20 October 2021 (virtual)
Engineering Expert Group
3rd meeting, 27 July 2021 (virtual)
Lead: Gajendra Verma (Chevron)
Next meeting: 26 October 2021 (virtual)
The agendas for the Structures Expert Group and the Engineering Expert Group focussed on three areas:
Secretariat updates including planning of annual ToR review, release of the bow tie server and roll-out of the Communities of Practice platform.
Discussion of environmental collaboration opportunities arising from OCIMF environmental plan as well as bow tie gaps and opportunities work.
Review of external activities and expert group work overview.
If any member would like to nominate a representative to the SEG or the EEG, please contact the Engineering Adviser, Ricardo Martinez This email address is being protected from spambots. You need JavaScript enabled to view it.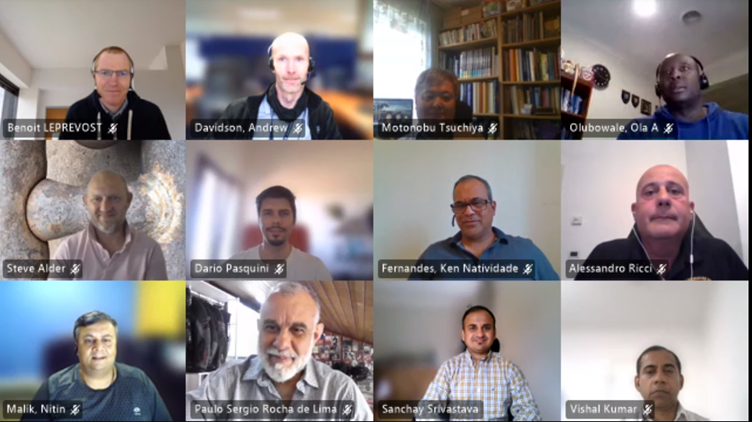 Nautical Expert Group
3rd meeting, 6 July 2021
Lead: Nitin Malik (Chevron)
Co-Lead(s): Ken Fernandes (Cepsa) and Ola Olubowale (Viva Energy)
Secretary: Sanchay Srivastava (Nautical Adviser)
Agenda items included:
Nautical expert group has now delivered all previous outstanding work that was brought forward into the new OCIMF structure, including publications and advocacy related actions.
Information Paper on Guidelines for transiting the Turkish Straits was published in March 2021.
MSC 104-15-15: Submitted a proposal for new output to amend SOLAS regulation V20 for upgrading VDR on existing ships.
MSC 104-15-16: Submitted a proposal for new output to amend the Casualty Investigation Code to mandate a root cause.
A joint industry video is being developed to further promote Mooring Safety: "The Missing Link" in coordination with Port of Rotterdam, IACS, NI, Harbour Masters' Association, due to be released in December 2021.
For enquiries, contact Sanchay Srivastava, OCIMF Nautical Adviser This email address is being protected from spambots. You need JavaScript enabled to view it..
Next meeting: 18 October 2021 (virtual)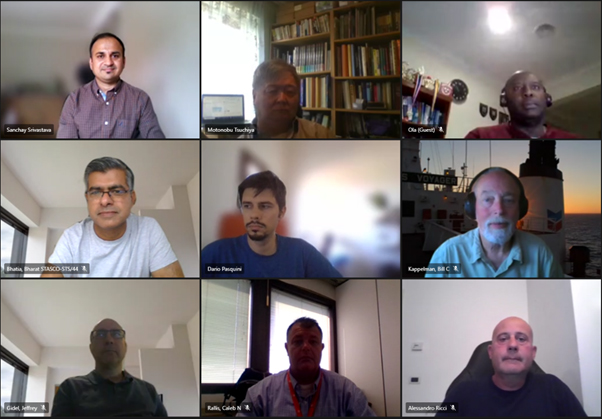 Ship-to-Ship (STS) Expert Group
3rd meeting, 7 July 2021
Lead: Patricia Clarke (Aramco)
Co-Lead(s): Hemant Berry (Ampol)
Secretary: Sanchay Srivastava (Nautical Adviser)
Agenda items included:
Information Paper on Guidelines for the Handling, Storage, Use, Maintenance and Testing of STS Hoses was published in May 2021.
Information Paper on Mooring load analysis during STS operations under varying environmental conditions is currently being progressed with a target publication date in December 2021.
The group plans to review risks associated with STS operations and identify focus areas for future work based on a risk analysis using recently developed bow-ties.
For enquiries, contact Sanchay Srivastava, OCIMF Nautical Adviser This email address is being protected from spambots. You need JavaScript enabled to view it..
Next meeting: 21 October 2021 (virtual)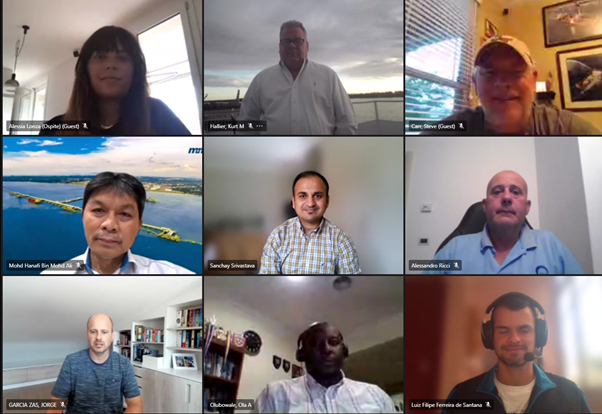 Ship to Shore Interfaces Expert Group
3rd meeting, 8 July 2021
Lead: Bharat Bhatia (Shell)
Co-Lead(s): Mohammed Majdal (Aramco) and Mohd Hanafi (MISC)
Secretary: Sanchay Srivastava (Nautical Adviser)
Agenda items included:
A demonstration of the Marine Terminal Information System (MTIS) programme, which included a preview of upgrades to Marine Terminal Particulars Questionnaire 2nd edition (MTPQ2) and the introduction of a new Vessel-Berth comparison tool (VBCT) that compares ships' HVPQ to jetty MTPQ2 data to provide a compatibility analysis.
Volunteers from this group stepped forward to test the new MTIS platform and trial upcoming changes prior to software releases and further member IT systems integration.
The group comprising of 26 OCIMF member organisations is looking to step up use of the MTIS programme and Marine Terminal Management Self-Assessment (MTMSA) for various terminal assurance activities.
There was active participation from the attendees and a clear commitment to support future activities.
For enquiries, contact Sanchay Srivastava, OCIMF Nautical Adviser This email address is being protected from spambots. You need JavaScript enabled to view it..
Next meeting: 19 October 2021 (virtual).
---
IMO updates
Due to COVID-19 travel and meeting restrictions, all meetings introduced here were held online. The situation will continue until, at least, the end of 2021.
The 7th meeting of the Sub-Committee on Implementation of IMO Instruments (III 7)
The meeting was held 12–16 July. One of the key issues was casualty investigation and analyses. OCIMF submitted two papers on static towing incidents, which introduced OCIMF's work for preventing these incidents. The meeting agreed to include OCIMF's recommendations in the IMO's "lesson learned" for preventing re-occurrence. OCIMF also informed the IMO about its safety bulletin on MT SANCHI and MV CF CRYSTAL collision, which was duly noted. The meeting discussed other incidents reports, Port State Control, IMO's survey checklist and PSC related COVID-19 matters, including remote surveys.
The Extraordinary session of the IOPC Funds
The meeting was held 22–23 July to decide how to elect the Head of the International Oil Pollution Compensation Funds Secretariat. The meeting also reviewed the oil pollution incident off the Israeli coast caused by illegal oil discharge by an unidentified tanker. While the meeting decided to authorise the Fund Director to proceed with the compensation, the meeting also agreed to encourage stakeholders to investigate the source to find the liable party to recover any compensation, which the ship owner and its insurer should have paid.
108th meeting of the Legal Committee
The meeting to address the abandonment of seafarers and their repatriation was held 26–30 July. The meeting also reviewed shipowners' liability insurance issues, as failure to make insurers pay results in the need for extra compensation from the IOPC Funds. Further, the meeting addressed fraudulent ship registration and interpretation on cases where the shipowner's right to limit liability ends. The meeting completed the regulatory scoping exercise of Maritime Autonomous Surface Ships (MASS) for international conventions on liabilities of shipowners, compensation regime, salvage, suppression of unlawful acts.
Upcoming meetings
The IMO is breaking into the summer recess. Meetings will resume in September. The IMO meeting schedule for the rest of 2021 and tentative schedule for 2022 will be posted in the IMO section on the member-only area of the OCIMF website.
More information
For more information, visit the IMO section on the member-only area of the OCIMF website.