It's been an absolute privilege and an honour for me to lead OCIMF. I wish you all and the industry at large, a safe and rewarding onward journey.
---
Director's Log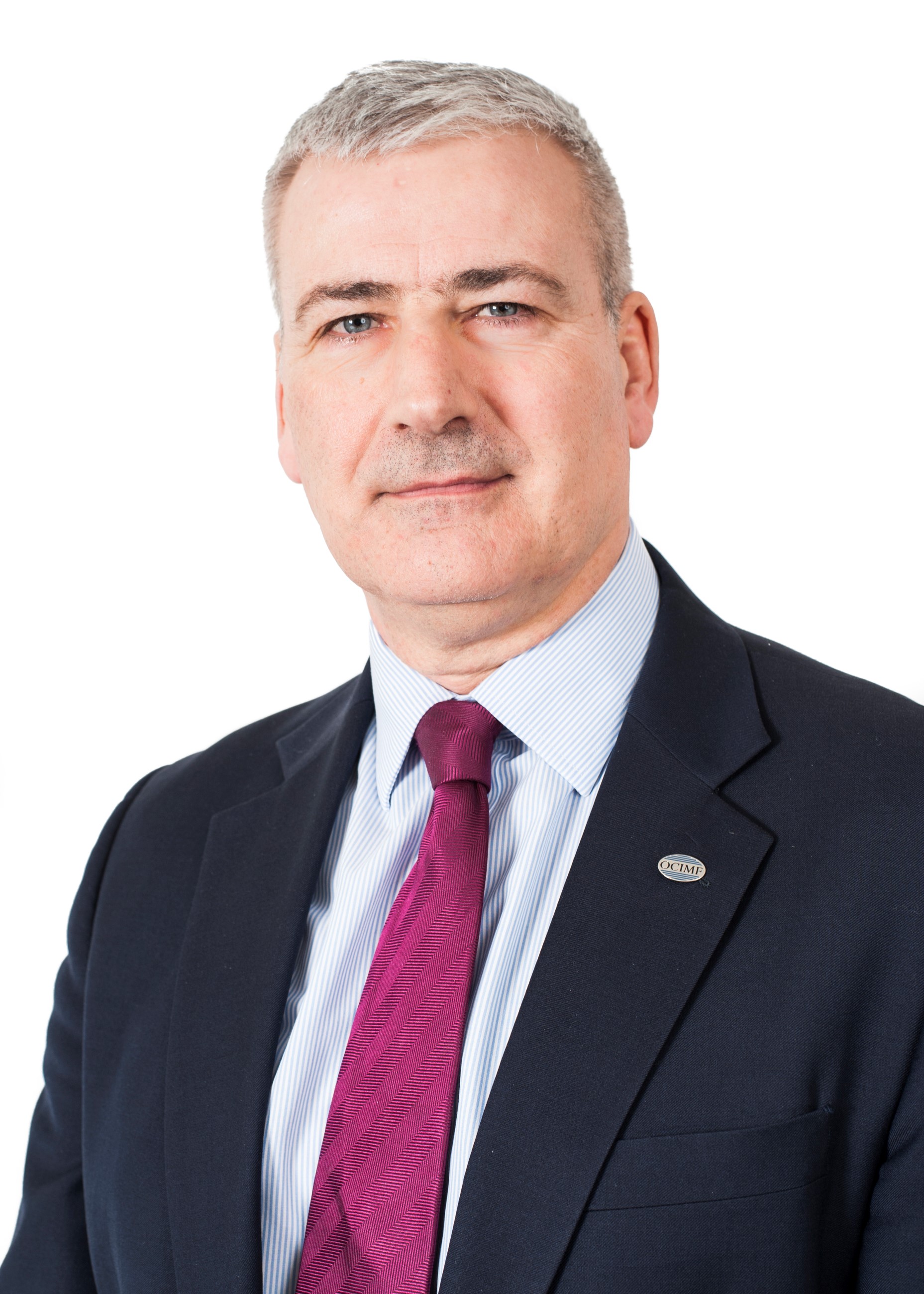 It is with some sadness that I find myself today drafting my last log for the OCIMF newsletter.
The last three years have passed so quickly. I must say I have enjoyed this role enormously, where even the impacts of the pandemic have made it a unique experience, albeit with some aspects we could all have done without. 
 
As previously announced, Karen Davis is taking over the role after our handover completes in a few days' time. The handover is going well and includes ExCom 88 and the AGM, which are both being held early December. Karen is enthusiastic about taking over for the next three years or so. I know she'll do a great job in leading the organisation.

While sad to leave, I am also looking forward to my retirement after 40-plus years in the shipping industry. I'll be spending more time with my wife Julie and family after a lifetime of business travel, cancelled holidays, missed birthdays and other things that she reminds me about periodically. Although, if I'm honest, the past 18 months or so of lockdown has provided a phased approach to retired life.

I recall my very first log in June 2018, when I mentioned what a fantastic job previous Directors had done in leaving the organisation in a better place than when they started. My commitment at the time was to do the same thing and I hoped then that I could truly make that claim at the end of my tenure. With the new strategy, SIRE 2.0 development and application of human factors in everything we do, I feel that I can claim some limited success, but I'll leave it to others to judge whether that is indeed the case. However, I'd appreciate it if you wait until I've gone before providing feedback in case it isn't good!

It's been an absolute privilege and an honour for me to lead OCIMF. I wish you all and the industry at large, a safe and rewarding onward journey.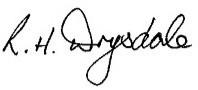 Rob Drysdale
Director OCIMF
---
OCIMF co-sponsors Shaping the Future of Shipping
OCIMF co-sponsored a shipping conference hosted by the International Chamber of Shipping (ICS) in Glasgow on 6 Nov 2021.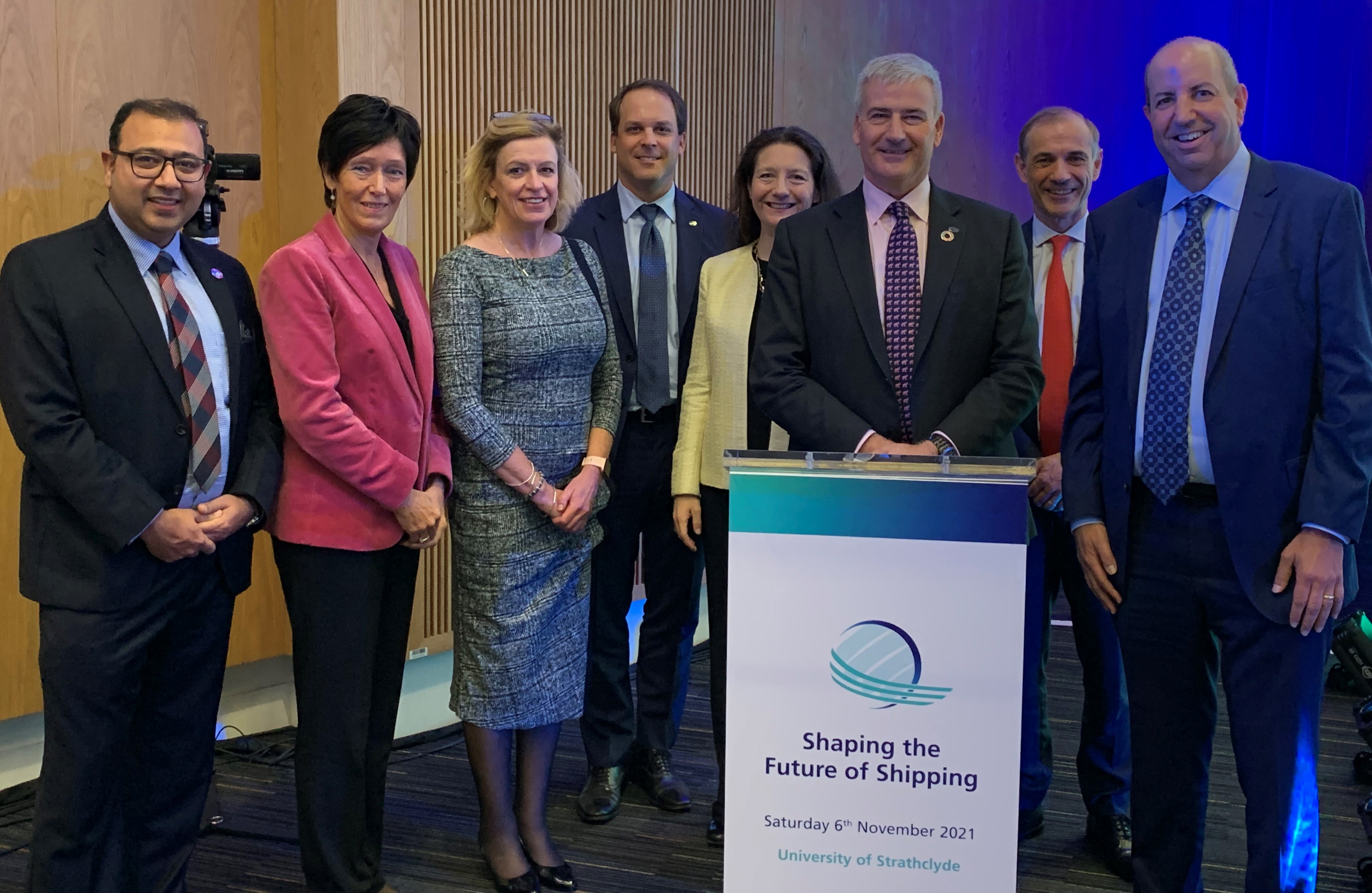 Left to right: Saurabh Sachdeva (OCIMF Publications and Advocacy Director), Heidi Akre (Equinor), Barbara Pickering (Chevron), Andre Kostelnik (ExxonMobil), Karrie Truth (Shell), Rob Drysdale (OCIMF Managing Director), Luc Gillet (Total Energies) and OCIMF Chairman Mark Ross (Chevron).
The event coincided with the UN Climate Change Conference, COP 26. The aim was to highlight the progress already being made by the sector to decarbonise, and to engage with governments, regulators and policy makers to share both the challenges and potential solutions for the industry to reduce its carbon footprint.
 
OCIMF Chairman Mark Ross was joined by senior delegates from the Executive Committee and member companies.
 
Panel discussions were wide-ranging, with the following key points emerging: 
Decisions cannot wait for too long as industry needs regulatory certainty and the transition to net zero or low carbon fuels must take place with safety in mind.
There is no single fuel solution.
There will be a range of alternative low carbon fuels depending on the ship type, companies' trading patterns, risk management, training and many other variables.
The IMO should continue to be a global policy maker. There was some concern that regional initiatives may create unfair market distortion and inconsistencies for a global industry.
The transition will not be successful without seafarers trained in how to safely handle new fuels.
Transition fuels and zero carbon fuels will create new markets. Shipping will have to compete with other industries for these fuels. 
A recording of the event, including the panel discussions, can be found by registering here: Shaping the Future of Shipping.
---
Key points for shipping from COP26
COP26 was held in Glasgow from 31 October to 12 November 2021. Despite the ongoing pandemic, it managed to bring world leaders together and make some important decisions on the environment.
Some of the alliances, pledges and agreements made during COP26 that could directly or indirectly impact shipping are listed below: 
For more information, contact Saurabh Sachdeva, OCIMF Publications and Advocacy Director, This email address is being protected from spambots. You need JavaScript enabled to view it.. 
---
Tripartite Shipbuilding Forum 
Publications and Advocacy Director Saurabh Sachdeva and Engineering Adviser Ricardo Martinez represented OCIMF at the International Association of Classification Societies Tripartite Shipbuilding Forum, hosted by the China Classification Society and held virtually on 18–19 November.
This annual event brings together industry associations representing shipowners, shipyards and classification societies to discuss the design, construction and operation of new and future ships. This year's agenda was clearly focused on decarbonisation in the wake of the UN Climate Change Conference (COP26) and in the run-up to the IMO's Marine Environment Protection Committee meeting 77.
 
Industry stakeholders shared their updates in the following areas: 
Decarbonisation of shipping – strategic needs and considerations.
Regulatory developments related to decarbonisation.
Power and fuels. 
There is a clear need for the industry to come together in a spirit of collaboration to address decarbonisation of the sector. OCIMF will continue supporting tripartite activities, including joint industry working groups on safety and the development of new low carbon fuels and technology.
 
The next Tripartite forum will be held in Autumn 2022.
 
For enquiries contact Saurabh Sachdeva, OCIMF Publications and Advocacy Director This email address is being protected from spambots. You need JavaScript enabled to view it. or Ricardo Martinez, OCIMF Engineering Adviser This email address is being protected from spambots. You need JavaScript enabled to view it..
---
Maritime Security snippets
On 4 Nov OCIMF attended the annual meeting of NATO's CJOS 2021 Maritime Security Regimes Round Table (MSR RT). This well-attended event provided useful insight and updates to several important strategic and security issues and examined a broad spectrum of maritime security challenges and opportunities, the outcomes of which will be noted in their Report of Proceedings.
The links to the entire 2021 MSR RT proceedings are here and here along with a copy of all the presentations here. For members interested in the governance of maritime security there is an interesting presentation at Panel 2, Brief 1, which discusses a UN structure dedicated to the Blue Economy and Maritime Security.
 
The 63rd meeting of the EU Stakeholders Advisory Group on Maritime Security (SAGMAS) was held on 10 Nov. The agenda focused on immediate concerns to member states, which include the following: 
Latest trends and developments on piracy and worldwide incidents.
The impact of COVID on maritime security.
MARSEC Research Projects:

ISOLO – Project for increased security on passenger ships.
COSMIC – CBRNE detection in containers.

Update on joint-industry Guidelines on Cyber Security Onboard Ships. 
The 3rd SHADE-GOG Gulf of Guinea Plenary meeting was held virtually on 16 November. The forum, created in July, has already held three plenary and 15 working group meetings. This is great momentum from international, regional, and national stakeholders to address the threat from piracy and armed robbery in the Gulf of Guinea. The presence of international navies, coordinating their effort with regional entities, marks a significant step forward and has been further enhanced by the provision of the MERCURY (SOLARTA) information sharing platform. The dry season is now upon us, with a greater likelihood of attacks against vessels up to 220 nautical miles from the coast. Increased vigilance and adherence to BMP West Africa are strongly recommended.
 
On 18 Nov OCIMF was invited to attend the Change of Command Ceremony for the International Maritime Security Construct (IMSC). Royal Navy Commodore Ruddock was relieved by Royal Navy Commodore Mackinnon as commander of the Coalition Task Force Sentinel. The IMSC was formed in July 2019 in response to an increase in threats to the freedom of navigation and the free flow of trade for legitimate mariners in the international waters of the Middle East region. More information can be found here.
 
On the same day, OCIMF was a participant at the Middle East Independent Vessel Operators Meeting (MEIVOM). Hosted by UKMTO, the meeting bought together a broad section of those who face and offer solutions to maritime security threats. The focus of the discussion was on how to counter the threat from aerial drones and the unstable situation in Yemen, along with updates from the military coalitions and UNODC.
 
For information on any of these issues or maritime security in general, please contact Russell Pegg, OCIMF Maritime Security Adviser This email address is being protected from spambots. You need JavaScript enabled to view it..
---
OCIMF introduces new Quality Assessor role 
As part of SIRE 2.0 OCIMF is introducing the new role of Quality Assessor (QA). The function of these member company secondees will eventually extend globally across OCIMF inspection programmes SIRE, BIRE and OVID. 
QAs will engage with inspectors, Submitting Companies, Programme Recipients, OCIMF approved Third Party Vetting Contractors and other Third Party Contractors engaged by Submitting Companies.
 
Quality Assessors will have key responsibilities in SIRE 2.0 to support the OCIMF vision and mission by engaging with participants to carry out joint verification of OCIMF programmes usage and the impact it has on other participants. This engagement will help in the collection of programme participant feedback on regional issues, specific programme feedback, impact that OCIMF programmes are perceived to be having and any opportunities for improvement. Their location in strategic regions will provide support to OCIMF Training and Accreditation activities for applicants and inspectors.
 
The first four Quality Assessors are Unni Menon (Shell), based in Texas, USA; Captain Sashidaran Gopala (BP), based in Malaysia; Captain Luo Hongbo (CNOOC), based in Mexico; and Captain Rohit Bajaj (Shell), based in Singapore.

Unni Menon, Captain Sashidaran Gopala, Captain Luo Hongbo and Captain Rohit Bajaj
---
Floating Systems Expert Group
Lead: Ashfaqal Haq (Suncor Energy)
Secretary: Graham Coles (Offshore Adviser)
4th Meeting: 13 October 2021 (Virtual)
 
The Floating System Expert Group received an update on bow tie barrier management from the OCIMF Strategic Implementation Manager then the Expert Group reviewed their ongoing work. The Secretary provided an update on planned activity related to publications reviews and the group discussed the publications that have been identified for the Expert Group to review in the coming months. Finally, following Ashfaqal's move to a new role as Publications and Advocacy Committee Co-Lead, the group thanked Ashfaqal for his leadership and welcomed John Dunhill (Shell) as the new Floating System Expert Group Lead.
 
There was a good attendance from Expert Group membership, who engaged in active discussion throughout the meeting and committed to support future activities.
 
Next meeting: January 2022 (Virtual, date TBC)
 
For any enquiries, please contact Graham Coles, OCIMF Offshore Adviser This email address is being protected from spambots. You need JavaScript enabled to view it..
---
Offshore Vessel Operations Expert Group
Co-Lead: Henning Hjartholm (Equinor)
Secretary: Graham Coles (Offshore Adviser)
4th Meeting: 27 October 2021 (Virtual)
 
The Offshore Vessel Expert Group received update on bow tie barrier management and use of the Risk Advisory Function process from the OCIMF Strategic Implementation Manager. Following this, the group reviewed the status of open work before the Secretary provided an update on the planned schedule related to a new cross-functional workgroup comprising members of both Offshore Vessel and Programmes Expert Groups. The work group is in the process of developing terms of reference and, following consensus, they will plan to commence work on the review and update of OVIQ3.
 
On 28 October, the group convened again to welcome representatives from the International Marine Contractors Association (IMCA) to present updates on their work in two key areas. The first presentation covered IMCA's work related to autonomous vessels – Marine Autonomous Surface Systems (MASS) and Uncrewed Surface Vessels (USV). The presentation included the status of current technology in operation, impending developments and an overview of current regulatory progress. Following this, IMCA then shared their new Continued Professional Development (CPD) scheme for key Dynamic Positioning (DP) personnel, including a summary of key content and benefits of the scheme to the industry.
 
There was a good attendance from the Expert Group membership and useful dialogue throughout.
 
Next meeting: January 2022 (Virtual, date TBC)
 
For any enquiries, please contact Graham Coles, OCIMF Offshore Adviser This email address is being protected from spambots. You need JavaScript enabled to view it..
---
IMO updates
IOPC Fund meeting
The autumn meeting was held 1–5 November. The meeting reviewed reports of the oil pollution incidents that require compensation and elected Mr Gaute Sivertsen as the Director (Head of the Secretariat).

34th extraordinary meeting of the IMO Council
The meeting was held 8–12 November. It prepared the IMO's long term (six-year) strategy, budget and organisational reform plan for adoption by the IMO Assembly scheduled for December 2021. The Council will continue to review the timing of resuming in-person meetings at the IMO Headquarters.

77th meeting of Marine Environment Protection Committee
The meeting was held 22–26 November. It noted the outcome of the intersessional working groups on Reduction of GHG Emissions from Ships, including the work of Lifecycle GHG emission assessment and work plan for mid/long-term GHG reduction, and instructed the group to continue the work.

The meeting confirmed revising the IMO's GHG reduction strategy toward spring 2023 but could not conclude on the establishment of the International Maritime Research and Development Board and Fund, which will be considered by a future ISWG-GHG meeting.

The meeting addressed ballast water management, exhaust gas cleaning systems, calculation of energy efficiency for wind propulsion systems and adopted the IMO's strategy on plastic litter.
Upcoming meetings
32nd meeting of the IMO Assembly
The meeting will adopt updates to IMO's six-year and two-year work plans. In addition, it will adopt the following assembly resolutions, which OCIMF has actively supported in their development: 
Prevention and suppression of piracy, armed robbery against ships and illicit maritime activity in the Gulf of Guinea.
Comprehensive action to address seafarers' challenges during the COVID-19 pandemic.
The meeting will also adopt updates to survey guidelines, PSC guidelines, Vessel Traffic Service guidelines and other technical resolutions.

For more information, visit the IMO section on the member-only area of the OCIMF website.