"This month we were delighted to visit the Fure Vinga, the latest low-emission tanker from Swedish company Furetank, while she was moored alongside HMS Belfast."
---
Director's Log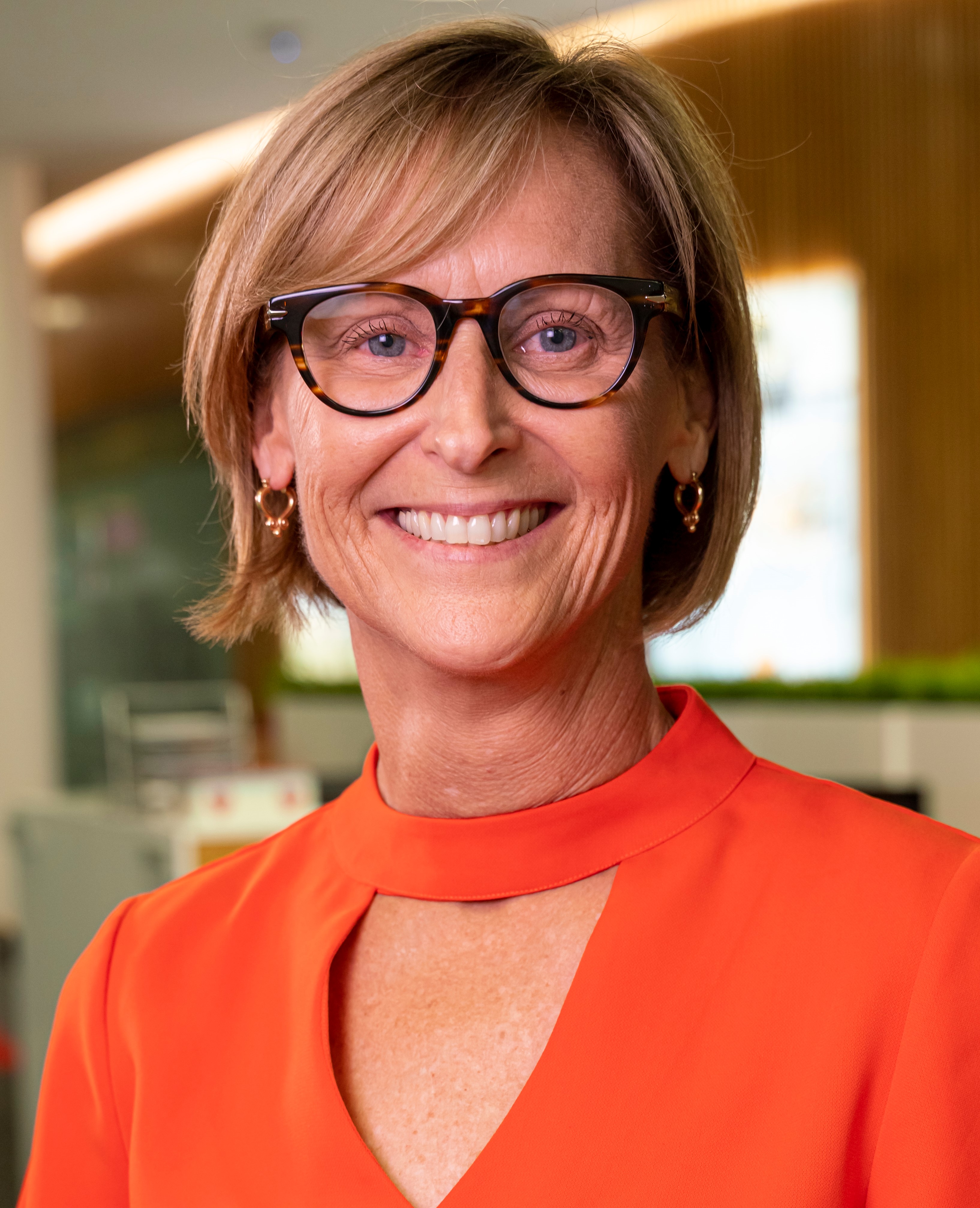 In my first Log for this newsletter, I wrote that I was keen to build a culture that seeks diversity of thought, innovation, and openness to changes that benefit the industry. One way we do that is by engaging with new developments in the shipping industry – in particular those that may help us meet the IMO Sustainable Development Goals.
This month we were delighted to visit the Fure Vinga, the latest low-emission tanker from Swedish company Furetank, while she was moored alongside HMS Belfast. Fure Vinga is designed to minimise impact on the environment, running on liquefied natural gas or liquefied biogas. Its innovative features reduce fuel and energy consumption, which means much lower CO2 emissions. A group from the OCIMF secretariat toured the vessel, spoke to crew and gained real insight into the operation. We also heard speeches from the Swedish Ambassador in the UK Mikaela Kumlin Granit and IMO Secretary-General Kitack Lim.

Being able to get out into the world, meet people face-to-face and see new developments in the industry is crucial to OCIMF's role not just as an adviser, but as a learning organisation. Visits such as these enrich and inform our ability to deliver the guidance that the industry requires for the future.

Also this month, I met with Kitack Lim and other senior IMO officials, along with OCIMF Chairman Nick Potter and P&A Director Saurabh Sachdeva, to discuss furthering our support and strategic partnership with the IMO.

Finally, OCIMF's senior decision-making body, the Executive Committee, held a successful meeting on 23 June at which we discussed our current work and plans for the coming period. Again, it was a pleasure to have ExCom members in the room as well as joining virtually.
 
OCIMF will continue to engage with its stakeholders globally. I look forward to seeing you in person.

Karen Davis
Director OCIMF
---
OCIMF visits the Fure Vinga - in pictures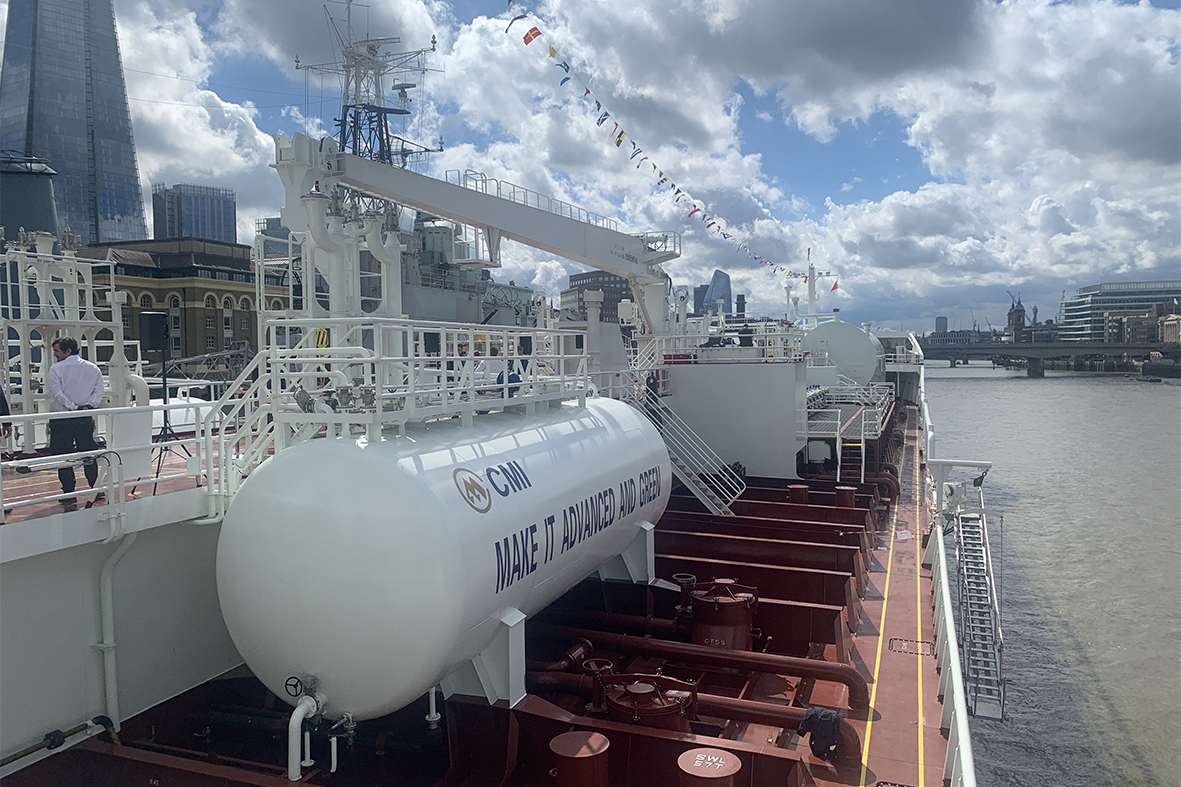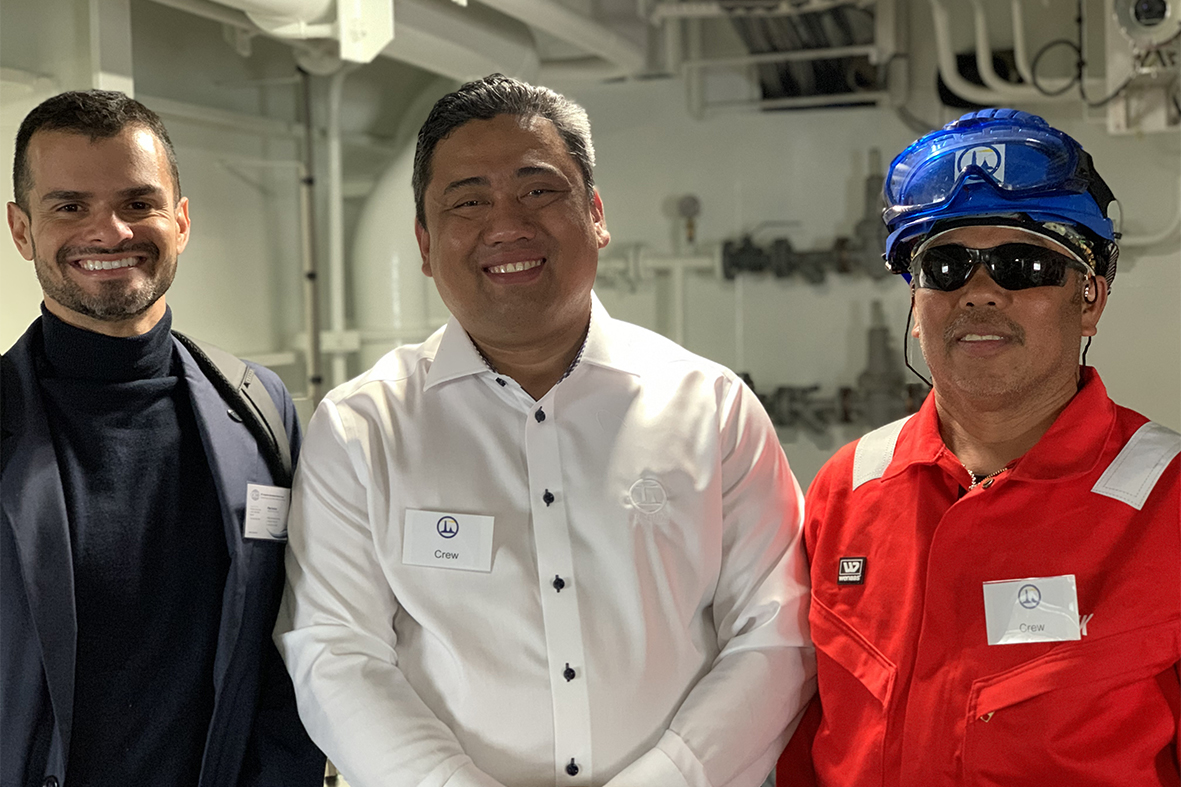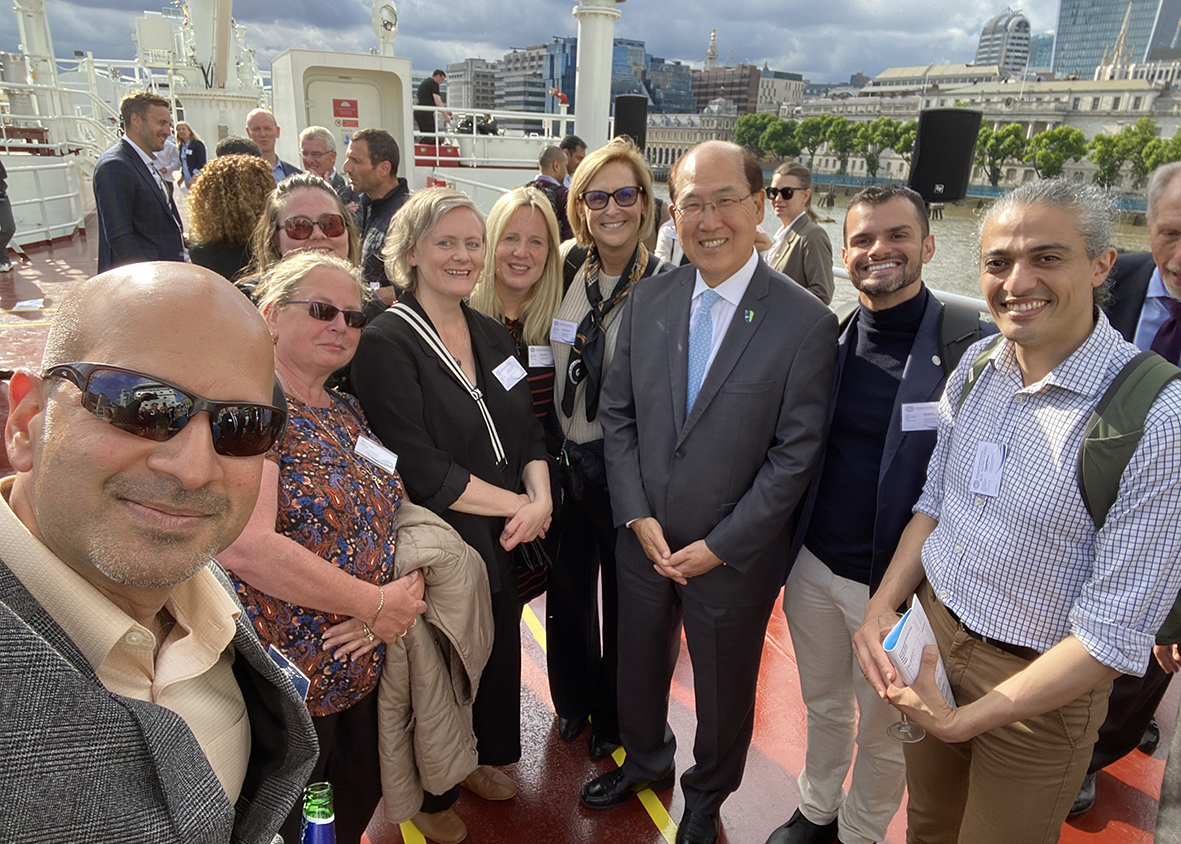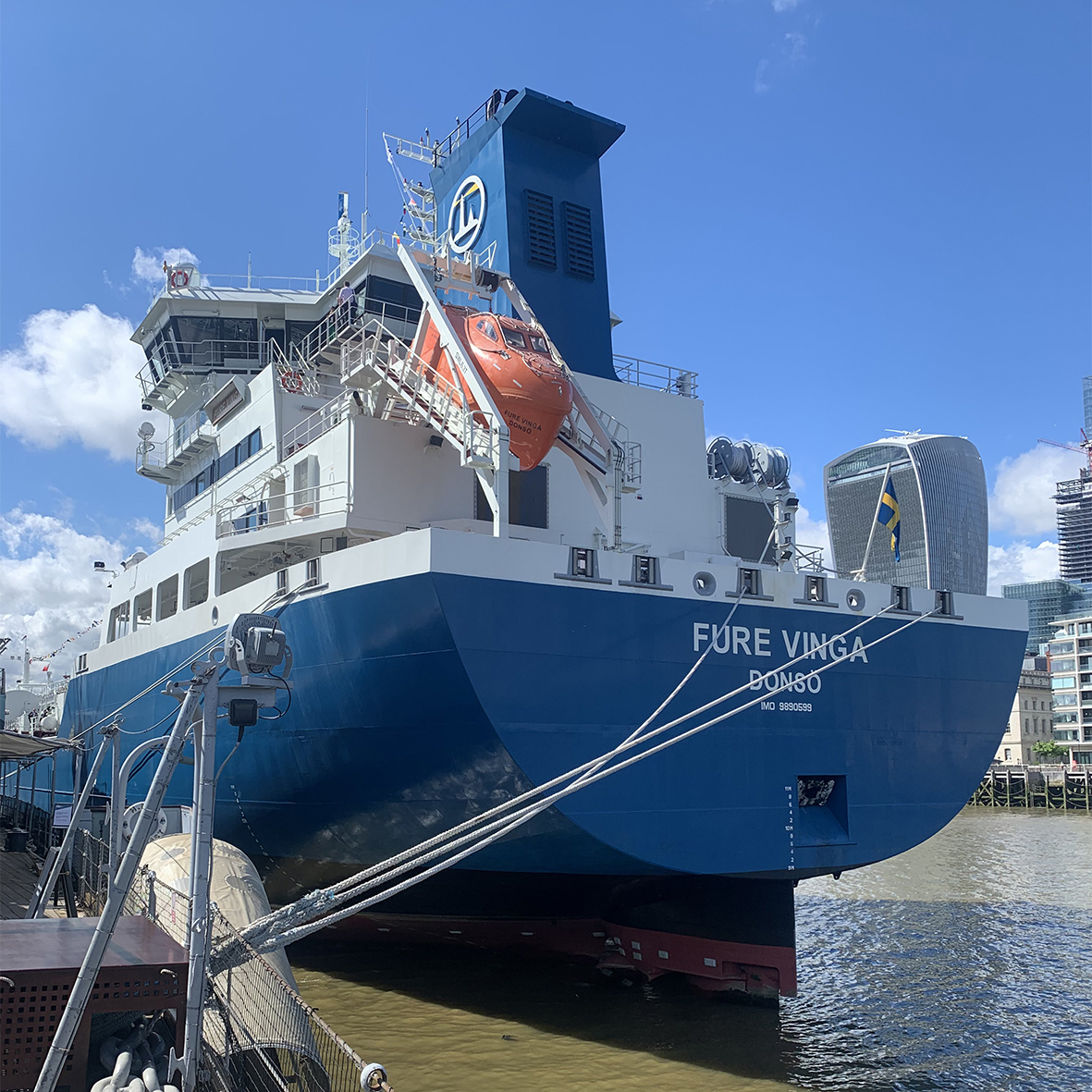 During its open day on 7 June, OCIMF secretariat toured the Fure Vinga, spoke to crew, and grabbed a selfie with IMO Secretary-General Kitack Lim after his speech.
---
IMO Secretary-General receives OCIMF Managing Director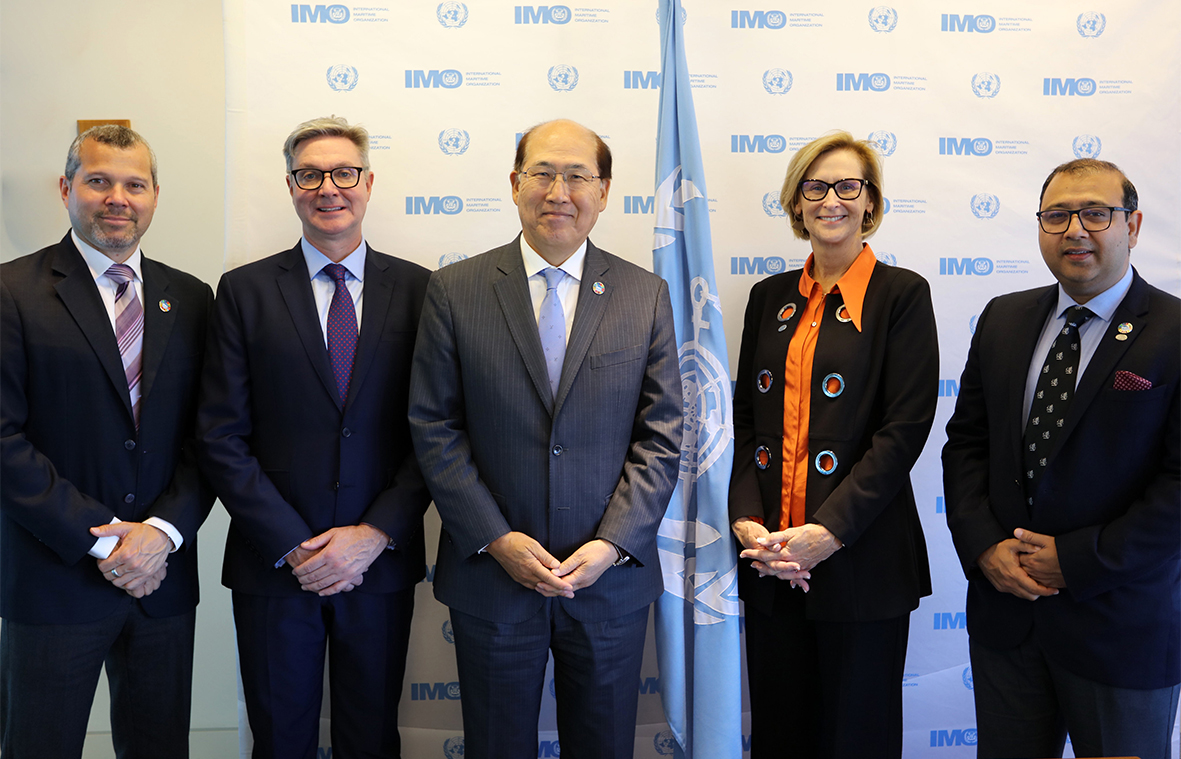 From left: Arsenio Dominguez, Marine Environment Director (IMO), Nick Potter, Chairman (OCIMF), Secretary-General Kitack Lim (IMO), Karen Davis, Managing Director (OCIMF), Saurabh Sachdeva, P&A Director (OCIMF).
In the run-up to IMO's Day of the Seafarer on 25 June, OCIMF's leadership met with IMO Secretary-General Kitack Lim and Marine Environment Director, Arsenio Dominguez, to discuss furthering our support and strategic partnership. OCIMF holds consultancy status at the IMO and our role is to provide technical expertise and guidance in support of the IMO's efforts to further enhance safety, security, environmental protection, and decarbonisation.

---
Shaping the Future of Shipping summit
OCIMF sponsored and attended the International Chamber of Shipping (ICS) summit on the future of shipping, held in London on 21 June. The meeting aimed to get industry leaders from all sectors to engage and seek solutions to aid the net-zero energy transition for the shipping industry.
The day was interactive, well-attended and well-managed. Speakers and facilitators included Rt Hon Alok Sharma MP, COP26 President, Rt Hon Nusrat Ghani MP, former BBC science editor David Schukman, and Cheryl Martin, former Acting Director of the Advanced Research Projects Agency – Energy (ARPA-E).

OCIMF supports the ICS intent to create a collaborative international knowledge hub to drive common solutions and more effective engagement across regions and organisations and avoid duplication of efforts. We also recognise the need for flexibility and choices when looking at alternative solutions, whether new fuels or technology such as carbon capture. OCIMF's priority is to maintain a clear focus on risk management, training, handling and practicability of implementation.

OCIMF was also honoured to attend ICS's centenary celebration dinner at the National Maritime Museum in historic Greenwich on 13 June. Over 400 industry guests attended – a great platform to connect and network with other shipping trade bodies, regulators, ship owners and industry leaders after the challenge of COVID-19.

For more information please contact Saurabh Sachdeva, P&A Director, This email address is being protected from spambots. You need JavaScript enabled to view it..

---
OCIMF joins new EU initiative to boost renewables
The Renewable and Low-Carbon Fuels Value Chain Industrial Alliance is a new initiative that focuses on boosting production and supply of renewable and low-carbon fuels in the aviation and marine sectors.
The Alliance is a voluntary collaboration of stakeholders from across the transport fuels and other relevant value chains, from sourcing to end-users, as well as technology and finance providers for each step in the value chain. They represent both the fuels supply and demand sides from the aviation and waterborne sectors, as well as civil society organisations, governments, and their agencies. The first General Assembly meeting is scheduled for 12 July 2022.

For more information click here or contact Saurabh Sachdeva, P&A Director This email address is being protected from spambots. You need JavaScript enabled to view it. or Filipe Santana, Engineering Adviser, This email address is being protected from spambots. You need JavaScript enabled to view it..
---
New mooring safety videos available now
A new suite of videos on mooring safety was launched at a webinar hosted by the Nautical Institute in June.
The mooring safety video series was developed by the European Harbour Masters Committee, a regional committee of the International Harbour Masters Association. OCIMF, along with other organisations, participated in the development of these videos, which are an update and expansion of the 2011 video, 'The Missing Link – improving the mooring process'.

The new series features seven short videos aimed at making the mooring process safer and more efficient for personnel and preventing damage to terminal equipment and vessels. All the videos can be accessed free of charge on the IHMA website.

The IHMA is also encouraging the use of the videos in training and has provided the following YouTube links for use within your organisations:
 
For more information, contact Kevin Coelho, Nautical Adviser, This email address is being protected from spambots. You need JavaScript enabled to view it..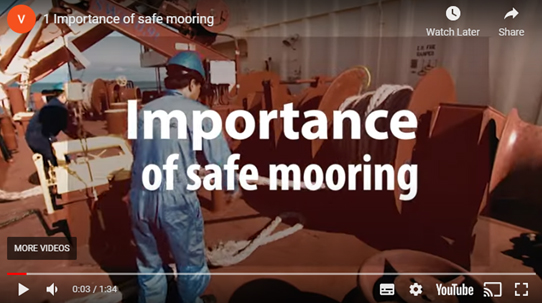 ---
A tribute to two inspectors lost too soon
OCIMF wishes to mark the passing of two colleagues who died this year. In remembrance we include two short tributes, followed by the poem 'Crossing the Bar' by Tennyson. 
Captain David 'Nobby' Styles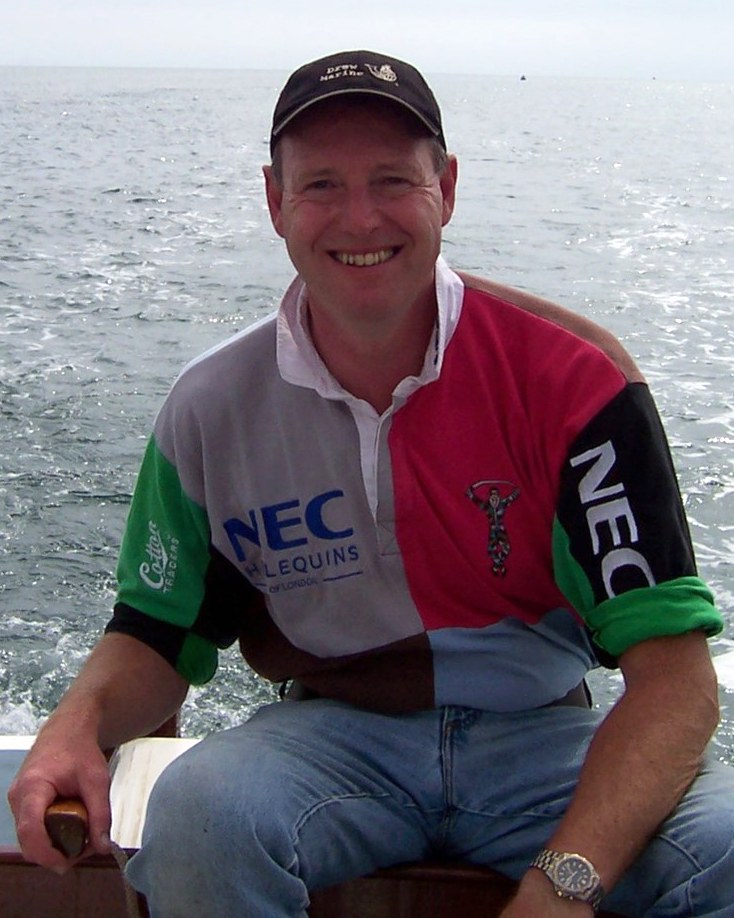 Master Mariner and ship inspector, 12 July 1959 to 3 February 2022.

David 'Nobby' Styles was a consummate professional whose legacy will live on through the many that knew and worked with him in the SIRE inspector fraternity. He was a big presence who never lost focus on the central tenets of our profession and truly believed that we were making a difference to safety at sea.

Having served his time in the British Merchant Navy, he rose to become a respected Captain on some of the largest ships sailing the world's oceans. Nobby's career as an inspector began around the time that the SIRE accreditation process was formalised and his inspector number of #1392 is testament that he was one of the first to be trained through the new regime.

Initially working in Europe, Nobby met his future wife Maggie and moved to South Africa to set up Styles Marine in 2009. Maggie and David settled in Gauteng, married, and had a son, Liam, who is now 11. Diagnosed with prostate cancer in 2010, Nobby refused to let this cruel disease define his life and continued to inspect for the next ten years.

Captain David Styles was braver than many of us could ever hope to be, and his passing has been cruel. We will miss his steady hand on the tiller, yet celebrate his life well-lived, his unbounded generosity of spirit and his grace. Our thoughts are with Maggie, Liam and all his family.

By Captain William Austin
Captain Ian David Smith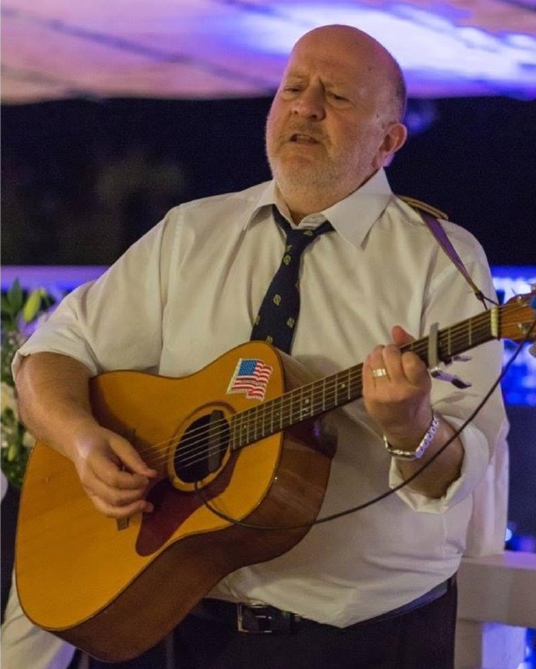 Master Mariner and Ship Inspector, 29 March 1954 to 2 May 2022

Ian David Smith, also known as Tank, was born in Redhill, Surrey and was well known in the inspection field as a fun-loving, caring person with a huge personality. 

Ian joined the merchant navy in 1976, where he sailed around the world and achieved his Master Mariner's qualification. While on leave in 1978, Ian met Maureen and they were married shortly after and had two children. The family moved to Spain, where they spent the next 31 years.

Ian travelled the world as a surveyor and one of the first accredited inspectors for OCIMF – #1086. He continued until November 2021, when he became too unwell to work.

One of Ian's greatest passions was for music, and he enjoyed a diverse range of genres, from classical, to punk, to good old rock and roll. Many will recall him playing guitar at events, especially the BP inspector seminars, where his rendition of 'American Pie' became part of the annual event.

In 2015 Ian was diagnosed with prostate cancer and in 2022 he and Maureen moved back to England, where Ian died a few weeks later. Although it is devastating that he is gone, he always said that he must pass away before Bruce Springsteen does, and he got his wish!

Ian was a larger-than-life character, the most generous of people who saw the best in everyone, and he will be greatly missed. May he rest in peace.

By Tony Jones
---
Crossing the Bar
By Alfred, Lord Tennyson
Sunset and evening star,
And one clear call for me!
And may there be no moaning of the bar,
When I put out to sea,
But such a tide as moving seems asleep,
Too full for sound and foam,
When that which drew from out the boundless deep
Turns again home.
Twilight and evening bell,
And after that the dark!
And may there be no sadness of farewell,
When I embark;
For tho' from out our bourne of Time and Place
The flood may bear me far,
I hope to see my Pilot face to face
When I have cross'd the bar.
---
OCIMF participates in INTERTANKO's Nautical Sub-Committee meeting
INTERTANKO held its 13th Nautical Sub-Committee meeting along with its Safety and Technical Committee, Bunker Sub-Committee, Environmental and Vetting Committees, in Dubai over three days at the end of May. OCIMF attended the NSC meeting virtually, represented by the Nautical Adviser.
There was good representation of members and associate members taking an active part in the discussions. Key points discussed included the following:
INTERTANKO, in coordination with the International Hydrographic Organization (IHO) and Comite International Radio Maritime (CIRM), has submitted a paper to the IMO Sub-Committee on Navigation, Communications and Search and Rescue (NCSR 9/16/1), proposing amendments to resolution MSC 232(82) at NCSR 9.
NSC held an extraordinary joint session with the Insurance and Legal Committee to discuss the aftermath of the CMA CGM LIBRA supreme court verdict, which found that shipowners are responsible if a passage plan is defective.
NSC agreed to form an internal working group on Maritime Autonomous Surface Ships (MASS).
NSC was also briefed on Black Sea matters.
 For more information contact Kevin Coelho, Nautical Adviser, This email address is being protected from spambots. You need JavaScript enabled to view it.
---
SAFEMODE – SHIELD taxonomy workshop
OCIMF was invited to attend a one-day workshop on the Safety Human Incident and Error Learning Database (SHIELD) taxonomy and its benefit to the maritime domain, organised by the SAFEMODE project. The taxonomy was run by the University of Strathclyde, which is leading the technical development of this programme.
SAFEMODE is an EU-funded project that works towards strengthening cooperation between the aviation and maritime sectors in the area of human factors, with the aim of achieving more efficient and resilient modes of transportation.

The workshop, held on 31 May, was attended by SAFEMODE stakeholders (regulatory bodies, shipping companies, accident investigators and training establishments) who are using the taxonomy to help develop the practical implementation of accident, incident and near-miss investigations.

An online version of the taxonomy will be made available to wider stakeholders in autumn 2022, with an option to create an isolated database for individual institutions.

For further information, please visit the SAFEMODE website or contact Kevin Coelho, Nautical Adviser, This email address is being protected from spambots. You need JavaScript enabled to view it..
---
IMO updates
IMO Sub-Committee on Navigation, Communications and Search and Rescue
The IMO Sub-Committee on Navigation, Communications and Search and Rescue (NCSR) held its 9th session virtually from 21 to 30 June. The meeting included discussion on 'Revision of ECDIS Guidance for Good Practice (MSC.1/CIRC.1503/REV.1)' and 'Amendments to ECDIS Performance Standards (Resolution MSC.232(82))'.

OCIMF submitted a paper on the proposed amendment to MSC.1/Circ.1503/Rev.1 (NCSR 9 – 16) and is pleased to note that most of the proposed suggestions have been included in the revised MSC circular. Short brief as below:
Any updates essential to make an ECDIS compliant with the performance standard should be particularly identified and be actively communicated to the user of the system.
A manufacturer, upon receiving information on a malfunction of their product, should communicate the symptom and mitigation measures to the flag administration(s) and the recognised organisation(s) and identified users, at the earliest possible opportunity.
Manufacturers should have a mechanism in place to ensure they notify users of their ECDIS systems about any noted anomalies and close-out subsequently with relevant upgrades.
OCIMF identified the importance of the type-specific training in accordance with MSC.1/Circ.1503/Rev.1, paragraph 28.5, as part of ECDIS familiarisation.
For further information, contact Kevin Coelho, Nautical Adviser, This email address is being protected from spambots. You need JavaScript enabled to view it. or Saurabh Sachdeva P&A Director, This email address is being protected from spambots. You need JavaScript enabled to view it..