"As we work together through this disruption and valuable transformation, please have empathy for the crews taking part in the inspections, and for the inspectors who will carry out a new inspection protocol in a style that will be different from what was experienced over the last 30 years."
---
Director's Log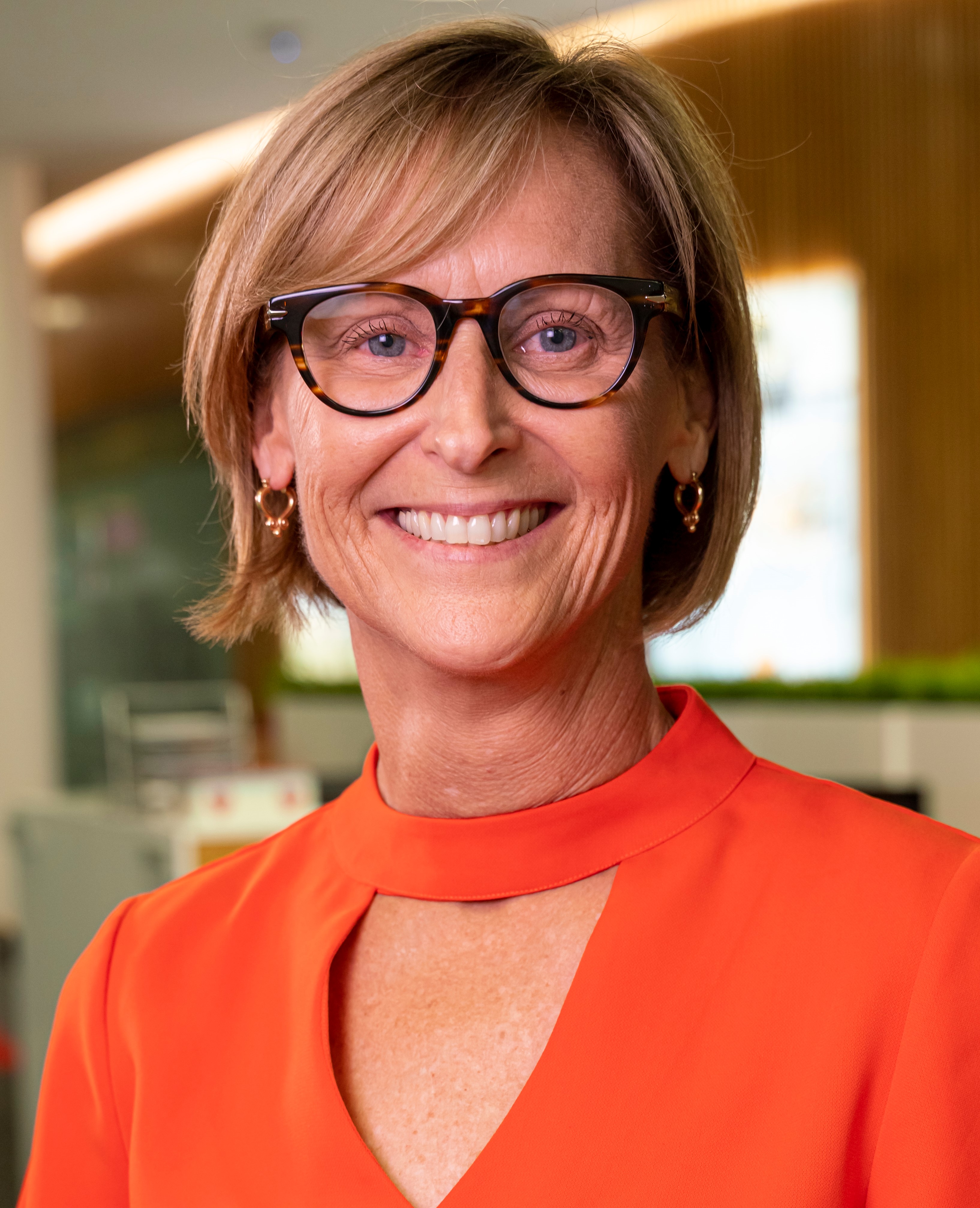 In 1993, OCIMF saw a gap in vessel inspection and reporting protocols and implemented the SIRE Programme.
The programme has become widely accepted by OCIMF members, programme recipients, vessel and terminal operators, charterers, and government bodies as an effective risk management tool. 
Over the years, oil spill numbers have decreased, and personal safety incident rates have dropped, but trends have plateaued.  
Soon OCIMF will commence a phased deployment of SIRE 2.0 to ensure that this crucial ship inspection programme can continue to evolve in step with the changing nature of risk in our industry and technology. 
We believe that further improvements to safety require investing effort in human factors. SIRE 2.0 inspection gives the crew a chance to demonstrate their knowledge and skills. Inspectors have been taught new behaviours and trained in a new approach to asking inspection questions. They must show compassion for seafarer nerves and allow the seafarer time to respond to open-ended questions.   
As we work together through this disruption and valuable transformation, please have empathy for the crews taking part in the inspections, and for the inspectors who will carry out a new inspection protocol in a style that will be different from what was experienced over the last 30 years.  

Karen Davis
Director OCIMF
---
ENOC Marine Conference on SIRE 2.0

OCIMF was delighted to be given a platform to engage thoroughly with the industry about SIRE 2.0 at the ENOC marine conference.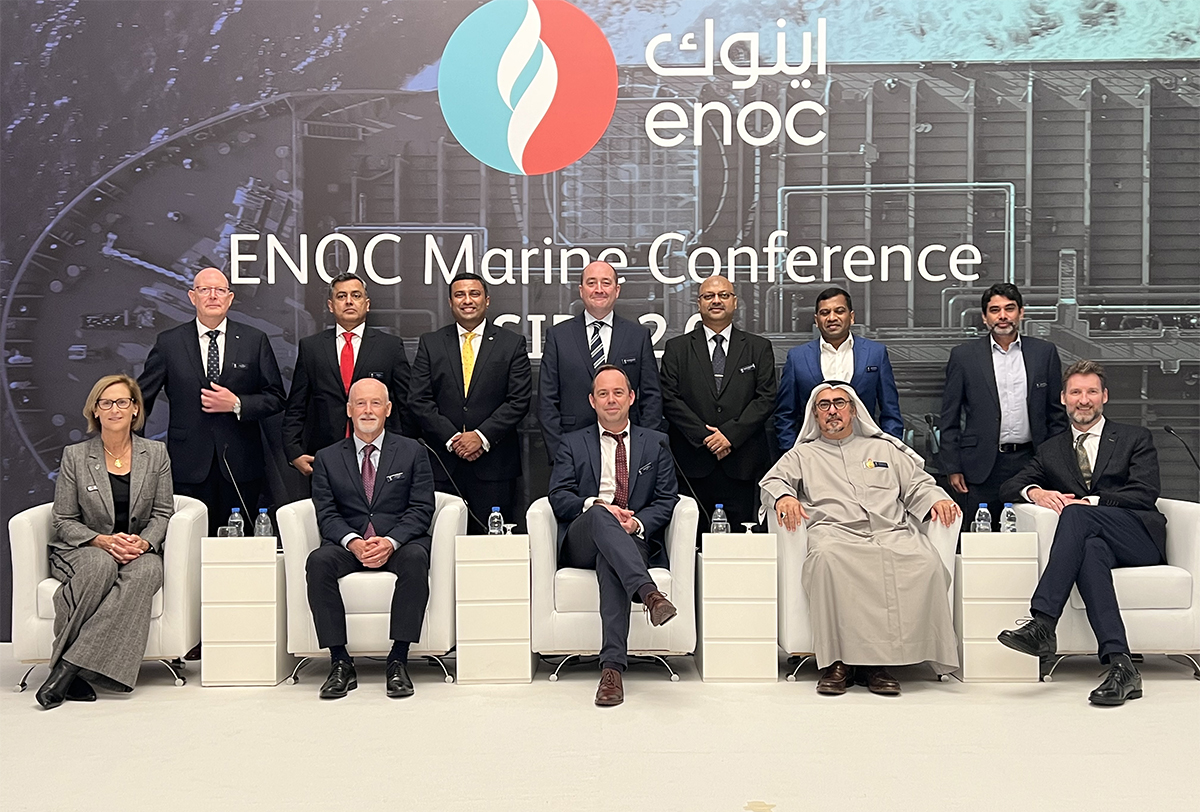 The ENOC marine conference, which took place in Dubai on 10 November, was an important event with over 240 attendees, including many ship operators, owners and inspectors. The agenda covered several focus areas such as the history of SIRE and why SIRE 2.0 will be the step-change needed for industry, the technical elements of SIRE 2.0, the adoption of human factors, an update on the inspector training programme, and an overview of the iSafe tablet technology. 
Keynote speeches were provided by Dr Waddah Ghanem, ENOC Senior Director, Logistics and Marine Assurance and Captain Karen Davis, OCIMF Managing Director, who stressed how important it is to continue open communication and engagement among all stakeholders as industry prepares for SIRE 2.0. Karen asked attendees to approach the enhanced inspection regime as an opportunity to break through the safety improvement plateau, enhance vessel safety, and allow mariners to demonstrate their skills and understanding during the inspection process.
This was an energetic event, which provided the platform and opportunity for OCIMF to engage closely with the SIRE user community and address key questions and concerns as we move closer to the SIRE 2.0 roll-out date.
For enquiries, contact Aaron Cooper, OCIMF Programmes Director, This email address is being protected from spambots. You need JavaScript enabled to view it.. 
---
OCIMF attends Inland Shipping Law Conference
OCIMF joined some 100 participants from more than ten countries at the Inland Shipping Law Conference 2022, which took place in Rotterdam on 3–4 November.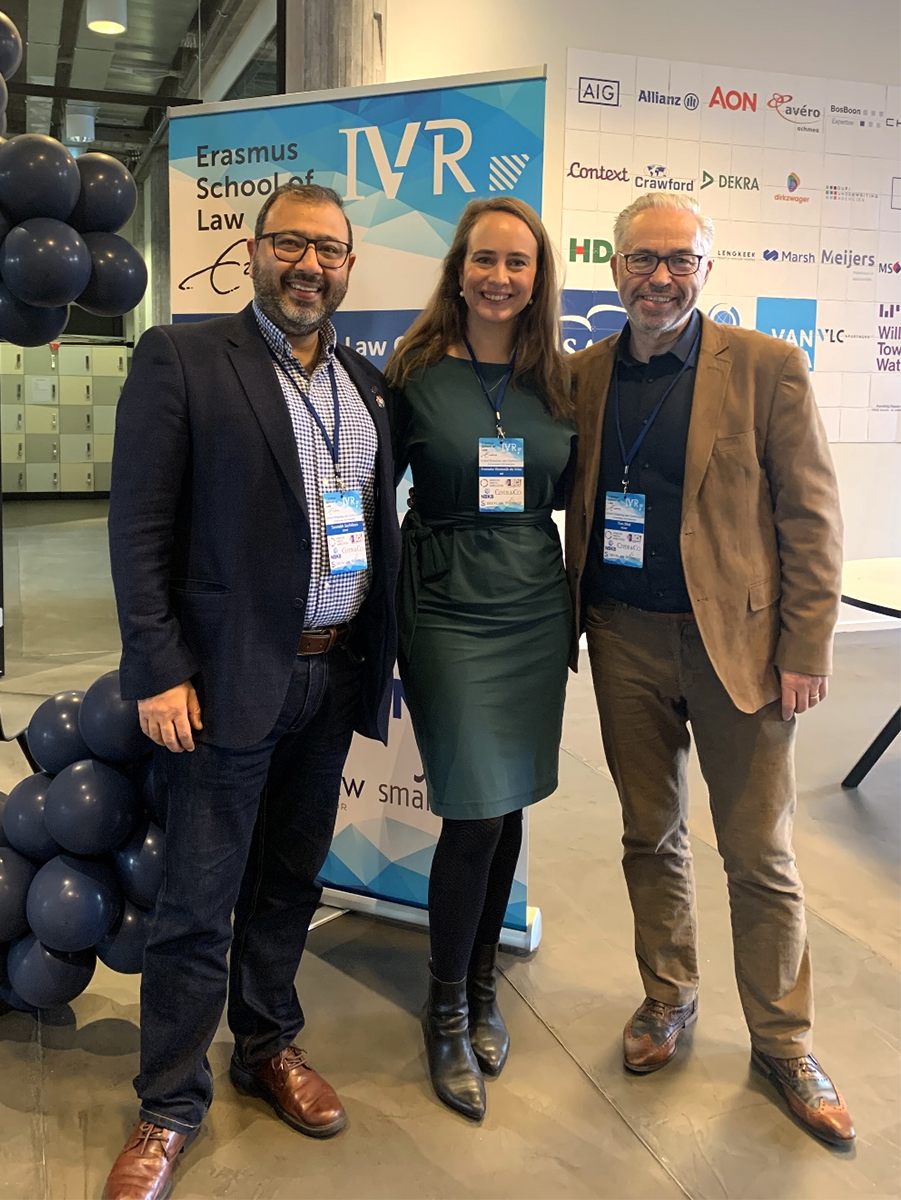 From left: Saurabh Sachdeva (OCIMF P&A Director), Frouwke Klootwijk-De Vries (IVR Secretary General) and Ton Mol (OCIMF Barge Adviser).
 
The conference was organised by Erasmus School of Law and IVR (International Association representing the mutual interests of inland shipping and insurance and for keeping the register of inland vessels in Europe). Among the participants were professionals in law, insurance and technology, university students, and others with an interest in inland shipping law. 
A panel of international expert speakers gave presentations on recent developments in inland shipping law. Topics included liability for incidents with dangerous goods, the 'fault of the vessel' concept in light of the autonomous future, and many more. The presentations were followed by lively discussions. 
For more information, contact Ton Mol, Barge Adviser This email address is being protected from spambots. You need JavaScript enabled to view it.. 
---
European Barge Union Event
The European Barge Union (EBU) Event, held in Brussels on 17 November, focused on the role of inland waterway transport (IWT) in the framework of the EU's mobility and supply policy.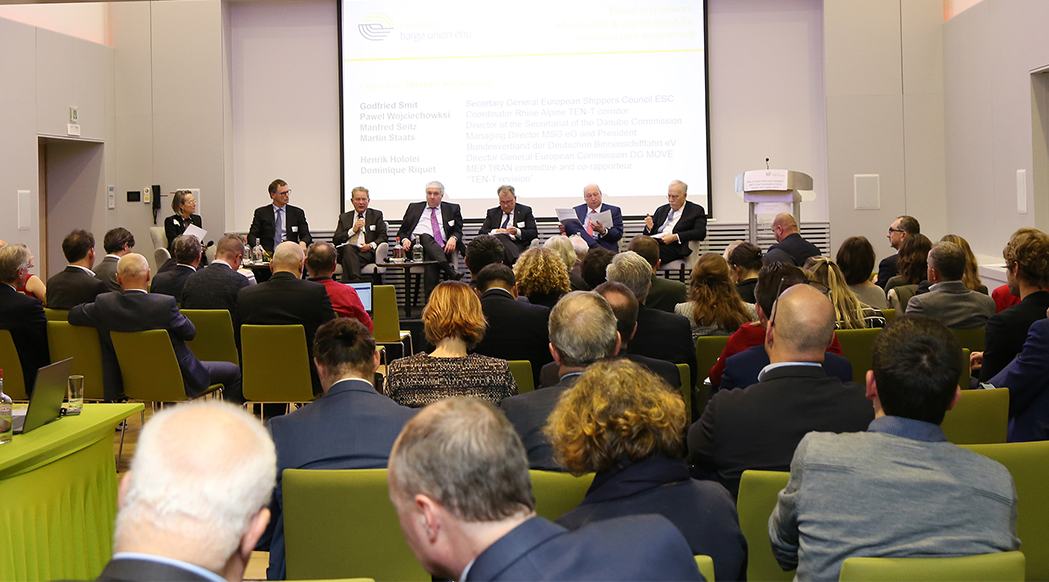 Over 100 attendees, including OCIMF's P&A Director Saurabh Sachdeva and Barge Adviser Ton Mol, heard guest speakers including Henrik Hololei (European Commission Director-General for Mobility and Transport), Václav Bernard (Deputy Minister of Transport, Czech Ministry of Transport), Dominique Riquet (MEP TRAN committee and co-rapporteur "TEN-T revision"), and Philippe Grulois (President EBU).
 
Key points to note:
There was consensus that inland barging plays an important role in helping the EU meet its Green Deal objectives and is an energy-efficient way to transport goods.
Energy Taxation Directive – this will be looked at closely to ensure inland waterways are not over-burdened with fuel taxes. Czech Presidency envisages that IWT fuels will not be taxed in the first five years after its entry into force and subsequently they will be taxed at a low rate.
IWT plays a crucial role in the European Commission's Sustainable and Smart Mobility Strategy. It has set an ambitious milestone for the sector: inland waterway transport and short-sea shipping should increase by 25% by 2030 and by 50% by 2050.
For further enquiries, contact Ton Mol, Barge Adviser, This email address is being protected from spambots. You need JavaScript enabled to view it..
---
Barging risk workshops completed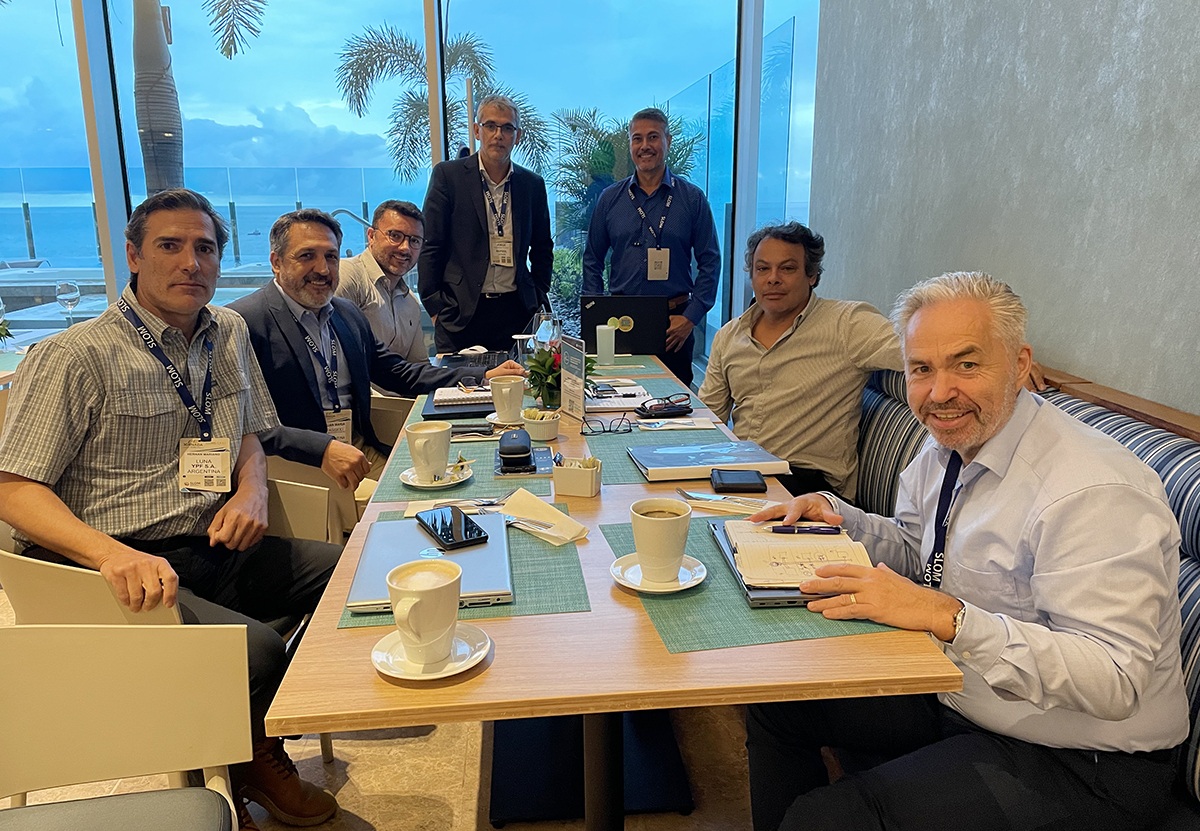 Participants in the South and Central America barging risk workshop
In October and November, OCIMF organised four risk workshops with regional members in North America, South and Central America, Europe and China. 
The goal was to identify the top five priority 1 risks for each region. Workshops were led by OCIMF's Strategy Implementation Manager Steve Alder and Barge Adviser Ton Mol. Input and engagement at the workshops was extremely high, with clear results.
The outcomes of these workshops will form the basis of an action plan for each region, which will be presented to the Barges Expert Group in December. These plans will drive the agenda for next year. We thank all members for their active participation and input. 
For more information, contact Ton Mol, Barge Adviser This email address is being protected from spambots. You need JavaScript enabled to view it..
---
Maritime Leaders Forum
The Maritime Leaders Forum is a new collaboration between Trinity House and Maritime UK, bringing together industry experts and leaders to discuss key challenges and issues for the industry.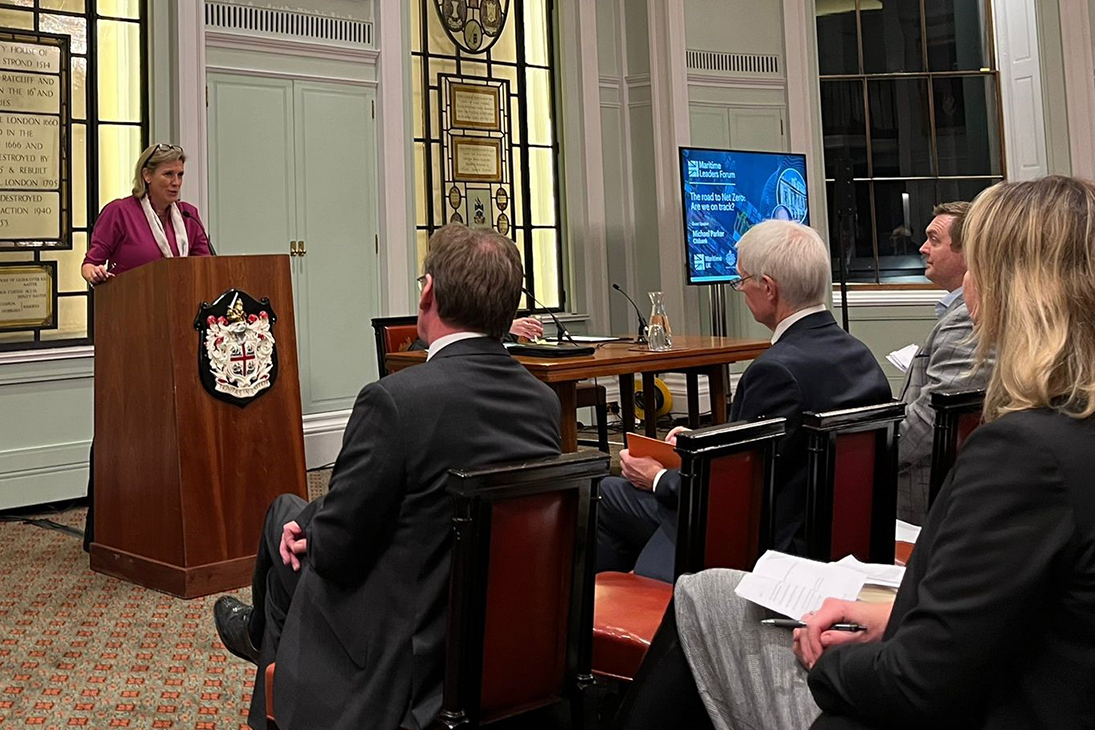 'The road to Net Zero: Are we on track?' was the theme of the first forum, hosted at Trinity House on 21 November. The keynote lecture was given by Michael Parker, Chairman of Citi's Global Shipping, Logistics and Offshore business. He focused on the need for the maritime sector to swiftly respond to climate change.
 
Deputy Master of Trinity House, Capt. Ian McNaught, welcomed the guests and the UK's Parliamentary Under-Secretary of State (Aviation, Maritime, and Security) Baroness Charlotte Vere, who gave a short speech. The minister stressed the importance of shipping in the UK and highlighted that the government is keen to support the sector's net-zero energy transition aims. This would involve the development of new skills and supporting further investment in new technologies, alternative fuels and shore infrastructure.
 
The event was attended by P&A Director, Saurabh Sachdeva. Key points made at the forum included the following:
Ensuring that Clydebank Declaration from COP 26 and Green Corridors succeed with private and government sector collaboration.
UK is at the forefront of pushing the IMO to accelerate its efforts through legislative proposals and to consider how nuclear energy can support decarbonisation.
Discussion of how the finance sector will respond to the environmental indexing of vessels' performance and the new SEEMP requirements coming into force on 1 Jan 2023.
The outstanding challenges following the launch of the UK's Clean Maritime Action plan and Maritime UK 2050 report.
Need for a global market-based measures and to ensure there is a level playing field for shipping.
For more information, contact Saurabh Sachdeva, P&A Director, This email address is being protected from spambots. You need JavaScript enabled to view it..
---
Call to seafarers to participate in a survey on hours of work/rest, workload and ship manning 
The World Maritime University (WMU) is calling on all seafarers who are currently working on any commercial ship, or have worked on such ships at any time after 1 February 1997, to participate in a survey on hours of work/rest, workload, and ship manning.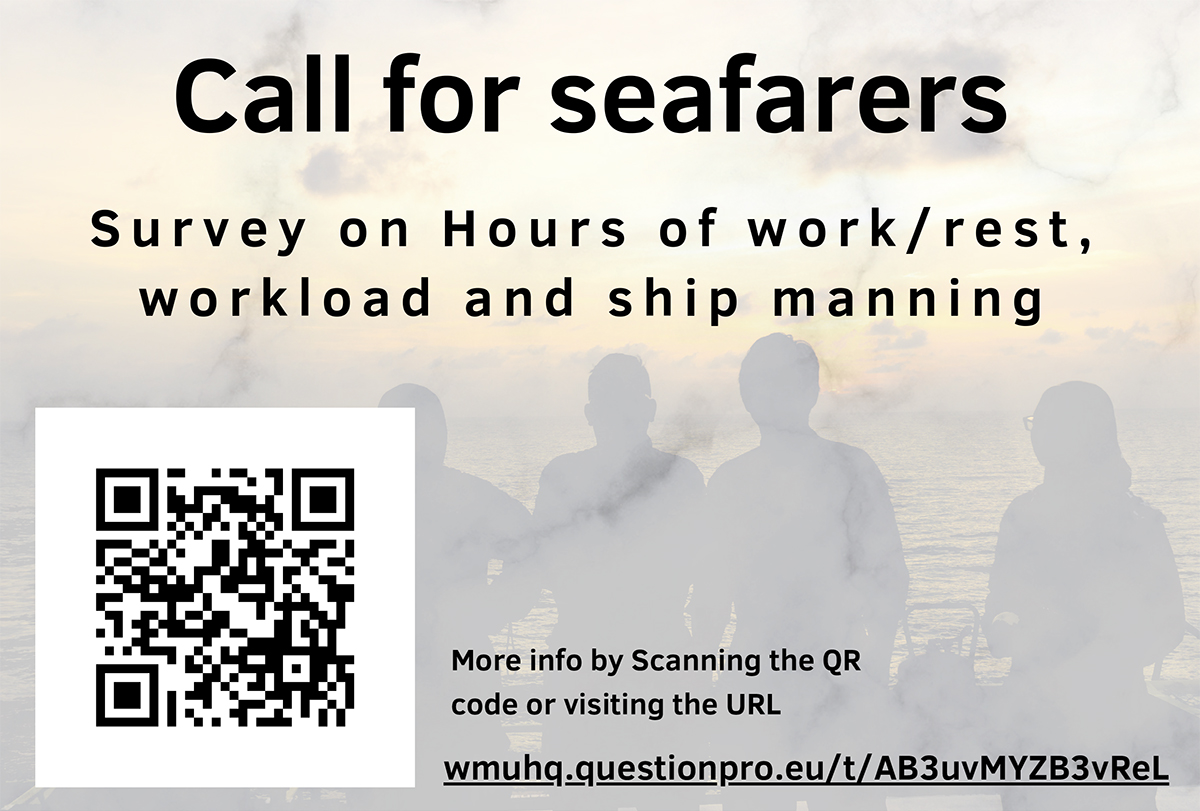 The WMU conducted research on seafarers' work/rest hours in 2019–2020, which was well received and discussed within the industry, including at the IMO and ILO. Consequently, the MSC 105 at the IMO proposed a scoping exercise to enhance provisions on seafarers' work and rest hours and on fatigue.

WMU is conducting the survey in collaboration with the International Federation of Shipmasters' Associations (IFSMA), The Nautical Institute, the Institute of Marine Engineering, Science and Technology (IMarEST), and the International Seafarers' Welfare and Assistance Network (ISWAN). The survey is part of research funded by the ITF Seafarers' Trust. Once the survey is finished, WMU will work with the maritime community to consider improvements.
 
The survey should take no more than 20 minutes to complete, and all responses will remain strictly confidential. You are welcome to share the survey link with seafarers in your network. The participation deadline is 31 December 2022.
 
Follow this link https://wmuhq.questionpro.eu/t/AB3uvMYZB3vReL or click the button below to complete the survey.
Click here to complete the survey 
---
SAFEMODE – final event
OCIMF was invited to attend a two-day event on the dissemination of the main SAFEMODE project outcomes and their application and benefits to the maritime industry.
SAFEMODE is an EU-funded project that works towards promoting learning between the aviation and maritime sectors in the field of human factors, intending to achieve more efficient and resilient modes of transportation. 

The event, held on 10–11 November in Piraeus, Greece, was hosted by the Centre for Research & Technology Hellas (CERTH) and included presentations and workshops on human factors tools to learn from safety reporting, benchmark the human factor maturity in organisations or apply human-centred risk models.

Workshops on the use of the free tools and resources of SAFEMODE included:
The Human Factors Compass: a web-based tool that assists specialists in integrating human factors into projects and workflows.
The SHIELD taxonomy: a database and taxonomy of human factors related data that performs a systematic and deep analysis of human and organisational factors that contribute to accidents and incidents. It allows institutions to create their individual and confidential separate incident databases.
The SEAbrary: an electronic repository of safety and human factors knowledge related to maritime operations
One slot focused on how to move towards a safety learning culture in shipping and the presentation of the safety culture app SAFETYEYE, which quickly and anonymously assesses perceptions of safety in safety-critical organisations.

The event was attended by SAFEMODE stakeholders including maritime authorities, shipping companies, investigation bodies and training institutions and academia.

For further information, please visit the SAFEMODE website or contact Kevin Coelho, Nautical Adviser, This email address is being protected from spambots. You need JavaScript enabled to view it..
---
Maritime security snippets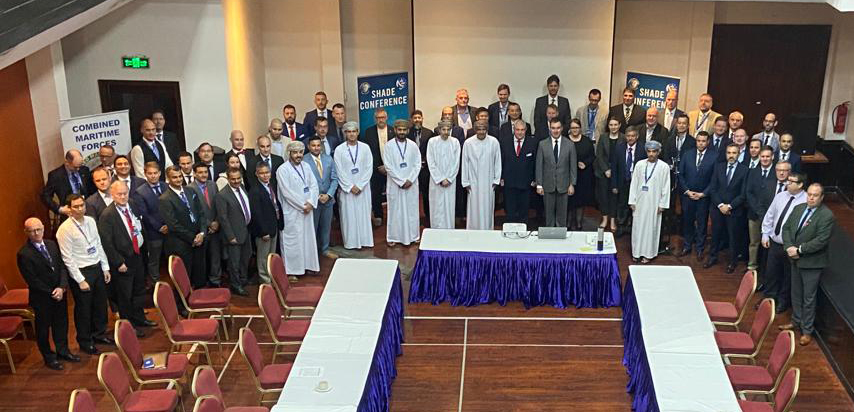 Participants at the 50th SHADE Conference in Manama, Bahrain
SHADE – Indian Ocean
The 50th SHADE (Shared Awareness and De-confliction) Conference took place in Manama, Bahrain, on 16–17 November, hosted by the EU Naval Forces (EU NAVFOR) Operation ATALANTA and Combined Maritime Forces (CMF).
The SHADE Conference brought together representatives from many nations, international organisations and members of the shipping industry to discuss maritime security issues across the Western Indian Ocean. OCIMF members were well represented.
CMF and EU NAVFOR co-chaired the conference, at which speakers and working groups discussed issues affecting freedom of navigation, and ways to improve cooperation between interested parties.
VA José Maria Nuñez Torrente, Operational Commander of EU NAVFOR ATALANTA, said, "It is an honour to see so many attendees joining us for this important conference. I'm especially glad that after a long interruption, we are able to resume SHADE as in-person event." He went on, "For the first time, we have included a working group on Maritime Capacity Building. This reflects the crucial need to have more countries in the region that are able to contribute as a force for stability and resilience. We want to support the efforts by regional organisations, such as the Contact Group on Illicit Maritime Activities in the Western Indian Ocean and the Djibouti Code of Conduct/Jeddah Amendment."
More information can be found here.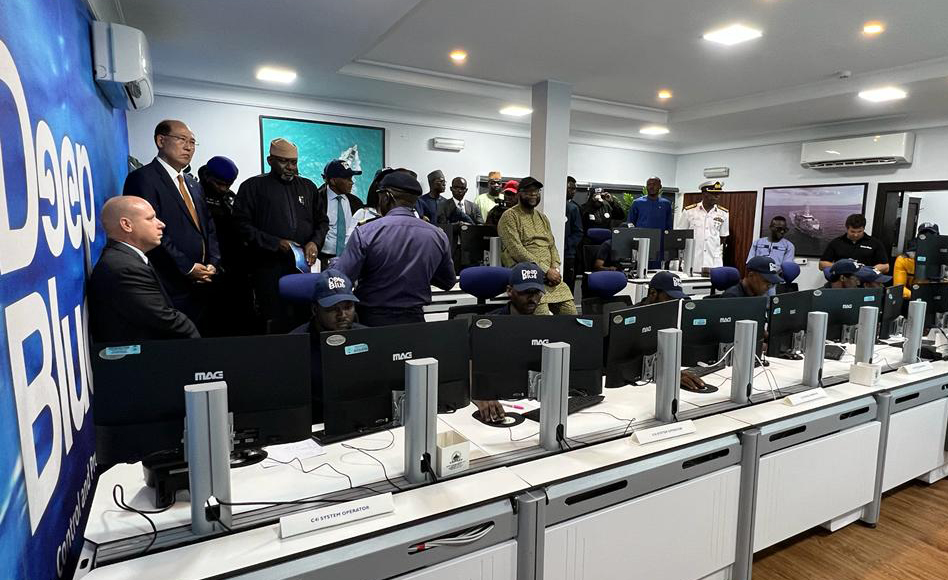 IMO Secretary General, Nigerian Minister of Transport and officials witnessing a Deep Blue Exercise with OCIMF members
Gulf of Guinea – Deep Blue exercise
OCIMF was pleased to support Nigeria LNG Limited (NLNG) by participating in a Deep Blue exercise off the coast of Nigeria. NLNG provided an LNG vessel in support of the first deployment of All Nigerian Deep Blue assets to showcase increased capability to combat maritime threats and in line with its partnership with the industry. The event was held as part of a visit to Lagos by the IMO Secretary-General, who witnessed the exercise from a new Command and Control Centre. 
SHADE-Gulf of Guinea Plenary
On 23 November, the stakeholders of SHADE-GOG held their 6th Plenary meeting co-chaired by the Nigerian Navy and the Yaounde Interregional Coordination Centre. The agenda focussed on the outputs of working groups, whose priorities have been the development of industry releasable threat assessments, streamlined reporting procedures and tools to effect better employment of naval assets.
Further details can be found here.
---
Updated Covid-19 guidelines for inspections
OCIMF has published updated temporary guidelines, co-written with CDI and INTERTANKO, to provide a common set of industry procedures to help facilitate CDI-Marine or OCIMF Programme inspections during the continuing Covid-19 crisis.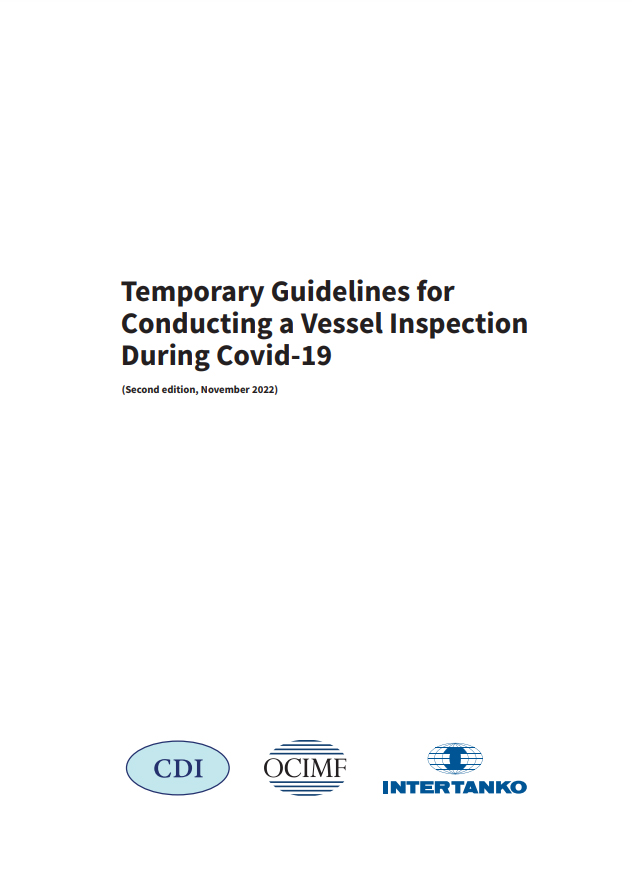 It is important to be aware that the level of Covid-19 infection varies significantly between countries and the level of infection within countries is subject to ongoing change. If followed, these temporary guidelines will ensure the vessel's crew, the Operator and the Inspector are well prepared, reducing the risk of Covid-19 transmission between the Inspector and vessel's crew. The guidelines have been updated in November 2022 to reflect the changing situation since the first edition. 
Temporary Guidelines for Conducting a Vessel Inspection During Covid-19, 2nd edition is available as a free to download information paper.
---
Publishing and Communications Manager update
In April 2022, Symmone Cupidore-Roeg joined OCIMF as Interim Publishing and Communications Manager. OCIMF is pleased to announce that Symmone will continue in this role as a permanent member of the Secretariat, reporting to the Publications and Advocacy Director.
Symmone brings with her 13 years of extensive strategic and operational technical publishing experience. Symmone has become a valued teammate and we are delighted that she will keep this important role for OCIMF. 
OCIMF would also like to bid farewell to Kelly Hadley, who will be leaving in December for a new career opportunity.  
Please join us in thanking Kelly for her work and dedication. For nearly a decade, she expertly managed OCIMF publications and communications.
Special thanks to her for developing and launching our Publications and Communications Strategic Plan. She will be missed by her OCIMF colleagues.  
We wish Kelly every success in her future endeavours.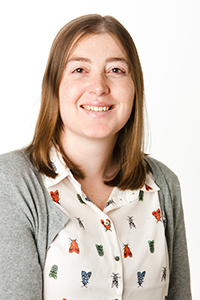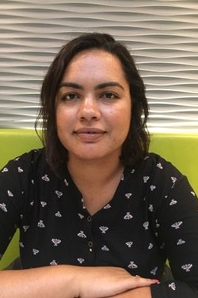 ---
Meeting reports
Structures Expert Group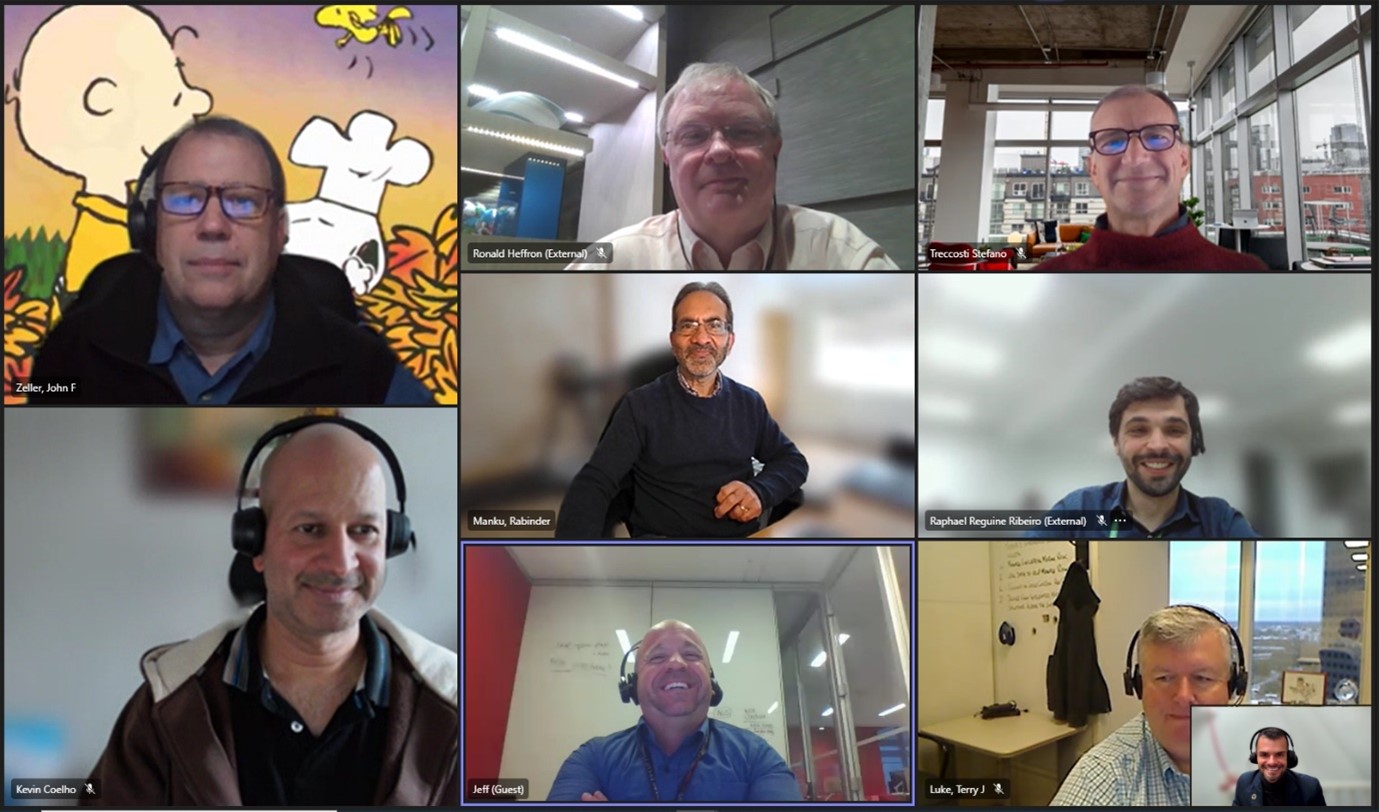 8th meeting: 16 November 2022 (virtual)
Lead: Rabinder Manku (BP)
Secretary: Filipe Santana (OCIMF Engineering Adviser)
The Structures Expert Group (SEG) provides subject matter expertise in naval architecture and civil engineering to the Publications and Advocacy Committees. SEG focus on key areas on terminals, tankers, offshore vessels and barges.
During the 8th meeting, the SEG discussed the progress of the collaboration with PIANC in several workgroups. The highlight was the publication of the report from PIANC WG 153 B named Recommendations for the Design and Assessment of Marine Oil & Petrochemical Terminals. SEG members were part of this important WG and helped achieve this milestone. Also related to the collaboration with PIANC, the SEG discussed how to address possible divergence between the technical guidance from BS 6349-4 and PIANC's WG211 on fender design.
Following the deliberations in the Publications and Advocacy Committee, the group planned a deep dive into the priority risks mapped, which will serve as the basis for forthcoming SEG actions.
Finally, the Chair of OCIMF's Human Factors Committee presented an overview of the committee's activities and discussed collaborative work with SEG members.
Next meeting: February 2023.
For enquiries, contact Filipe Santana, OCIMF Engineering Adviser, This email address is being protected from spambots. You need JavaScript enabled to view it.. 
---
Engineering Expert Group
7th meeting: 30th November 2022 (virtual)
Lead: Ahmer Saeed (Shell)
Secretary: Filipe Santana (OCIMF Engineering Adviser)
 
The Engineering Expert Group (EEG) provides subject matter expertise in engineering operation, maintenance and repair of tankers, offshore vessels and barges.

The 7th meeting of the EEG was dedicated to discussing a work plan for the short, medium and long terms, considering the output from the last sessions of the Publications and Advocacy (P&A) Principal Committees and the Environment Committee.

During the meeting, members engaged in a risk workshop assessing safety and environmental threats in the engineering space. The output of this exercise will provide the basis for the EEG multi-year plan to be proposed to the P&A Committee.

Next meeting: February 2023.

For enquiries, contact Filipe Santana, OCIMF Engineering Adviser, This email address is being protected from spambots. You need JavaScript enabled to view it..
---
Engine Power Limitation Working Group
Chair: Maria Polakis (BP)
Vice-chair: Rohit Abrol (ADNOC)
Secretary: Filipe Santana (OCIMF Engineering Adviser)

The third meeting of the Engine Power Limitation (EPL) working group was held virtually on 21 November. The guide will address the risks and associated best practices for reduced engine or shaft power because of energy efficiency regulations and regional speed reduction schemes.

The group reviewed the table of contents produced to cover all risks mapped at the previous meeting. Sub-groups responsible for drafting the specific sections were then established.

Next meeting: January 2023.

For enquiries, contact Filipe Santana, OCIMF Engineering Adviser, This email address is being protected from spambots. You need JavaScript enabled to view it..
---
Seminar presentations now available
The Publications and Advocacy Committee members met for a joint seminar in October. The presentations from the day are now available for members to view at this link: P&A Committee Members' Joint Seminar presentations.
---
IMO news
Maritime Safety Committee
The 106th session of the Maritime Safety Committee (MSC 106) took place from 2–11 November 2022 at the IMO in London. The committee met in person, with facilities for remote participation.

The following is a summary of the items most relevant to OCIMF and its members:
New SOLAS chapter XV on the safety measures for ships carrying industrial personnel and the International Code of Safety for Ships Carrying Industrial Personnel (IP Code): adopted and expected to enter into force on 1 July 2024.
Maritime Autonomous Surface Ships (MASS): agreement on the structure of the draft MASS Code and an updated future road map with a view to adoption of a mandatory MASS Code to enter into force by 1 January 2028.
Ship systems and equipment

Ban on firefighting foams containing perfluorooctane sulfonic acid (PFOS), subject to adoption by MSC 107 in 2023 for expected entry into force on 1 January 2026.
Ventilation of life-saving appliances: amendments to LSA Code to include ventilation requirements for totally enclosed lifeboats, subject to adoption at MSC 107. Expected to apply to lifeboats installed on or after 1 January 2029.
Onboard lifting appliances and anchor handling winches (OLAW): new SOLAS regulation II-1/3-13 prescribing requirements for design, construction and installation, supported by separate guidelines for lifting appliances and anchor handling winches, respectively.
Safety of navigation

Revised performance standards for Electronic Chart Display and Information Systems (ECDIS): introduction of new IHO specifications, i.e. S-100 and S-101.
Approval of revisions to MSC.1/Circ.1503/Rev.1, ECDIS – Guidance for Good Practice.
GMDSS matters: modernisation of the Global Maritime Distress and Safety System (GMDSS) and approval of revised circulars. Recognition of China's BeiDou Message Service System (BDMSS) for use in the GMDSS.
Revision to Guidelines on Places of Refuge for Ships in Need of Assistance resolution A.949(23): clarity on the roles of the Master, salvor and relevant Coastal State(s).

Human element

Electronic certificates of seafarers: amendments to regulations I/1 and I/2 of the STCW Convention to recognise electronic certification in addition to paper copies.
Safety learning culture: an appreciation by the committee for the activities in relation to the SAFEMODE Project.

Matters of security

Black Sea Grain Initiative: adoption of a new resolution MSC.519(106) Member States' obligations in connection with search and rescue services under the SOLAS and SAR Conventions in the context of armed conflicts.
VLCC Heroic Idun: IMO Seafarer Crisis Action Team to closely follow developments.
For more information, contact Abhijit Aul, Risk and Regulatory Affairs Adviser, This email address is being protected from spambots. You need JavaScript enabled to view it..