"This strategic collaboration underscores OCIMF's commitment to reduce operational emissions within the maritime industry."  
---
Director's Log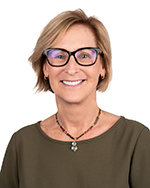 This month, I am delighted to announce that OCIMF, as a member of the Global Maritime Forum Task Force on Operational Efficiency, has signed an Operational Efficiency Ambition Statement to demonstrate its commitment to achieving tangible progress through our best practice guidance and programmes.
Building on this commitment, OCIMF advocates for transparency regarding environmental performance and progress while maintaining a technology-neutral stance. We support flexibility of choice, staying focused on risk management and the practicability of any chosen solution. 
This strategic collaboration underscores OCIMF's commitment to reduce operational emissions within the maritime industry. We are aligning with like-minded organisations, industry leaders and operators to drive positive change, foster innovation and promote sustainable practices in the maritime sector. This collaboration with the Global Maritime Forum represents a significant step forward as part of OCIMF's ongoing efforts to improve safety and environmental performance. We look forward to continuing work with the task force members to identify and implement solutions that will benefit not only our member organisations but the entire maritime community. 
As you will see in this month's newsletter, our commitment to industry collaboration extends across all OCIMF's work. I look forward to sharing more news of progress in the coming period. 

Karen Davis
Director OCIMF
---
Successful event engages Central and South American marine community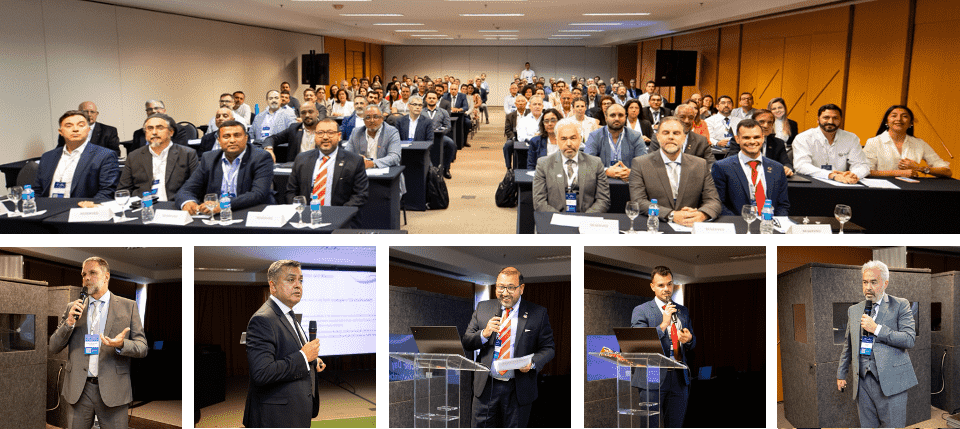 OCIMF and INTERTANKO jointly hosted an event to share current work and plans in Rio de Janeiro, Brazil, on 26 September.
With the support of the Latin American Society of Marine Oil Terminals and Monobuoy Operators (SLOM), the event was held the day before SLOM's annual Jornada conference. It was an opportunity for OCIMF to share its work and the initiatives it is engaged in to meet future challenges and changing industry risk profiles. 
Representing OCIMF were Saurabh Sachdeva, Publications and Advocacy Director, Ajay Gour, Inspector Training & Accreditation Manager, Ton Mol, Barge Adviser and Filipe Santana, Engineering Adviser. OCIMF's Executive Committee members Luciano Maldonado (Petrobras) and Dr Waddah Ghanem (ENOC) were also present. 
It was a well-attended event at which OCIMF provided a strategic overview, updates on new and revised publications, and collaborative actions. The use of OCIMF programmes for quality assurance was also presented. Erik Frank from Raízen, an OCIMF member company, gave a presentation on their initiatives to enhance maritime security in Brazilian barging operations.
The OCIMF delegation also took the opportunity to engage with members that operate locally, such as Petrobras, Raízen, and Shell. Before the event, OCIMF promoted a SIRE Cat 3 training course and a Barge Expert Group meeting. 
For enquiries, contact Filipe Santana, OCIMF Engineering Adviser, This email address is being protected from spambots. You need JavaScript enabled to view it., or any of the Secretariat staff mentioned above. 
 
---
OCIMF and MTS strengthen working relationship
OCIMF and Marine Technology Society (MTS) have signed a Memorandum of Understanding (MoU) to foster a learning environment for the development of global dynamic positioning (DP) assurance standards and guidance in the offshore and upstream marine industry.   
This MoU establishes a closer working relationship between OCIMF and MTS. By working together, the two organisations aim to increase the effectiveness of their work, and promote safety and DP standards to the global upstream and marine industry.  

Both organisations have welcomed the opportunity to support these activities and to develop a joint industry paper on single fault tolerance of DP systems. As part of this MoU, OCIMF's Publications & Advocacy Offshore Principal Committee and MTS DP Committee will be working closely to develop DP guidance and standards and DP Learning from Incidents (LFI). 
For more information, please contact Graham Coles, Offshore Adviser This email address is being protected from spambots. You need JavaScript enabled to view it. or Saurabh Sachdeva, Publications and Advocacy Director, This email address is being protected from spambots. You need JavaScript enabled to view it..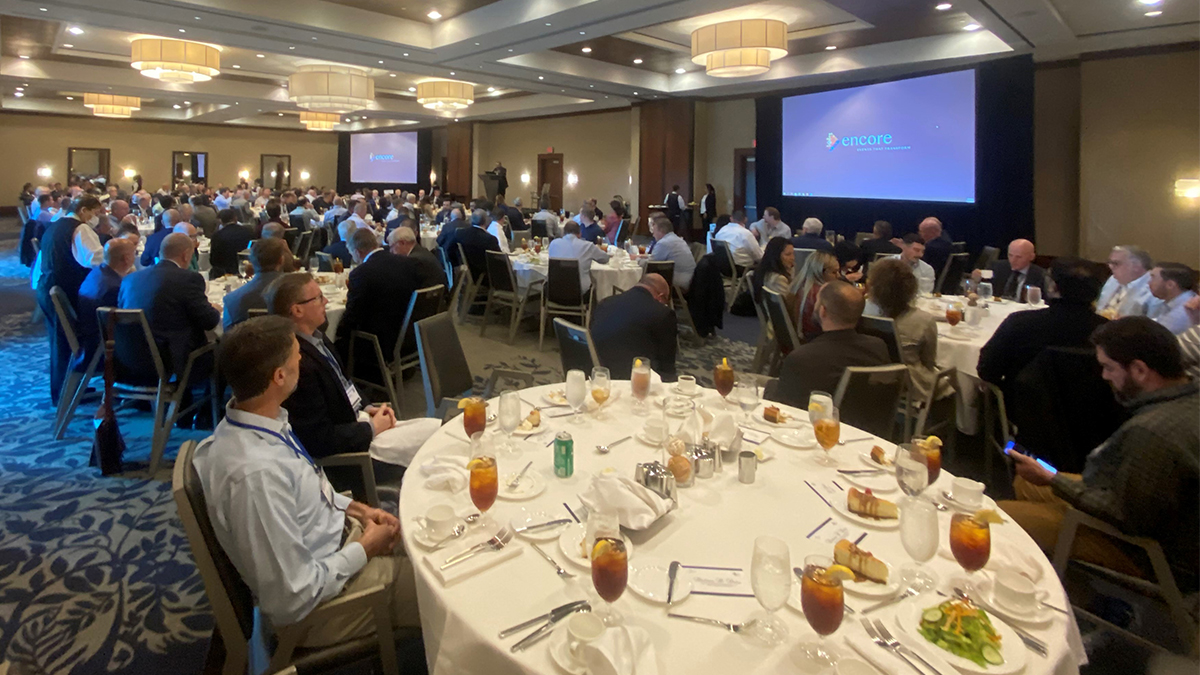 OCIMF was pleased to attend the 25th Marine Technology Society (MTS) Dynamic Positioning Conference, 9–11 October in Houston, US. The 3-day event of workshops and presentations gathered industry stakeholders and subject matter experts from around the world.
---
IOPC Funds and Japan Maritime Centre joint seminar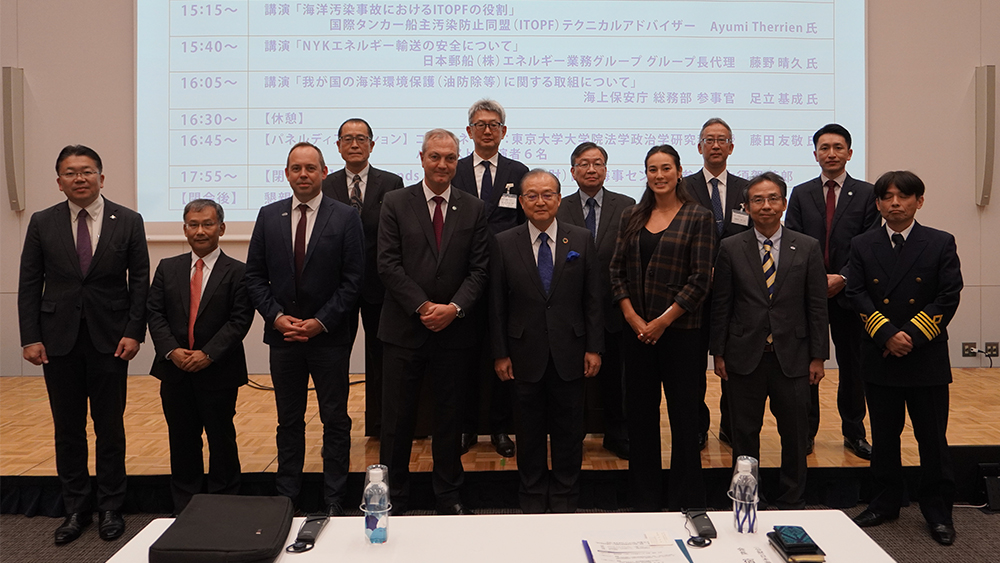 OCIMF was invited to attend the IOPC Funds/Japan Maritime Centre joint seminar in Tokyo on 18 October. 
The seminar was well attended by some 300 industry representatives in person and online. The keynote was provided by Mr Gaute Siversten, Director of IOPC Funds. Presentations included the role of IOPC Funds in the protection of the marine environment now and in the future, the role of ITOPF in marine pollution incidents, safety in energy transportation by NYK, marine environmental protection and oil spill response by the Japanese Coast guard, and policy initiatives to enhance marine safety and environmental protection by the Japan Transport and Tourism Research Institute.   

Aaron Cooper, Programmes Director, presented on 'SIRE 2.0: A step change in tanker inspections, vetting and assurance' as well as providing an overview of OCIMF's history, organisational structure, vision, mission and strategic priorities, including an update on OCIMF's global barge activities and initiatives.

For further information, please contact Aaron Cooper, Programmes Director, This email address is being protected from spambots. You need JavaScript enabled to view it..
---
OCIMF visits the Petroleum Industry Marine Association Japan

OCIMF was invited to attend the Petroleum Industry Marine Association (PIMA) seminar in Tokyo on 19 October.
Programmes Director Aaron Cooper presented an overview of OCIMF's revised vision, mission, and strategic priorities. An update was provided on SIRE 2.0, including the key difference between the existing SIRE programmes and the rationale for the transition to SIRE 2.0. The seminar also covered OCIMF's regional barge activity and initiatives as well as an update on the SIRE Cat-1 and Cat-3 training and accreditation programme. This was an engaging and valuable event with an extensive Q&A session.

For further information contact Aaron Cooper, Programmes Director, This email address is being protected from spambots. You need JavaScript enabled to view it..
 
---
Pertamina hosts forum in Bandung, Indonesia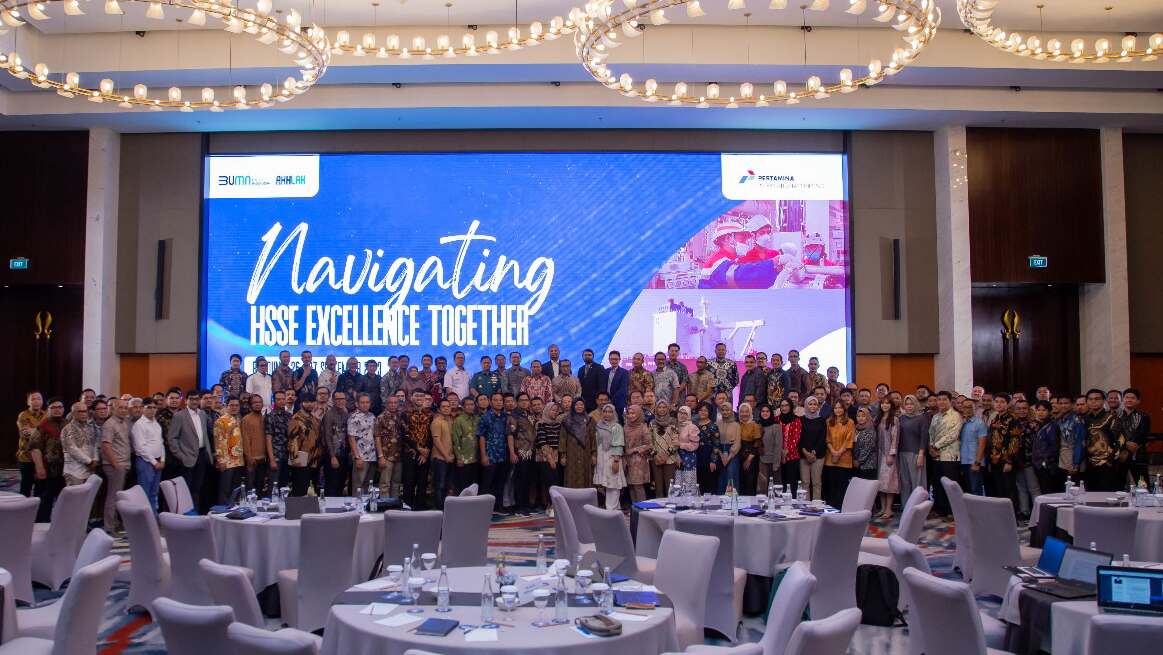 OCIMF was invited to present at Pertamina's Forum 2023, themed 'Navigating HSSE Excellence Together' in Bandung, Indonesia on 26–27 September.
Participants included all business units under Pertamina International Shipping, external ship operators, seafarers and DNV class, among others. OCIMF's SIRE 2.0 Technical Adviser Sashidaran Gopala presented a workshop on SIRE 2.0, prompted by keen interest within Pertamina to ensure all their owned, time chartered and domestic vessels raise their operating standards. The presentation was very well received, putting participants at ease with what SIRE 2.0 entails. OCIMF would like to thank Pertamina for this opportunity to engage with the maritime industry in Indonesia.

For more information, contact Sashidaran Gopala, SIRE 2.0 Technical Adviser, This email address is being protected from spambots. You need JavaScript enabled to view it..
 
---
INTERTANKO Seafarers' Seminar in Manila

OCIMF proudly hosted a meeting of the Ethnicity in Maritime Network during LISW.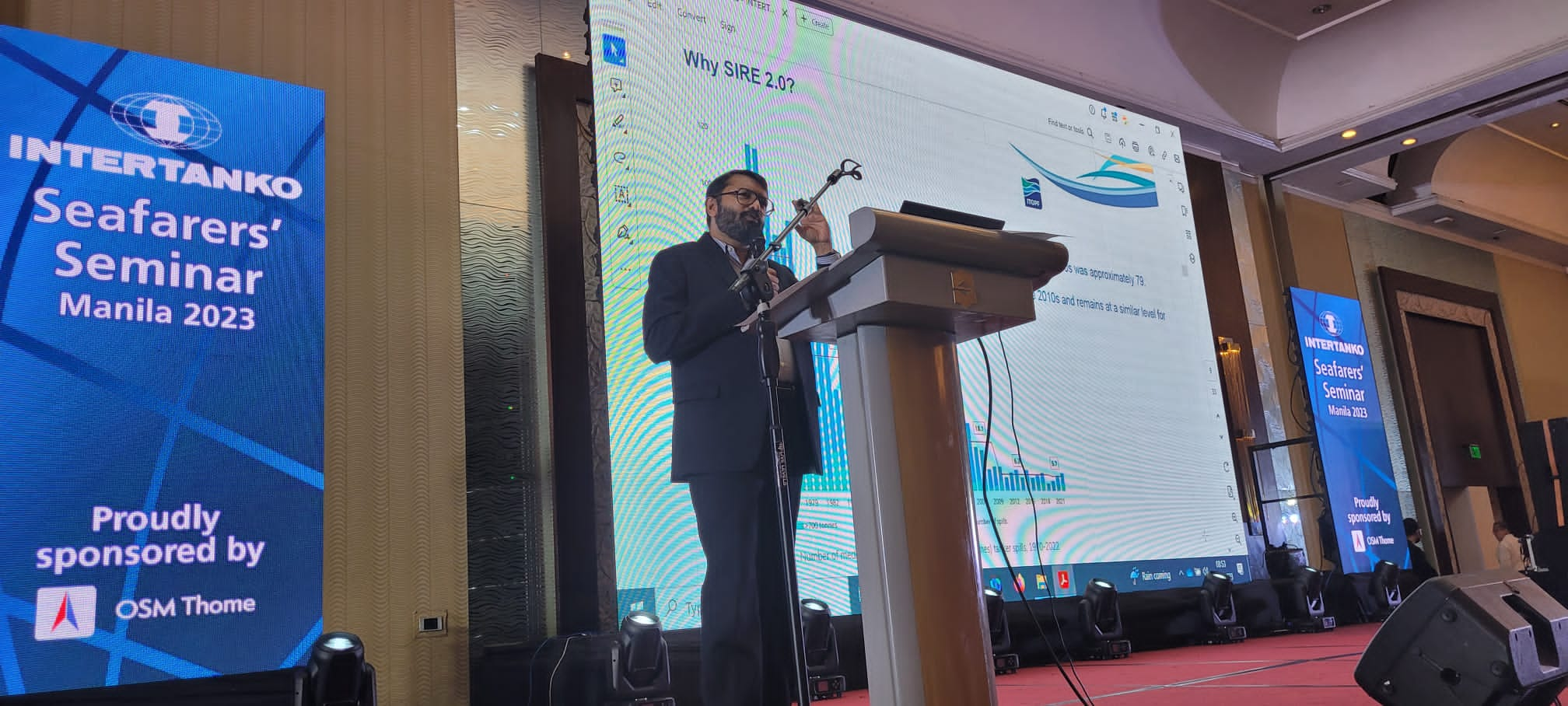 OCIMF attended INTERTANKO's seminar in Manila on 2 October, represented by its SIRE 2.0 Technical Adviser, Capt. Sashidaran Gopala, who gave an extensive overview of how seafarers should approach SIRE 2.0 inspections.
The event attracted nearly 1,300 seafarers and addressed diverse topics, from mental health and security to matters arising from SIRE 2.0. The Q&A with the panel of speakers saw a majority of questions relating to SIRE 2.0. Overall, it was a very successful seminar, with participants leaving with renewed confidence in the new inspection programme. OCIMF would like to thank INTERTANKO for this opportunity to engage directly with seafarers.

For more information, contact Sashidaran Gopala, SIRE 2.0 Technical Adviser, This email address is being protected from spambots. You need JavaScript enabled to view it..
---
 OCIMF attends Global Maritime India Summit
OCIMF's Publications and Advocacy Director, Saurabh Sachdeva, attended the Global Maritime India Summit in Mumbai from 17–19 October, which was inaugurated virtually by India's Prime Minister Narendra Modi.
The panel was chaired by Minister of State Nityanand Rai and moderated by Vice Admiral G. Ashok Kumar (Retd), National Maritime Security Coordinator and Captain Anish Joseph, Deputy Nautical Adviser, DG Shipping. Key themes included the fundamental right of free passage under UNCLOS, the need to ensure safety of merchant shipping for energy security and transit corridors through choke points surrounding India, seafarers' security, role of data sharing and technological innovations, and strengthening of international cooperation.

OCIMF spoke about the importance of safety and security, and how it is linked with the fundamentals of energy security, ensuring a safe environment for business, and enabling a strong assurance framework for investment resilience.

OCIMF will continue to develop best practices to support tankers, offshore, terminals and barging as India's maritime industry grows.

For more information, contact Saurabh Sachdeva, Publications and Advocacy Director, This email address is being protected from spambots. You need JavaScript enabled to view it..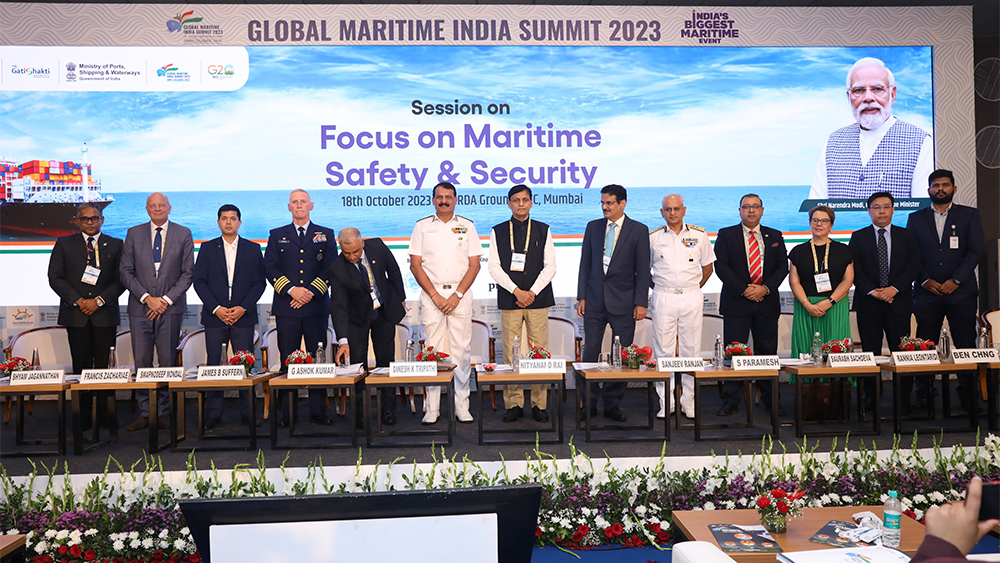 Panellists at the Global Maritime India Summit 2023, left to right: Shyam Jagannathan, DG Shipping, Ministry of Ports, Shipping & Waterways; Francis Zachariae, Secretary General, IALA; Swapnodeep Mondal, Group Director – Operations, Anglo-Eastern Ship Management Ltd; Captain James B. Suffern, Commanding Officer, Activities Far East, US Coast Guard; Vice Admiral G. Ashok Kumar, National Maritime Security Coordinator; Vice Admiral Dinesh K. Tripathi, NM Flag Officer Commanding-in-Chief Western Naval Command, Indian Navy; Nityanand Rai, Minister of State; Dr. Sanjeev Ranjan, Chairman, National Shipping Board; Additional Director General S. Paramesh, Indian Coast Guard; Saurabh Sachdeva OCIMF P&A Director; Dr Rannia Leontaridi, Director General Aviation and Maritime Security, UK Department for Transport; Ben Chng, Director, Wärtsilä Voyage Global Sales; Akhileshwar Reddy, Programme Manager, Satellite Navigation Program Office, ISRO.
---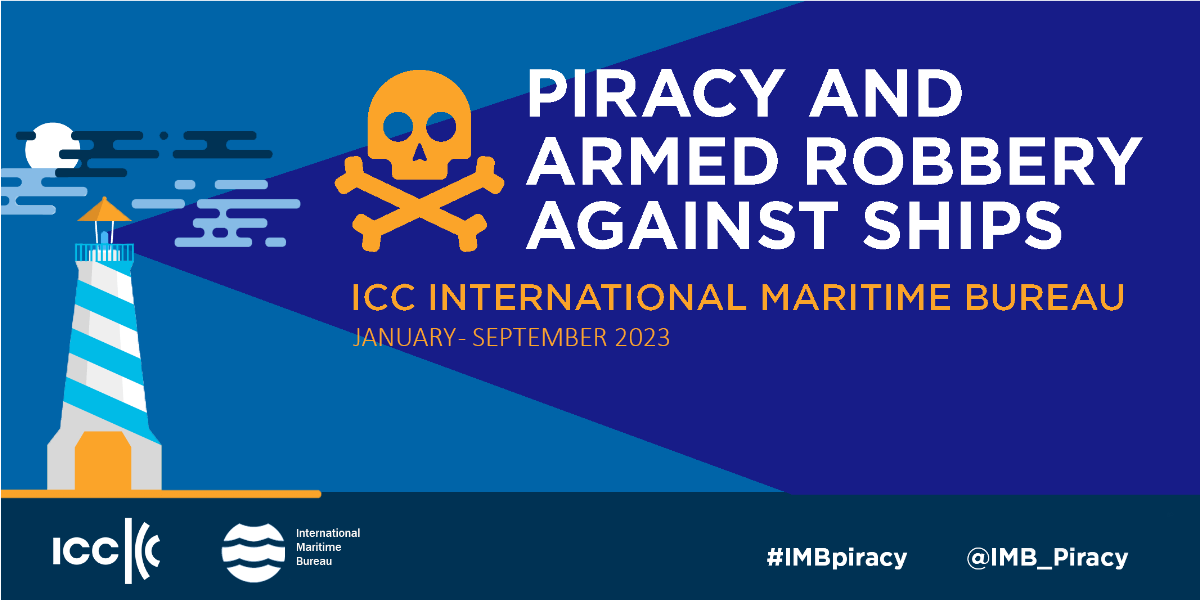 Call for efforts to curb piracy and armed robbery
The International Chamber of Commerce's International Maritime Bureau (IMB) calls for regional efforts to safeguard shipping and trade as maritime incidents rise.   

The IMB's latest report indicates a rise in reported incidents in the Gulf of Guinea and concerns for operations in the Singapore Straits. Ninety-nine incidents of piracy and armed robbery against ships were reported in the first nine months of 2023, an increase from 90 incidents for the same period in 2022. So far this year, 85 vessels were boarded, nine had attempted attacks, three were hijacked and two were fired upon. Perpetrators successfully boarded 89% of targeted vessels, with most incidents occurring at night. Even though reported violence towards crew members is among the lowest in three decades, the risk to crew remains real with 69 taken hostage, 14 kidnapped, eight threatened, three injured and one assaulted.

IMB Director Michael Howlett said: "The Gulf of Guinea stands as a region of concern with a rise in reported incidents, as opposed to the downward trend we have seen in the past two years." 
---
OCIMF participates in INTERTANKO's Human Element discussions
OCIMF's Nautical Adviser Kevin Coelho was invited to attend and present at INTERTANKO's Human Element in Shipping Committee (HEiSC) and the European Regional Panel meeting in Rome, Italy.
HEiSC met at the offices of the Italian Shipowners Association, Confitarma, on 26 September, followed by the Regional Panel on 27–28 September. There was very good representation by INTERTANKO members and healthy discussions in the room on a range of topics covered by the presenters. Kevin Coelho gave an overview of OCIMF's current work, the Ship to Ship Transfer Guide revision project and human centric design on mooring arrangements, which generated a lot of interest and discussion in the room. The HEiSC discussed a broad range of issues related to the employment, training and welfare of seafarers. At the Regional Panel meeting, members engaged on a range of issues including the Nigeria tax review exercise, the European Union's Emissions Trading System (EU ETS), Russian sanctions and the recommendations from INTERTANKO's recent seafarers' survey. Presentations from INTERTANKO Secretariat also covered environmental and legal topics.

For further enquiries, contact Kevin Coelho, OCIMF Nautical Adviser This email address is being protected from spambots. You need JavaScript enabled to view it..
---
Meeting reports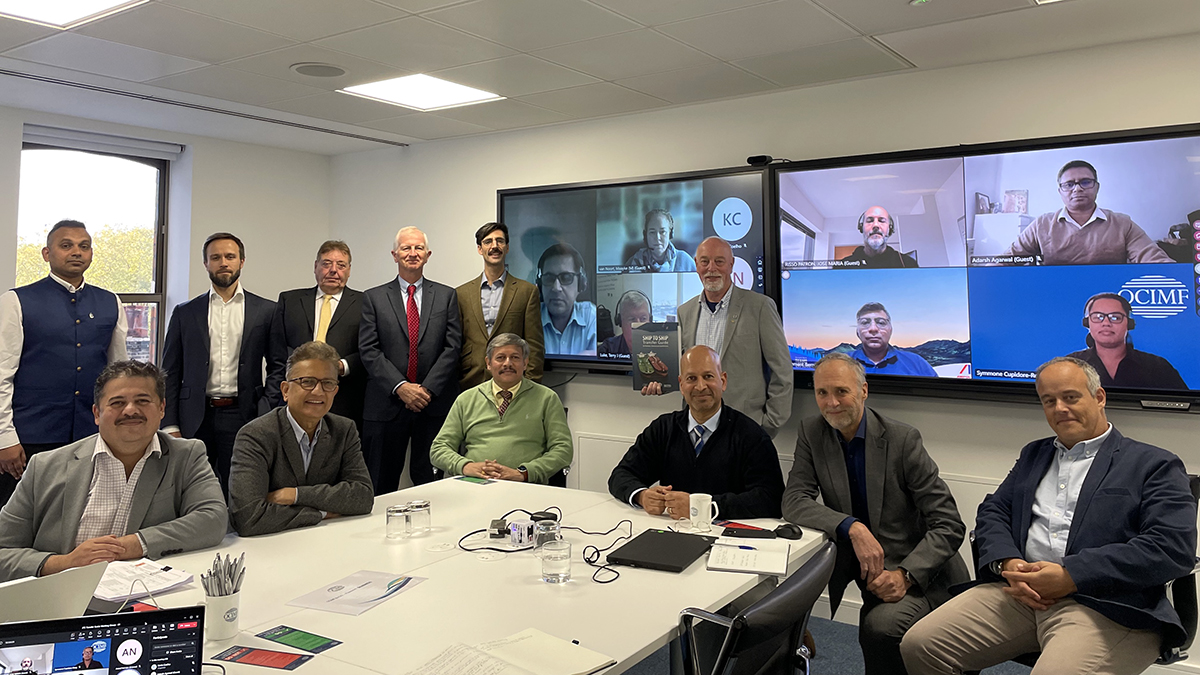 Ship to Ship Transfer Guide Revision Working Group

3rd meeting: 17–18 September
Lead: Bill Kappelman (Chevron)
Co-Lead: Arvind Natarajan (ICS Secretariat)
Secretary: Kevin Coelho (OCIMF Nautical Adviser)

The Working Group (WG) revising the Ship to Ship Transfer Guide held its third meeting in September. Participants from OCIMF and co-authors International Chamber of Shipping (ICS), Chemical Distribution Institute (CDI) and Society of International Gas Tanker and Terminal Operators (SIGTTO) met in person at OCIMF's London office, as well as dialling in remotely.

The project's Steering Group met in the morning of 17 September to discuss the work plan and progress, before the full WG in the afternoon and the next day. The WG meeting began with introductions and appreciation for the commitment of participants' home organisations allowing for their time, expertise and effort to be put into revising this important industry guideline. OCIMF Nautical Adviser and the Project Support consultant gave a status overview and update on the project.

Detailed discussions included the following:
Status overview and update on progress so far. The master comments register is now considered complete, however, key comments may still be added where action is required.
Finalisation of the project plan with timeline of work and agreement on meeting frequency.
Work allocation and comment register review.
Method of work and editorial process.
Working group members used the opportunity to raise questions and seek clarifications.

For more information, please contact Kevin Coelho, OCIMF Nautical Adviser, This email address is being protected from spambots. You need JavaScript enabled to view it..
---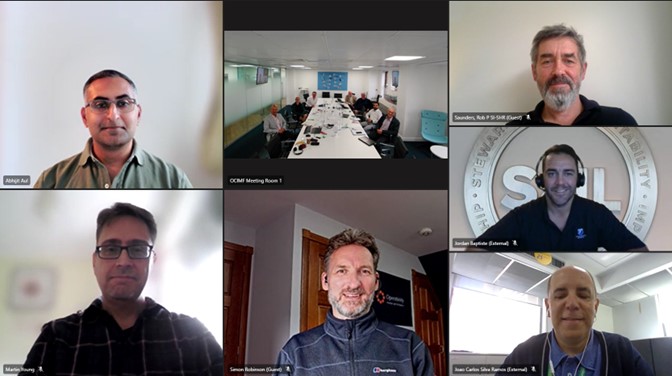 Human Factors Committee
7th meeting, 19 September 2023 (hybrid)
Chair: Terry Luke (Chevron)
Co-Chair(s): Victoria Norris (BP) and Laurent Routisseau (Total Energies)
Secretary: Kevin Coelho (OCIMF Nautical Adviser)
 
The seventh meeting of the Human Factors Committee (HFC) was held at the OCIMF office in London, with dial-in facilities. The HFC reviewed work completed, ongoing and forthcoming work, and collaboration with our industry partners. The included the following points, among others:
The Human Factors Plan and Project Tracker was discussed in detail. The Secretary thanked members who were contributing a lot and requested the others to step forward and assist where they could.
An update on the publications plan and the key titles in which human factors will be important: the Ship to Ship Transfer Guide revision and the Global Barge Guide.
Enclosed Space Entry – the secretary noted a half day workshop to be held in the fourth quarter on this topic, bringing together industry bodies to discuss what else can be done to promote safety in this area.
The following day was dedicated to completing a draft human factors publications checklist. Once completed, the team will move onto revising the Human Factors: Management and Self Assessment information paper, incorporating comments received from industry bodies.
 
Next meeting: Q1 2024 (intersessional meetings will be held as necessary)

For further enquiries, contact Kevin Coelho, OCIMF Nautical Adviser, This email address is being protected from spambots. You need JavaScript enabled to view it..
---
IMO news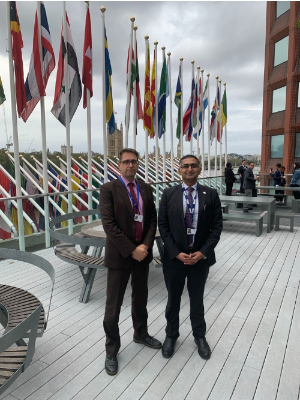 OCIMF's Environmental Adviser Martin Young and Risk and Regulatory Affairs Adviser Abhijit Aul attended the Sub-Committee on Carriage of Cargoes and Containers at the IMO from 20–29 September.
Sub-Committee on Carriage of Cargoes and Containers (CCC 9)
CCC 9 was held at the IMO from 20–29 September 2023. The meeting took place in hybrid-mode, with facilities for registered delegates dialling-in remotely.  
The following brief provides a summary of discussions that took place during the session and are relevant to OCIMF and its members. 
Safety of personnel entering enclosed spaces on board ships 
Revision of resolution A.1050(27) on Recommendations for entering enclosed spaces aboard ships – working group made good progress. 
OCIMF proposal to recognise the role of organisational leadership in successful implementation of this guidance was noted in the resolution text to the guidance. 
Safety of ships using alternative and low flashpoint fuel  
Interim guidelines for ships using hydrogen as fuel – further progress made with OCIMF actively contributing to the working group discussion. 
Interim guidelines for ships using ammonia as fuel – redefining key terms of reference for further work. 
Updated work plan for development of guidance on alternative fuels – seeking finalisation and approval of hydrogen and ammonia guidelines by December 2024. 
Next steps – consideration of development of mandatory IMO instruments for fuels cells, methyl/ethyl alcohols. 
Bulk carriage of liquefied hydrogen  
Agreement of revised interim recommendations for carriage of liquefied hydrogen in bulk – subject to approval by MSC 108 in May 2024. 
Matters related to the IGC and IGF Codes  
Agreement of interim guidelines for use of Liquefied Petroleum Gas (LPG) cargo as fuel – subject to approval by Maritime Safety Committee (MSC) 108. 
Agreement of amendments to the IGF Code.
Agreement of and further progress on drafting of amendments to the IGC Code. 
For more information contact Abhijit Aul, Risk and Regulatory Affairs Adviser, This email address is being protected from spambots. You need JavaScript enabled to view it..