"The shipping industry has a long way to go to embrace HF, but we have made a promising start at OCIMF."
---
Managing Director's Log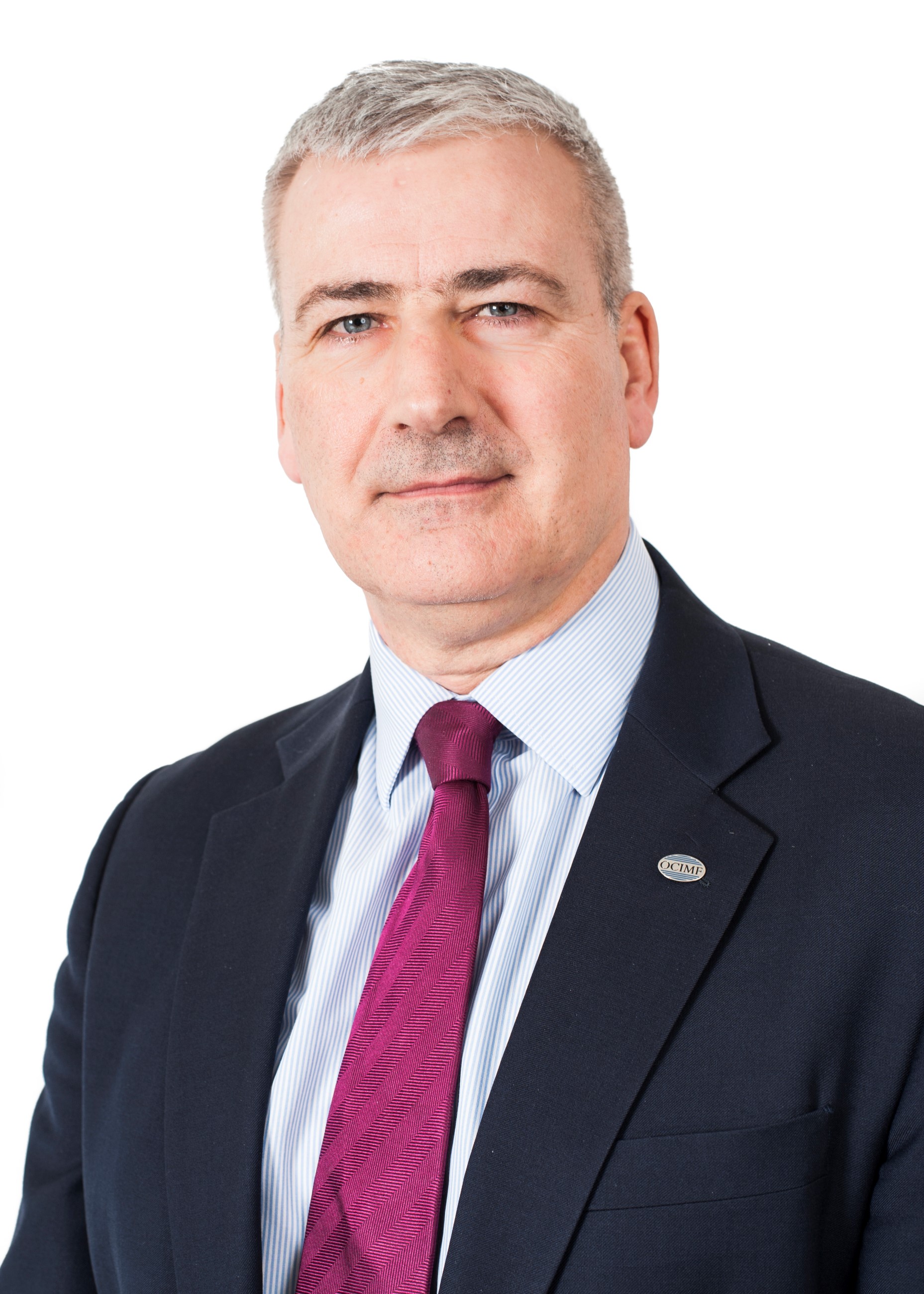 The last week of March was accentuated by the container ship EVER GIVEN grounding in the Suez Canal.
The event has caused delays to trade flow through the canal, affecting all types of cargo. It has also provided subject matter for many discussions on LinkedIn and in the various press journals. Some of them have been quite humourous and that is okay as no one was injured and, as far as I know, there has been no environmental impact. Most of the discussions are speculative and working on assumed 'facts'. While it is human nature to want to know what went wrong as soon as possible, it is wise to await the results of the investigation before considering what needs to be done to prevent a recurrence in the future. While drafting the Managing Director's Log, the welcome news is that the vessel has been re-floated and normal business will resume in due course. However, the incident has consequences other than the direct massive build-up of ships waiting to transit the canal. In some cases, ships have already committed to going the long way round, which means passing through two security sensitive areas off East and West Africa. A risk that I hope has been properly evaluated and planned for by stakeholders.
This month we held the latest committee meetings encompassing our new structure. You can read these reports below, but I want to specifically highlight the Human Factors Committee. Our mission commits us to consider Human Factors (HF) in everything we do, and this committee is critical in ensuring we meet that commitment. The member representatives on the committee are a mix of subject matter experts and generalists with operational experience. This balance enables the committee to provide robust yet practical HF guidance and input to all our activities. They have already demonstrated their agility in developing COVID-19 related guidance, completed a draft element on HF for future consideration in Tanker Management Self Assessment (TMSA) and are currently providing input to the SIRE 2.0 question set development and HF related training for Inspectors. The shipping industry has a long way to go to embrace HF, but we have made a promising start at OCIMF. I look forward to reporting more positive outputs from this committee in future newsletters.
I wish you all a safe, happy and healthy April.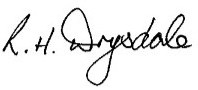 Rob Drysdale
Managing Director OCIMF
---
New information paper – Guidelines for Transiting the Turkish Straits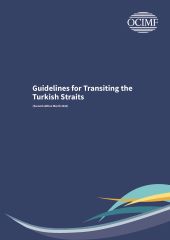 OCIMF is pleased to announce the publication of an updated edition of the information paper Guidelines for Transiting the Turkish Straits.
The Turkish Straits present a unique navigational challenge. To help the development of company risk assessments for companies operating in this area, OCIMF has updated the Guidelines for Transiting the Turkish Straits (published in 2007) and provided additional guidance. This information paper considers new and updated regulations and traffic systems, outlines risks of, and recommendations for, transiting the Turkish Straits to safety of navigation.
pdf Guidelines for Transiting the Turkish Straits (638 KB)
---
OCIMF presents at Coventry University London

Sam Megwa, OCIMF Programmes Director, and Rob Drysdale, OCIMF Managing Director, were invited by Coventry University (CU) London to make a presentation to undergraduate students on the Oil, Gas and Energy Management course on 1 March.
Topics included an overview of OCIMF, its role in safety, security, health and environment, its interaction with the International Maritime Organization (IMO), innovation and new technology in the industry and future hot topics. A total of 30 students attended and provided good questions to the presenters during the Q&A session that followed. In fact, there was so much interest in the topics and OCIMF's role that the Q&A session was extended. Sam and Rob thoroughly enjoyed the experience and found the enthusiasm and active participation immensely rewarding. OCIMF is grateful to CU London's Ann-Marie Laffey for the invitation and is grateful to the participants.
---
Publications & Advocacy Tankers, Barges and Terminal Interfaces Committee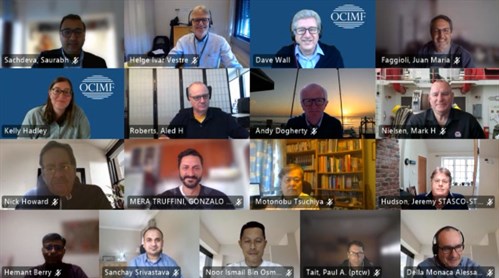 Chair: Aled Roberts (BP) Vice Chairs: John DeRose (Excelerate Energy) and Raj Shetty (ENOC) Secretary: Dave Wall (OCIMF Publications & Advocacy Director) 2nd meeting: 17-18 March (Virtual)
The Publications & Advocacy Tankers, Barges and Terminal Interfaces (P&A TBT) Committee met 17-18 March for their second meeting. All committee members attended and there was good discussion on the future of advocacy and publications for OCIMF.
Next meeting: 15-16 September (Virtual)
---
Publications & Advocacy Offshore Committee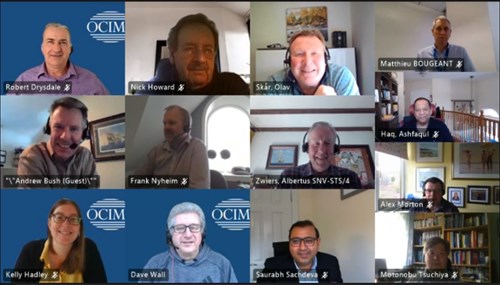 Chair: Andy Bush (ExxonMobil) Vice Chairs: Don Davis (Chevron) & Matthieu Bougeant (Total) Secretary: Dave Wall (OCIMF Publications & Advocacy Director) 2nd meeting: 24-25 March (Virtual)
The Publications & Advocacy Offshore (P&A Offshore) Committee met 24-25 March for their second meeting. Most of the committee members attended and there was good presentation and discussions on the future of the publications and advocacy related to offshore. In addition, the committee discussed a recent tragic fatality that was related to lifeboats on a member's offshore installation.
Next meeting: 22-23 September (Virtual)
---
Human Factors Functional Committee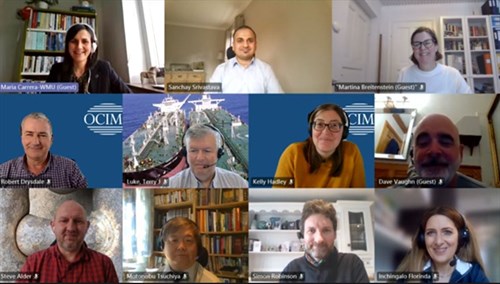 Lead: Terry Luke (Chevron) Co-Leads: Victoria Norris (BP) and Laurent Routisseau (Total) Secretary: Sanchay Srivastava (OCIMF Nautical Adviser) 2nd meeting: 11 March 2021 (Virtual)
The Human Factors Functional Committee (HFC) followed up on activities related to publications, advocacy and programmes. Since their inaugural meeting, the HFC has supported ongoing initiatives including:
Development of OCIMF position paper on Human Factor considerations related to delayed crew changes during the coronavirus (COVID-19) outbreak (November 2020).
Finalisation of the OCIMF information paper TMSA Element on Human Factors, which is to be published Q2 2021.
Activities related to VIP (SIRE 2.0) project that include VIP question set reviews, proposal for HF response tool and supporting HF training provider in developing HF-related training modules for future SIRE Inspectors.
There was a presentation given by guest speaker Dr Maria Carrera from the Research Associate from World Maritime University (WMU), Sweden on SafeMode project that aims to enhance HF in transport safety, strengthen synergies between aviation and maritime sectors, while acknowledging the specifics of each sector. Further engagement will be planned with the SafeMode project team and the HFC to further establish synergies between WMU and OCIMF.
There was active participation from the attendees and a clear commitment to support future activities.
For enquiries, contact Sanchay Srivastava, OCIMF Nautical Adviser at This email address is being protected from spambots. You need JavaScript enabled to view it. 
Next meeting: 8 September (Virtual)
---
Environmental Committee
Lead: Sebastien Roche (Total) Co-Lead: Holly Thomas (Woodside) Secretary: Ricardo Martinez (OCIMF Engineering Advisor) 2nd meeting: 2 March (Virtual)
The Environmental Committee held a workshop to review the emerging risks and opportunities from the environmental bow tie for inclusion into a committee plan on the marine environment. During this workshop session, the Strategy Implementation Manager facilitated the committee's development of a key objectives' matrix showing key outputs for environment that are aligned to the OCIMF Vision, Mission and Strategic Priorities. The committee's alignment to this matrix should drive the committee's collective efforts to include the environment into the existing and future outputs of OCIMF and it should ensure that the committee's work is properly prioritised around the highest risks in accordance with the OCIMF Strategy.
The committee then reviewed the ongoing work related to environmental matters at the IMO, and the OCIMF Regulatory Adviser briefed the committee on the status of work streams related to the committee's high priority areas. The OCIMF Regulatory Adviser also briefed the committee on the 2021 advocacy diary, resource locations of IMO briefs and the newly created advocacy register and how that will be used in the future to prioritise advocacy initiatives at the IMO.
For enquiries, contact Ricardo Martinez, OCIMF Engineering Adviser This email address is being protected from spambots. You need JavaScript enabled to view it. 
Next meeting: 1 September (Virtual)
---
Maritime Security Snippet
OCIMF, a recognised partner of the Regional Cooperation Agreement on Combatting Piracy and Armed Robbery against Ships in Asia (ReCAAP), attended the 15th Governing Council Meeting 17 March.
The virtual meeting was attended by the governors/representatives of the 20 ReCAAP Contracting Parties, and the Open Session was also attended by external participants from two other countries and 16 organisations. The ReCAAP press release can be found on the ReCAAP website.
On 18 March, OCIMF joined as seminar hosted by ReCAAP to mark their 15th Anniversary. The event provided ReCAAP the opportunity to reflect on their 15-year journey and to reconfirm their commitment to their stakeholders and partners. A message from the Executive Director can be found pdf here (540 KB) and a press release pdf here (278 KB) .
---
Port of Rotterdam Expert Workshop on Shore Power for Tankers
The Port of Rotterdam held a virtual meeting 18 March to update industry stakeholders on the ongoing work of their Shore Power Program.
It was organised by the Port of Rotterdam Authority in cooperation with the energy transition consultancy firm DAREL, tank storage company Vopak and technology provider ABB. This workshop was attended by over 80 stakeholders representing ports, terminals operators, shipping companies, equipment vendors, trade organisations, Classification Societies and several other key industry stakeholders. OCIMF was represented by the Managing Director, the Publications & Advocacy Director and the Engineering Adviser.
The workshop aims to bring together a range of experts from all relevant stakeholders and exchange views on the current state-of-play and fundamental challenges to increased uptake of shore power technologies. OCIMF provided input on engineering, operational and safety aspects in connecting shore power to tankers, with a focus on ensuring safe operations at the ship-shore interface.
OCIMF maintains a watching brief on activities related to shore power at the global level and there are various local, national or regional efforts on this topic that may be of interest to impacted members.
The meeting materials including opening video, slide deck and recording will be available on the Port of Rotterdam Shore-based power website.
For enquiries, contact Ricardo Martinez, OCIMF Engineering Adviser This email address is being protected from spambots. You need JavaScript enabled to view it..
---
Welcome to Saurabh Sachdeva
Saurabh Sachdeva joined OCIMF as Publications & Advocacy Director 22 March 2021.
Saurabh joins OCIMF on a three-year secondment from BP where he is recognised for his contributions and leadership in a wide-suite of activities creating value and simplification across BP operations. Areas of expertise include the design of management systems, regulatory compliance, auditing and the management of risk.
Saurabh held senior trade industry positions in the UK including Secretary General of the British Tugowners' Association, Marine Manager at the UK Chamber of Shipping and Marine Adviser to the Merchant Navy Training Board (MNTB). He is a UK qualified Master Mariner with Command Pilotage and lead auditor qualifications. He also holds an MSc in Operations Management.
He is a Fellow of the Institute of Chartered Shipbrokers (UK) and Younger Brother of the Corporation of Trinity House. He brings 25 years of operational and strategic leadership experience in the shipping (oil and gas), maritime industry and offshore sector.
Please join OCIMF in welcoming Saurabh to his new role.
---
IMO updates
Intersessional Working Group on the Carriage of more than 12 Industrial Personnel
The meeting was held 9-12 March online and developed the new SOLAS Chapter XV and the new mandatory code for the carriage of more than 12 Industrial Personnel (IP Code). These texts will be further reviewed by the Sub-Committee on Ship Design and Construction (SDC) for subsequent consideration by the Maritime Safety Committee (MSC) in 2022. The new requirements will enter into force 1 July 2024.
Existing Special Purpose Ships and Offshore Support Vessels transporting more than 12 offshore workers will have to comply with the new code.
Eighth meeting of Sub-Committee on Pollution Prevention and Response
This meeting was held 22-26 March online and established correspondence groups to continue work on bio-fouling, sewage and ballast water compliance monitoring devices.
The operational guidelines for risk mitigation measures to prevent heavy fuel oil spills in the Arctic will be further discussed at the next meeting following consideration by other technical sub-committees on navigation, radiocommunications, training and fuel tank construction.
IOPC Fund spring meeting
The spring meeting was held 29-31 March online. The meeting focussed on day-to-day operations of the fund, including incident reports. Complex issues will be addressed when face-to-face meetings are resumed.
Upcoming meetings
Eight meeting of Sub-Committee on Navigation, Communications and Search and Rescue
The meeting will be held 19-23 April. The key discussion will be on the new radiocommunication requirements that accommodate new technologies. Also, the meeting will review the updated draft of the IMO's Guidelines on Places of Refuge for Ship in Need of Assistance. OCIMF submitted the paper Recommendations on Usage of ECDIS and Preventing Incidents.
Informal discussion session (virtual) on lifecycle GHG/carbon intensity guidelines for marine fuels
This meeting will be 14-15 April and will provide an opportunity to explain papers submitted to the IMO last year that were not discussed due to a lack of time.
Forty-fourth meeting of the Scientific Group under the London Convention
The spring meeting will be held 12-16 April online. An open event 'Science day' will be held to address decommissioning offshore installations.
For more information, members can visit the IMO section on the OCIMF members' website.
---
2021 Committee meeting calendar
pdf Click here to view the 2021 Committee Meeting Calendar (612 KB) pdf (612 KB)
Please note that there is no cut off date for members to nominate people for the OCIMF committees and expert groups. Please send any nominations to This email address is being protected from spambots. You need JavaScript enabled to view it. along with a brief biography and contact details.