"The joint announcement from ICC Yaounde/Nigeria on current efforts and plans developing to address security in the Gulf of Guinea is welcomed by the maritime community."
---
Managing Director's Log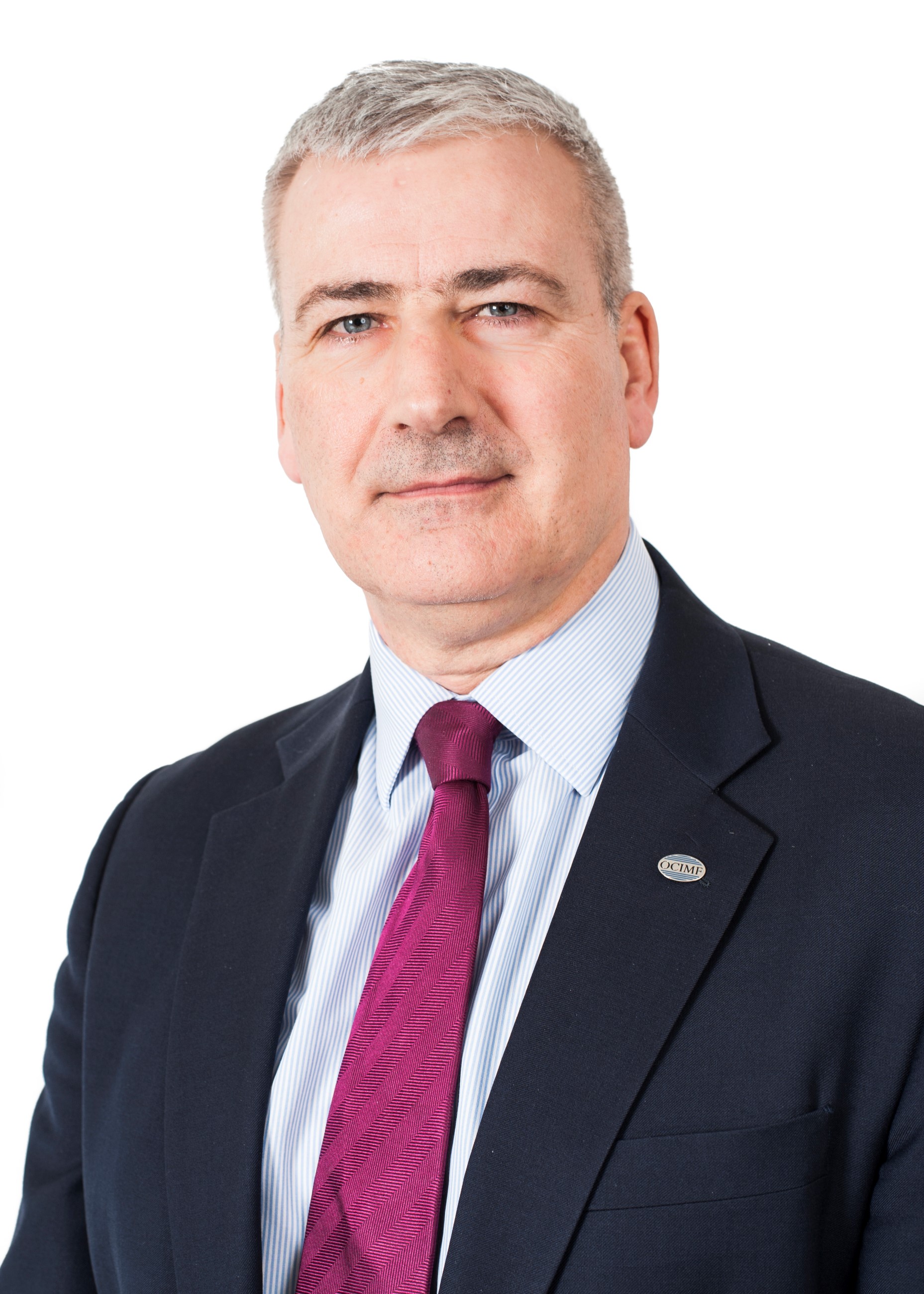 April saw the official handover of responsibilities of our Publications and Advocacy Director role between Dave Wall (seconded from Chevron) and Saurabh Sachdeva (seconded from BP).
I want to thank Dave for his enthusiastic participation in the OCIMF Secretariat for the past three years and his many contributions during his tenure. We wish him all the best in his future endeavours (I believe he is retiring). I also want to extend a very warm welcome to Saurabh who has already settled into the role and is participating fully in our activities.
We held several SIRE 2.0 webinars recently to update various stakeholders on progress of this very important project. These were well attended and included panel Q&A sessions which provided many excellent questions. We are now ready to begin a limited period of trialling SIRE 2.0 inspections onboard ships following remote training sessions which were carried out with selected inspectors. You can read more on SIRE 2.0 in the separate articles included in this newsletter.
You will know from previous newsletters that we are in the middle of our strategy implementation. For the next few months, we will continue to work through the transition process to deliver our new work processes. While our focus is currently on implementation, we have a temporary process in place to ensure new work that requires urgent attention will be captured and addressed. Our Strategy Implementation Manager, Steve Alder, has included an update article that I encourage you to read.
There have been some interesting seminars and workshops on reduction of greenhouse gas (GHG) emissions lately. I joined one on shore provided electrical power which highlighted the value of involving all stakeholders as it was clear different attendee representatives (terminal, port, ship operators, ship design etc) had very different perspectives of the risks involved. This supported the importance of understanding the concerns of all. Without open and frank dialogue between all stakeholders, workable solutions will continue to evade the industry. I also joined the IMO informal discussion on lifecycle GHG and carbon intensity guidelines – a very important aspect for consideration in finding solutions with the greatest impact on climate change.
Closing on a very positive note, the joint announcement from ICC Yaounde/Nigeria on current efforts and plans developing to address security in the Gulf of Guinea is welcomed by the maritime community. This is a major initiative with G7++FOGG support and is in my view, exciting news.
I wish you all a safe, happy and healthy May.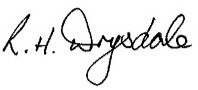 Rob Drysdale
Managing Director OCIMF
---
Programmes Committee
Chair: Ed Barsingerhorn (Shell)
Vice Chairs: Dave Ingels (P66) and Javed Bhombal (IMT)
Secretary: Sam Megwa (OCIMF Programmes Director)
2nd meeting: 30-31 March (Virtual)
The Programmes Committee held its second two day meeting (PC 02) on 30-31 March. The meeting was conducted virtually and attended by 20 members and representatives from the OCIMF Secretariat.
On the first day, the committee approved new requirements for applicants wishing to participate in OCIMF programmes as Submitting Companies. The committee also approved OCIMF Guidance on audio or visual recording during an OCIMF programme inspection and programmes prioritisation matrix, risk bow ties and KPIs.
On the second day, the committee discussed and approved short, medium and long term measures for enhancing performance of OCIMF Marine Terminal and Information System (MTIS), and the resourcing strategies for the OCIMF project on alignment of BIRE and OVID with SIRE 2.0.
The committee appointed three members of the committee as individual Sponsors for the three Programmes Expert Groups: namely, Governance Expert Group, Inspection Processes Expert Group, and Innovation and Technology Expert Group.
Next meeting: 29-30 September (Virtual)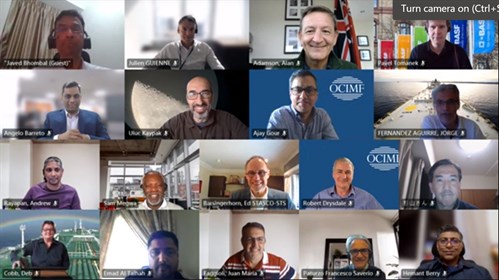 ---
Expert Group meetings
7 Expert Group meetings have been held in April with 4 more to come in May.
Engineering Expert Group
Lead: Gajendra Verma (Chevron)
Secretary: Ricardo Martinez (Engineering Adviser)
2nd meeting: 20 April 2021 (Virtual)
The Engineering Expert Group met on 20 April for their second meeting. All group members attended and there was good discussion on the future of engineering activities supporting the vision, mission and strategic priorities of programmes, publications, advocacy and membership engagement.
First, the Strategic Implementation Manager provided updates on progress on the Strategy Implementation, Bow Tie Critical Activity Workshops and future Communities of Practice (CoP). Next, the Secretary provided an update on the ongoing work related to publications review by the P&A committees and sought input on current portfolio list to ensure that the group understood the size, scale and scope of OCIMF publications emphasizing the ones with engineering content. Then, the group reviewed the ongoing work related to engineering matters at the IMO, and the OCIMF Regulatory Adviser briefed the committee on the 2021 advocacy diary, resource locations of IMO briefs and the newly created advocacy register and how that will be used in the future to prioritise advocacy initiatives at the IMO. Finally, the group reviewed their ongoing work.
There was active participation from the attendees and a clear commitment to support future activities.
For enquiries, contact Ricardo Martinez, OCIMF Engineering Adviser This email address is being protected from spambots. You need JavaScript enabled to view it..
Next meeting: 27 July 2021 (Virtual)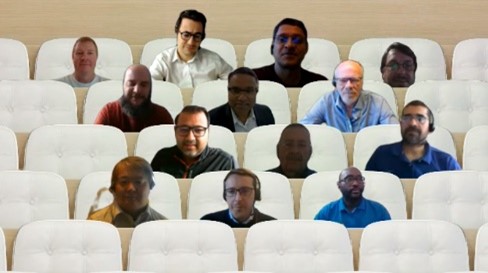 The other Expert Groups followed a similar agenda to the Engineering Expert Group.
Innovation and Technology (IT) Expert Group (Virtual) 19 April
Lead: Simone Vittori (ENI)
Secretary: Aziz Benbelkacem (OCIMF Programmes Contracts Manager)
Offshore Vessel Operations Expert Group (Virtual) 21/22 April
Lead: Alex Morton (Chrysaor)
Co-lead: Henning Hjartholm (Equinor) and Ahmad Hisshamuddin (MISC)
Secretary: Nick Howard (Offshore Adviser)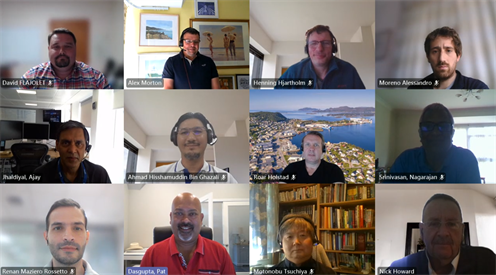 Barges Expert Group (Virtual) 22 April
Lead: Bjorn Ternoey (Total)
Co-lead: James Scalli (Shell)
Secretary: Marc De Backer (Barge Adviser)
Floating Systems Expert Group (Virtual) 26/27 April
Lead: Ashfaqal Haq (Suncor)
Co-lead: John Dunhill (Shell)
Secretary: Nick Howard (Offshore Adviser)
Inspection Processes Expert Group (Virtual) 29 April
Co-lead: Ramit Gangopadhyay (Shell) and Ruchir Seth (Marathon Petroleum)
Secretary: Ajay Gour (Inspector Training and Accreditation Manager)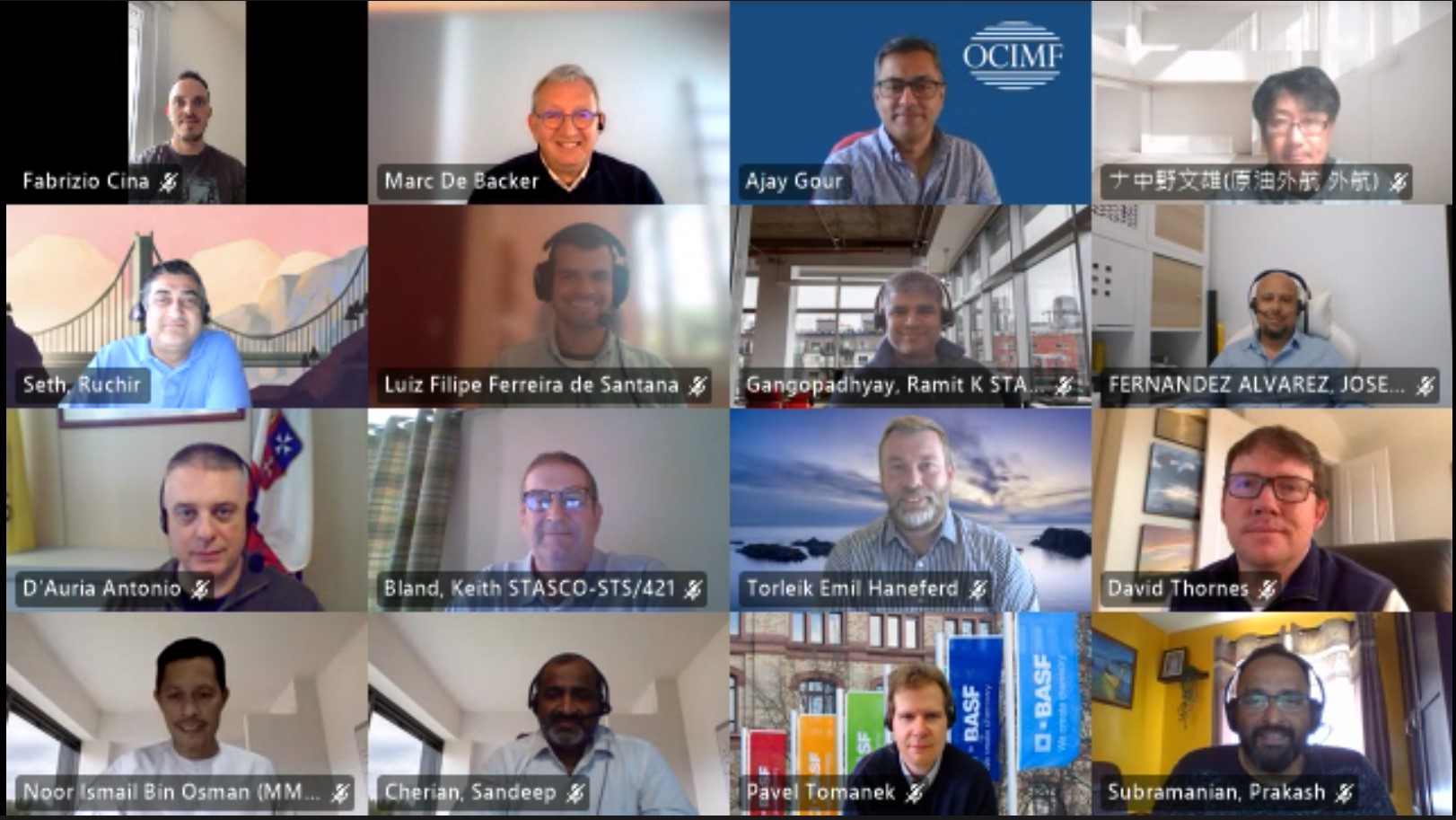 Structures Expert Group (Virtual) 29 April
Lead: Rabinder Manku (BP)
Secretary: Ricardo Martinez
Next Month 
| | |
| --- | --- |
| 04 May | Nautical Expert Group |
| 05 May | Ship-to-Ship Expert Group |
| 06 May | Ship To Shore Interfaces Expert Group |
| 12 May | Programmes Governance Expert Group |
---
SIRE 2.0 webinars
In total, four webinars were held to provide key updates on the development and ultimate outcomes of SIRE 2.0. The webinars were split to cater to two audiences separately: SIRE Inspectors and Programme Participants. Two sessions were held for each stakeholder group.
| | |
| --- | --- |
| 14 April (09:00 and 16:00) | Introducing SIRE 2.0: Inspectors' Webinars |
| 21 April (09:00 and 16:00) | Introducing SIRE 2.0: Programme Participants' Webinars  |
The objective of the webinars was twofold – to communicate key changes due to take place and to answer the questions of individuals and organisations affected by upcoming changes. 471 people in total attended the webinars which was approximately 85% of those that registered. Following the webinars we will be creating an FAQs document, and we will be running another webinar for industry soon.

---
Launch of SIRE 2.0 Trial Inspections
OCIMF's ongoing work to develop an updated and enhanced Ship Inspection Report Programme (SIRE 2.0) is now entering a crucial stage, with a programme of trial inspections underway.
The trial inspections will be carried out across a variety of vessel types between April and September 2021, with each inspection conducted in full to rigorously test the tools, processes, procedures and policies that have been developed for SIRE 2.0.
The trial inspection programme, while not limited to the below, will validate the effectiveness of:
The end-to-end inspection processes managed by various OCIMF software packages, databases and tools and their useability/functionality.
The inspection compiling process based on vessel type and outfitting.
The efficacy of the question set development, common understandings of top-level questions and supporting guidance, programming of answers and time management.
The effectiveness of Inspector training programmes and supporting guidance for all parties.
The reliability of processes for inspection booking and Inspector allocation, pre-inspection questionnaire (PIQ) development, certificates and photo evidence provision.
The suitability of processes related to VIQ download and review, inspection report validation and upload, member inspection report review and release and Operator comment feedback.
Throughout the trial process, improvements and adjustments will be made where necessary based on the feedback from participating members, Inspectors, Observers, Vessel Operators, and Crew. Checks and balances have been put in place to ensure transparency and fairness throughout the process and all results and feedback will be anonymised in accordance with confidentiality agreements.
Trial Inspection Process
The Submitting Companies, Programme Recipients, Vessel Operators and Inspectors participating in the trial inspection programme have been nominated by OCIMF member companies following an invitation to participate. In line with existing procedures, the trial inspection process for each vessel will be managed by the nominating member.
Accredited SIRE Inspectors are also selected by the nominating member and recommended to OCIMF for inclusion in the trial inspection programme based on their overall vessel inspection knowledge and experience and following their consent to participate.
For each inspection, all participating parties are being provided with relevant coaching and familiarisation on what to expect from the SIRE 2.0 inspection process and will be expected to conduct themselves in accordance with the updated inspection protocols. The inspection will be conducted in full using the new mobile tablet device and following all planned processes and procedures. Feedback will be sought from all inspection participants including Vessel Operators and the Master and Crew of the inspected vessels. Observers will be assigned to witness selected inspections to gather additional insight.
Reporting Trial Results
All of the inspection reports will be collated by OCIMF's Vessel Inspection Programme (VIP) project team and fully anonymised, with all findings remaining confidential and available only for the use of the OCIMF groups, committees and contractors working on the development of SIRE 2.0.
A further update on the findings of the trial inspections will be shared with all OCIMF members and companies engaged in the existing SIRE programme following the completion of the trial inspection programme in Q4 2021. OCIMF thanks all parties that have kindly agreed to participate in this important work, and for playing a crucial role in the development and delivery of what will be a significantly enhanced tanker risk assessment tool.
It is important to stress that while OCIMF develops SIRE 2.0, the existing SIRE programme will continue to be supported and improved, ensuring SIRE incorporates the latest industry standards, best practice and regulations.
Should you have any queries relating to the project, please contact Sam Megwa, OCIMF Programmes Director, at This email address is being protected from spambots. You need JavaScript enabled to view it..
---
SIRE 2.0 Human Factors Update
One way in which OCIMF aims to improve safety and environmental protection in the maritime industry is by considering human factors when providing guidance and recommendations.
This human-centred approach looks at the physical, psychological and social factors that affect human interaction with equipment, processes and other people in order to identify and minimise potential risks. Crucially, it recognises that human error, actions and decisions are often the result of the way the workplace is set up; how work, equipment and safeguards are designed, and how leaders influence the work culture.
To read more click here. 
---
Strategy Implementation Manager - Transitional Work Update
As communicated by the Managing Director on the 26th February, we are very much in a transitional year and for the next few months our priority is to complete those elements of the transition necessary to build the foundations of the new ways of working. I would like to present an update of some of the major transitional work ongoing:
Bow Tie Workshops (due 10th June 2021)
We are halfway through our Phase 2 Bow Tie work. In this phase we are:
Reviewing the Bow Tie barriers to make sure they are complete and accurate.
Reviewing the barrier descriptions to make sure they reflect the intent of the barrier.
Reviewing critical equipment needed to support the barrier.
Identifying Critical Activities necessary to ensure the barrier is in place and effective.
This work is scheduled for completion prior to ExCom in early June, and once endorsed will be deployed with a new tool for committee members/groups to be able to view.
Risk Advisory Function (due 15th June 2021)
In December 2020 we completed the development of a Risk Advisory Function process. This was built at a level intended to be applicable across all functions within OCIMF. We are now working on a more detailed procedure for use within the Publications and Advocacy space. This more detailed procedure will ensure that Technical Advisers within OCIMF, as well as members of Committees and Groups, will know "How" to perform their roles within the function.
In the meantime, while these procedures are being developed and the bow tie work complete, we have a temporary Risk Advisory Function in place. This is intended to ensure that we properly prioritize transitional work, whilst still able to respond to urgent and high priority action items.
Efficient and effective member meetings (due 31st August 2021)
In this project we are building the framework to provide continuity within member meetings. This will include standard agendas, meeting minutes, action tracking, etc. This framework will be deployed towards the end of the transitional period mentioned above as we fully enter the new ways of working. We are investigating the use of tools within Microsoft Teams to simplify the building, execution and follow up of member meetings.
OCIMF Strategic Plan / Governance Process (due 30th Sept 2021)
We are building those processes and procedures necessary to ensure the sustained implementation of the refreshed strategy. This includes processes for Performance management (including KRA's and KPI's), continual improvement, MOC, etc. Although some of this work is already ongoing, the remaining work will commence in July, once we have completed the priority Bow Tie work.
As we progress we will provide members with periodic updates as well as the outputs of any key milestones.
---
UK P&I Club webinar on Mooring Safety
OCIMF Nautical Adviser Sanchay Srivastava presented at the webinar on Mooring Safety organized by the UK P&I Club.
"The Webinar received overwhelming response with about 2350 registrations from 78 countries. The webinar also saw the highest number of attendees to date.
The Webinar was hosted by Capt Anuj Velankar of the UK P&I club and on the panel were Capt Sanchay Srivastava of OCIMF and Capt Ivan Todorov of Brookes Bell.
The Webinar focused on three aspects of mooring operations and safety:
First, it looked at the Mooring Equipment Guidelines Ed 4 (MEG4) published by the OCIMF. The webinar looked at how this publication had profoundly affected mooring operations right from the design stage to the rope selection and operation part. Various difficulties faced by the Members in complying with the guidelines were discussed such as compliance for existing vessels, gap analysis of MEG3 & MEG4 along with issues like snap-back zones.
Secondly, the webinar focused on the practical aspects of mooring such as the maintenance of the mooring machinery and the inspection of the mooring ropes and wires. A detailed discussion was done on the inspection and discarding aspects of mooring ropes both in a practical term and also as per the MEG4 guidelines.
Finally the Webinar looked at the bigger picture as to how various bodies such as OCIMF, Classification societies, IMO and the shipyards are working together to build mooring stations, equipment and ropes with human element centre-stage.
As part of the webinar both panellists gave short presentations, which was followed by an interactive Q&A session based on the questions asked by the audience during registrations and also picked from the issues raised by the live audience. This was also supplemented by live polls in which the audience participated about a scenario on C/P dispute.
A recording of the webinar is provided and will be of great interest to both seafarers out at sea as well as marine and technical teams who wish to know more about the subject."
QUOTE (From UK P&I Club website)
---
IMO updates
Informal discussion session (virtual) on lifecycle GHG/carbon intensity guidelines for marine fuels
This meeting was held on 14-15 April. Presenters explained papers submitted to the IMO last year. The primary focus was the importance of overall GHG emissions while avoiding double counting of CO2 emissions during the production and distribution of marine fuels. The meeting also addressed the role of transitional fuels, such as LNG and bio-fuels. Presentation materials are available in the Member Sign-in area of the OCIMF website.
Forty-fourth meeting of the Scientific Group under the London Convention
The meeting was held 12-16 April online. Among others, there were various GHG reduction issues from ocean governance perspectives, including CO2 storage on and below the seabed. An open event "Science day" was held during the meeting, which addressed decommissioning offshore installations.
Eighth meeting of the Sub-Committee on Navigation, Communications and Search and Rescue
The meeting was held 19-23 April, which completed the draft text of the revised SOLAS regulations for the modernisation of the Global Maritime Distress and Safety Systems (GMDSS). The meeting could not complete the revision of the IMO's Guidelines on Places of Refuge for Ship in Need of Assistance. OCIMF submitted a document on its information paper Recommendations on usage of ECDIS and Preventing Incidents, which was duly noted.
Upcoming meetings
103rd meeting of the Maritime Safety Committee
The meeting will be held 5-14 May online. There will be working groups on Piracy, Maritime Autonomous Surface Ships (MASS) and Oil Fuel Safety.
Eighth meeting of the Intersessional Working Group on the Reduction of GHG Emissions from Ships
The meeting will be held 24-28 May, which will focus on guidelines for Energy Efficiency Existing Ship Index (EEXI) and Carbon Intensity Indicator (CII) implementation.
More information
For more information, members can visit the IMO section on the OCIMF members' website.
---
SHADE-GOG
OCIMF was pleased to see the recent announcement made by the ICC in Yaounde and Nigeria to create a new international and regional framework to provide shared awareness and deconfliction of activities in the Gulf of Guinea – GULF OF GUINEA MARITIME COLLABORATION FORUM (GOG-MCF/SHADE).
This initiative will be open to all maritime stakeholders and focus on counter-piracy and armed robbery by bringing together regional, international, industry and NGO partners to advance and coordinate near term maritime activities with a view to working toward a set of common operational objectives in order to protect seafarers and ships operating off the coast of West and Central Africa.
The announcement can be found here.
---
Mentally Healthy Ships
A guide for shipping companies and ship operators to develop and implement mental health policies.
The International Seafarers' Welfare and Assistance Network (ISWAN) has launched a new guide: Mentally Healthy Ships is an aid to help develop policy and promote mental health on board ships.
ISWAN's earlier series of Good Mental Health Guides offered seafarers evidence-based information about what can be done to protect and promote mental health at sea. These guides were designed to adapt the evidence base to the seafaring population by carefully considering ways in which strategies to maintain good mental health and promote wellbeing could be practiced on board.
This new guide builds on this by highlighting the critical role to Employers play in executing duty of care, through mitigating known risks where possible, and ensuring that systems, procedures and structures are in place to create a mentally healthy environment on board.
ISWAN's 24-hour helpline Seafarer Help is a free, confidential helpline for seafarers and their families around the world available 24 hours a day, 365 days a year.
direct dial +44 20 7323 2737 
email This email address is being protected from spambots. You need JavaScript enabled to view it.