Guidelines for OCIMF Certificates of Accreditation Photo
OCIMF Certificates of Accreditation are used globally as a means to identify OCIMF accredited inspectors boarding vessels and submitted photos should reflect both the inspector's professional bearing and their current appearance.
Rules for inspector's accreditation photos are set out below. If they are not met:
Inspector applications will be delayed.
Continued Inspector accreditation will be delayed.
The rules will apply to all new inspectors and to existing inspectors when they are updating or refreshing their accreditation. ALL SIRE and OVID accreditation photos will adhere to the rules set out below.
---
Choosing the photo to submit
| | |
| --- | --- |
| Do  | Do not  |
| Have someone else take your picture  | Submit a selfie  |
| Use a plain light coloured background (e.g. a wall)  | Have anything else in the background  |
| Choose a photo less than 6 months' old  | Submit a photo used on the previous ID card  |
| Choose a photo that looks like you | Submit a photo with red eye  |
---
The photo should be a close-up of the full head and upper shoulders
| | |
| --- | --- |
| The subject must | The subject must not  |
| Face forward and look straight at the camera  | Have hair covering eyes or eyebrows  |
| Have a neutral expression and closed mouth | Be in shadow or have a shadow behind  |
| Be free from reflection or glare from glasses | Wear dark or tinted classes  |
| Have their eyes open and visible | Wear a head covering* (except for religious or medical reasons) |
| Have both ears visible  | *If in doubt contact the OCIMF compliance manager (SIRE & OVID)  |
---
Photo quality 
| | |
| --- | --- |
| The image must be | The image must not  |
| In colour   | Have a border |
| Clear and in focus  | Contain other people |
| High resolution (see below)  | Be creased or torn |
| Provided as a JPEG, PNG, Bitmap or GIF  | Be altered (except for red eye correction) |
---
All photos taken on a digital camera should be of high enough resolution for this purpose. When saving your image choose 'actual size', 'high resolution' or 'print quality'.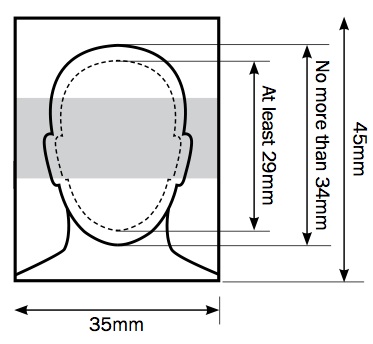 In technical terms the image should be:
Scalable to dimensions of 35mmx45mm with at least 640x480 pixels

OR minimum 300 ppi scan quality
OR minimum 300 dpi print quality

Less than 1MB file size