"I'm very happy to announce that OCIMF's new environment plan has been approved."
---
Managing Director's Log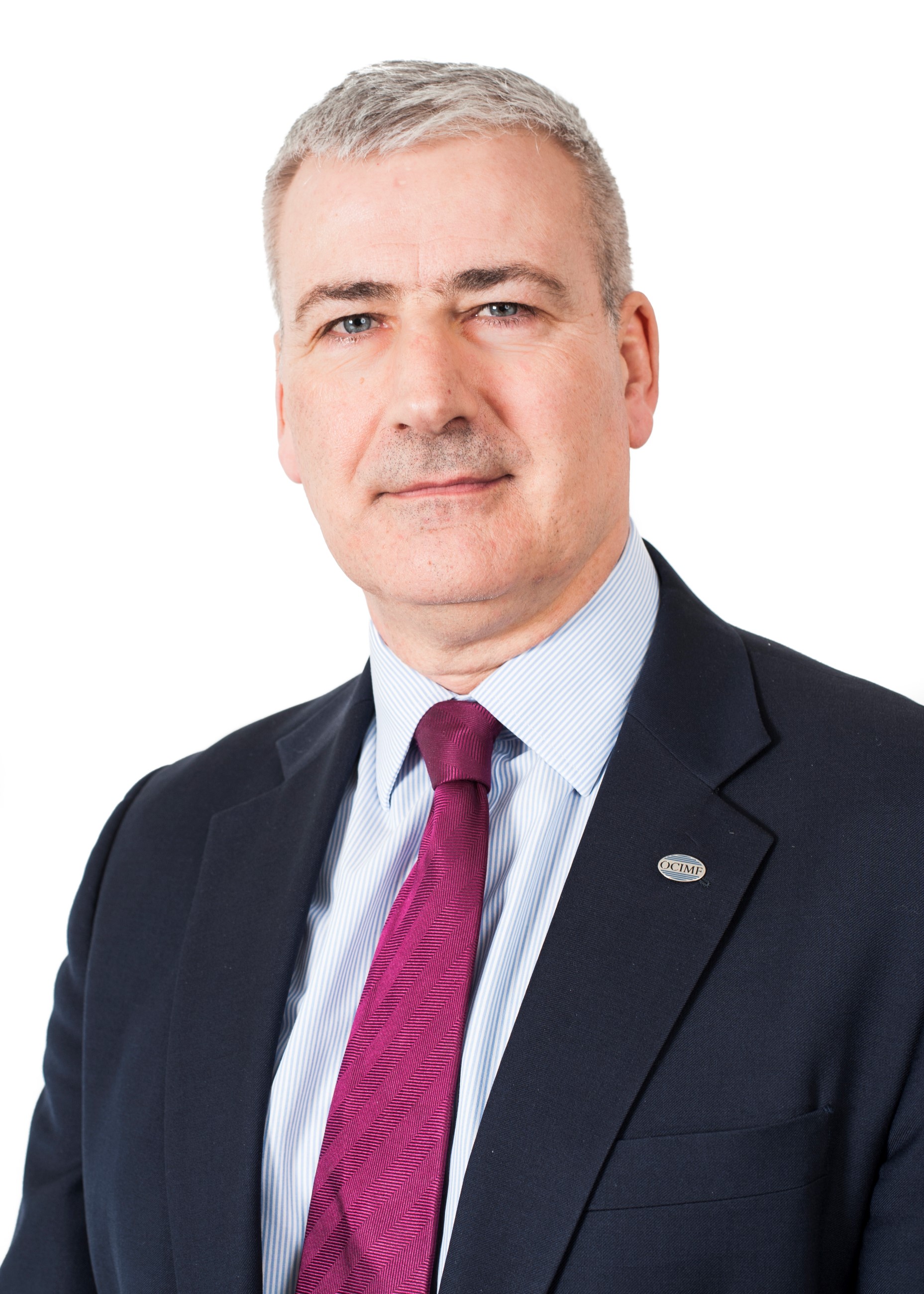 I mentioned in the August newsletter that it was a relatively quiet month. It has been the opposite for September.
We are now well and truly into Committee Season, having held all four functional committee and all three principal committee meetings in September. IMO CCC, ISWG-GHG9, and TCC have also taken place and of course, 30 September was World Maritime Day. If that wasn't enough to keep us occupied, OCIMF are also in the process of transitioning from our current office spread over two floors onto one floor in the same building. This latter event may not seem like much, but it has been resource intensive for everyone in our Business Support department. The target is to complete the move by end November in time to host our ExCom meeting on 1 December.
It gives me great pleasure to highlight that Chris Scothern has been awarded a Merchant Navy Medal. Congratulations Chris – well deserved! You can read more on the award in the separate article within this newsletter.
I'm very happy to announce that OCIMF's new environment plan has been approved. It outlines the OCIMF approach to managing one of the most important issues of our time, with the sole aim to enhance environmental performance in the maritime sector, while maintaining a focus on related safety for our members and stakeholders. We will achieve our objectives by providing consistent guidelines and recommendations to our members and industry, engaging with others as new technologies and alternative fuels are developed. and effectively mitigating risk. The plan includes short, medium- and long-term measures, in line with agreed IMO goals. As is tradition at OCIMF, it also allows us to aspire to go above and beyond where it is practical and safe to do so.
With COP26 fast approaching in early November, OCIMF have signed up as an Industry Partner with ICS for the Shaping the Future of Shipping event to be held on Saturday 6 November in Glasgow. This conference is an opportunity to engage with some of the world's leading figures on decarbonisation and to showcase how the marine industry will meet the challenges of decarbonisation. You can find more information about this event at COP26 | International Chamber of Shipping (ics-shipping.org).
Until next time, stay safe, happy and healthy.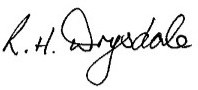 Rob Drysdale
Managing Director OCIMF
---
OCIMF completes plan on marine environment
OCIMF completed its project to develop a paper that sets out its ambition(s) and action plan on the marine environment in line with OCIMF Vision, Mission and Strategic Priorities. 
The plan outlines OCIMF's approach to marine environment issues and aims to improve environmental protection in the maritime industry by providing guidance and recommendations based on prioritised threats. OCIMF's mission, which was updated at the beginning of 2020, commits to leading the industry in safe and environmentally responsible tanker, barge and offshore vessel design, construction and operations including vessel/terminal interfaces and considering human factors in everything we do.
The plan:
spans across all operational activities of tankers, barges, offshore vessels, and their interfaces with terminals.
covers the four strategic priorities of publications, advocacy, programmes and membership collaboration.
includes short, medium and long-term key actions in line with findings from the stakeholder white paper which summarised wider member feedback on key environmental risks.
The plan will ensure the committee's work is prioritised around the highest environmental risks, namely greenhouse gas emissions and air pollution, in accordance with the strategy. It includes an appendix that shows the key outputs for environment and is aligned to OCIMF Vision, Mission and Strategic Priorities.
Members can find links to the full Environmental plan in the AFMs section of the members' only area of the OCIMF website.
For enquiries, contact Ricardo Martinez, OCIMF Engineering Adviser This email address is being protected from spambots. You need JavaScript enabled to view it..
---
OCIMF attends EU European Sustainable Shipping Forum subcommittee meeting
Saurabh Sachdeva, OCIMF P&A director, attended the virtual meeting of the EU's ESSF in September. The meeting focused on the overview of the various work streams with a view to report to the ESSF Plenary on 7 October 2021.
There was a presentation of initiatives from the Fit for 55 package, including the proposal on the extension of the emission trading scheme (ETS) to maritime. European Climate Law includes the objective to become climate neutral by 2050 and the new target of 55 percent GHG reduction by 2030. The package includes several initiatives that concern the maritime sector, such as the FuelEU maritime initiative which recognises that meeting the climate targets requires progress on the energy efficiency of ships together with a greater use of renewable and low carbon fuels, as well as amendments to regulations to introduce carbon pricing.
There were further presentations on the preparations for the Renewable and Low-Carbon Fuel Alliance to support the Fit for 55 package, and the use of methanol to reduce carbon emissions. The EU is developing a database to record progress across the EU ports, with 1,500 entries already to note where sustainable power solutions currently exist. More information can be found here.
For more information contact Saurabh Sachdeva This email address is being protected from spambots. You need JavaScript enabled to view it..
---
New paper on Human Factors in management systems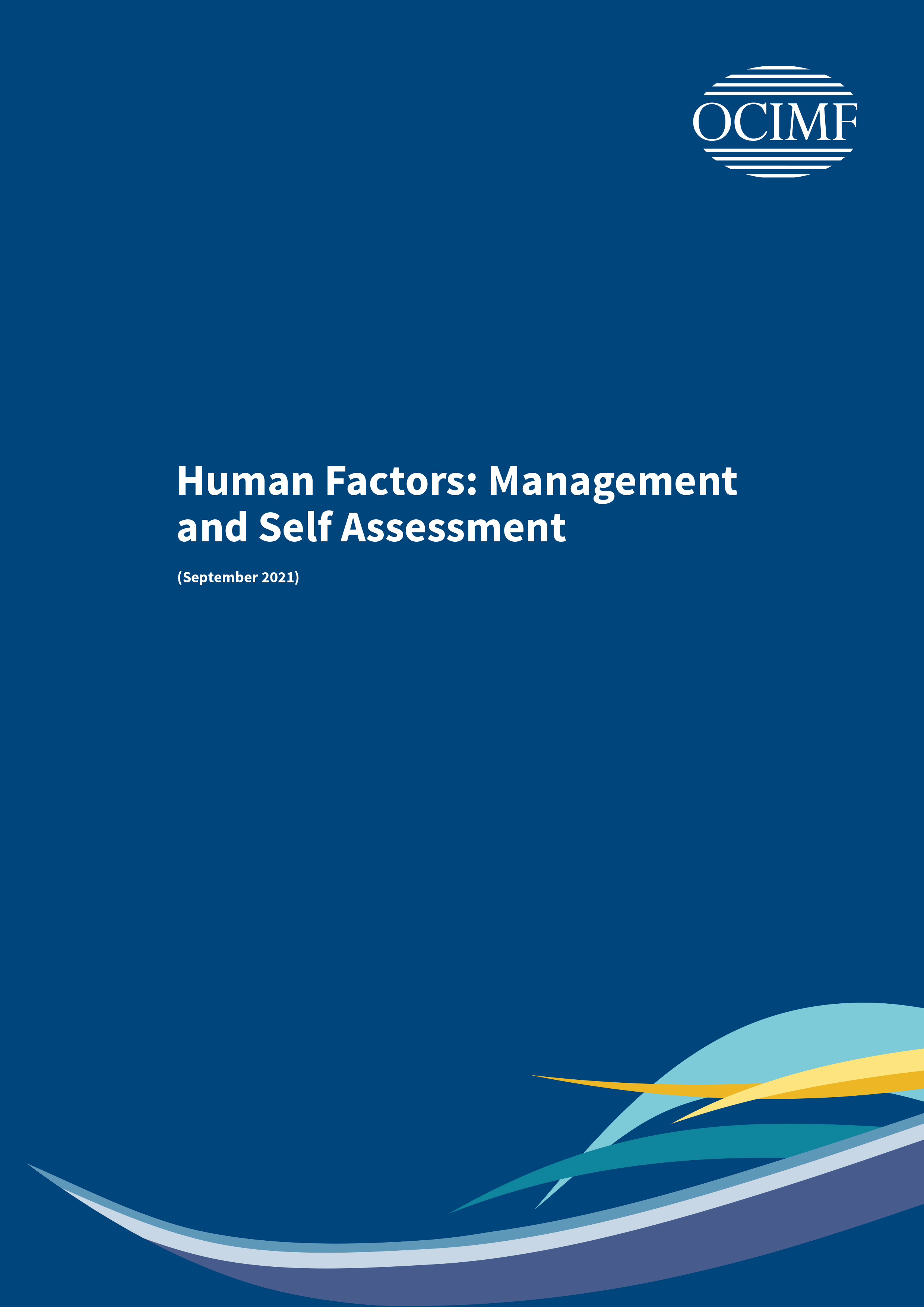 OCIMF has released a new paper providing a framework to integrate Human Factors into management systems. It is intended help companies and leadership teams address the conditions and systems that influence human actions and decisions, and so promote safety and excellence across all operations.
OCIMF Managing Director Rob Drysdale said: "Human Factors is an integral part of the OCIMF strategy. It is a key enabler to further reduce safety, environment, security and health impacts within our industry. That means that it has to be part of any management system. However, a Human Factors element cannot be implemented overnight – it takes time for companies to become familiar with the concepts and understand how to apply them practically. Publishing this information paper will provide companies an opportunity to trial the ideas and provide feedback to OCIMF on potential improvements. The intention is to eventually integrate a Human Factors element into our suite of Management Self Assessments and we very much encourage feedback from users."
Human Factors: Management and Self Assessment is available to download here.
 
---
SIGTTO-OCIMF updates for marine terminals
OCIMF membership regularly engages with the Society of International Gas Tanker and Terminal Operators (SIGTTO) and actively cooperates on key marine terminal recommendations under revision.
SIGTTO is the key organisation focussed on promoting the safe and responsible operation of gas tankers, marine terminals, and other shipping handling gas as a cargo, developing advice and guidance for best industrial practice among its members, and promoting criteria for best practice to all who have responsibilities for, or interest in, the safety of gas tankers, other ships carrying gas as a cargo and terminals. This focus aligns well with OCIMF's Vision, Mission and Strategic Objectives.
There are some relevant recommendations under review that may be of interest to members.
SIGTTO Design and Operations of Liquefied Gas Terminals
This new publication will combine and update the recommendations in SIGTTO Site Selection and Design for LNG Ports and Jetties (Information Paper No. 14) and SIGTTO LNG Operations in Port Areas – Essential Best Practices for the Industry. The working group includes a marine civil engineering subject matter expert connected to OCIMF's Structures Expert Group. For additional information see SIGTTO website here and here.
SIGTTO-OCIMF Jetty Maintenance and Inspection Guide
This guide provides information on effective maintenance of critical items of equipment for both oil and liquefied gas terminal jetties. It advises on possible failure modes for each item of equipment and discusses proactive and reactive maintenance strategies. This guide is under revision with expected completion in 2022. For additional information see SIGTTO website or the OCIMF website.
OCIMF Structures Expert Group (SEG) members maintain a watching brief on standards that could potentially impact the oil and gas sector, members' operations and OCIMF guidance.
For enquiries, contact Ricardo Martinez, OCIMF Engineering Adviser This email address is being protected from spambots. You need JavaScript enabled to view it..
---
Award of Merchant Navy Medal
OCIMF is delighted that on 3 September the UK Department for Transport awarded the Merchant Navy Medal for meritorious service to Chris Scothern, who was seconded from IMT to be the Merchant Navy Liaison Officer to UKMTO/IMSC & CMF in the Middle East. This is great recognition of his hard work in the Middle East on behalf of the membership and the important role he played during a very challenging period of regional tension. The list of awards can be found here. 
---
Strategy implementation insights
OCIMF's refreshed strategy has been in place for the past 12 months, and we are continuing to build the tools and processes necessary to ensure sustained performance.
With this refreshed strategy we have four core values, which are:
Respect - Treat everyone with respect and dignity, everyone brings value even if their ideas are different, work for the greater good of the industry.
Engage - Be inclusive, participate fully, breakdown silos. We are one team.
Efficient - Improve processes, increase agility, prioritise effectively.
Deliver - Align with the strategy, perform against key result areas and key performance indicators.
Scope of operations
One of the most important elements of the strategy implementation is our scope of operations. We have built bow ties to identify those threats associated with this scope. For each of these threats we have identified barriers and activities critical to prevent their occurrence or mitigate their consequences.
Our scope of operations is: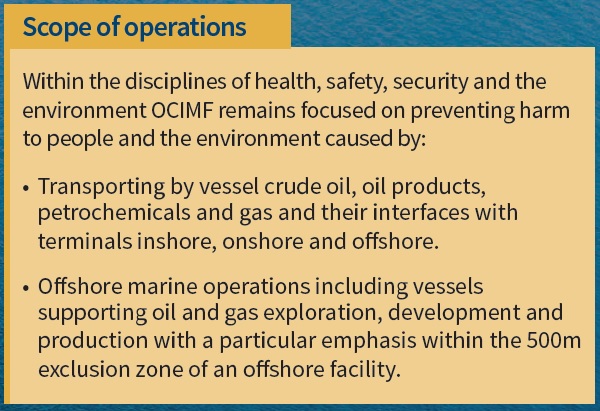 Risk Advisory Function
In addition to the bow ties, OCIMF has analysed industry incident and event data to develop a prioritisation matrix. The bow ties and the prioritisation matrix are used by our recently implemented Risk Advisory Function to ensure that all potential new work is in scope and is properly prioritised.
Using all of these tools effectively will allow us to remain aligned with our strategy and deliver results.
For more information contact Steve Alder This email address is being protected from spambots. You need JavaScript enabled to view it.
---
Safety of Navigation study
The UK and Danish Maritime Accident Investigation Bureaus (MAIB) have published a collaborative study on Application and Usability of ECDIS from the Perspective of Practitioners in September 2021.
The aim of this study was to generate an understanding of practical application and usability of ECDIS and support future ECDIS design, training strategies and the development of best practices.
---
Meeting updates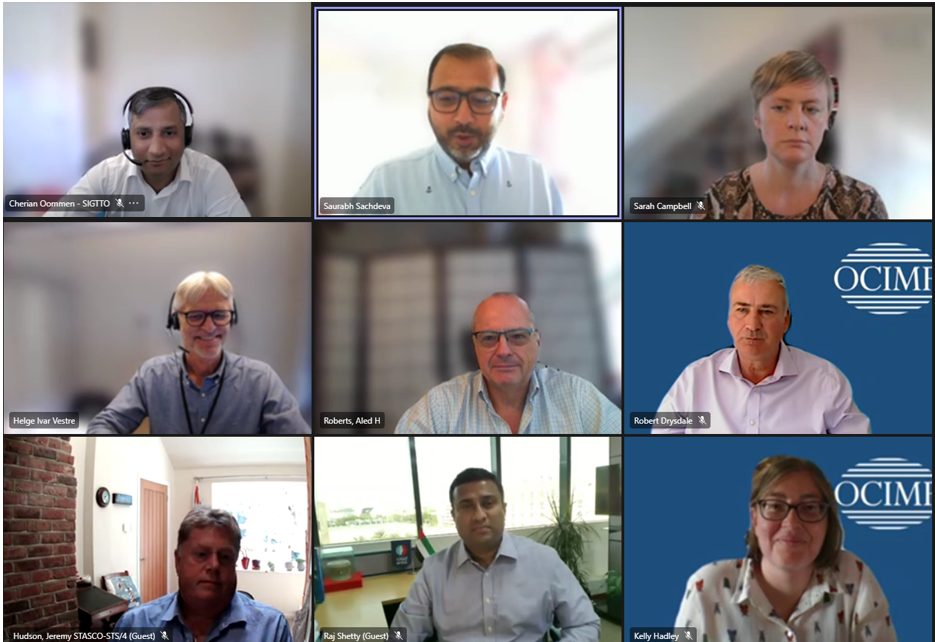 The Publications & Advocacy Tankers, Barges and Terminals (TBT) Principal Committee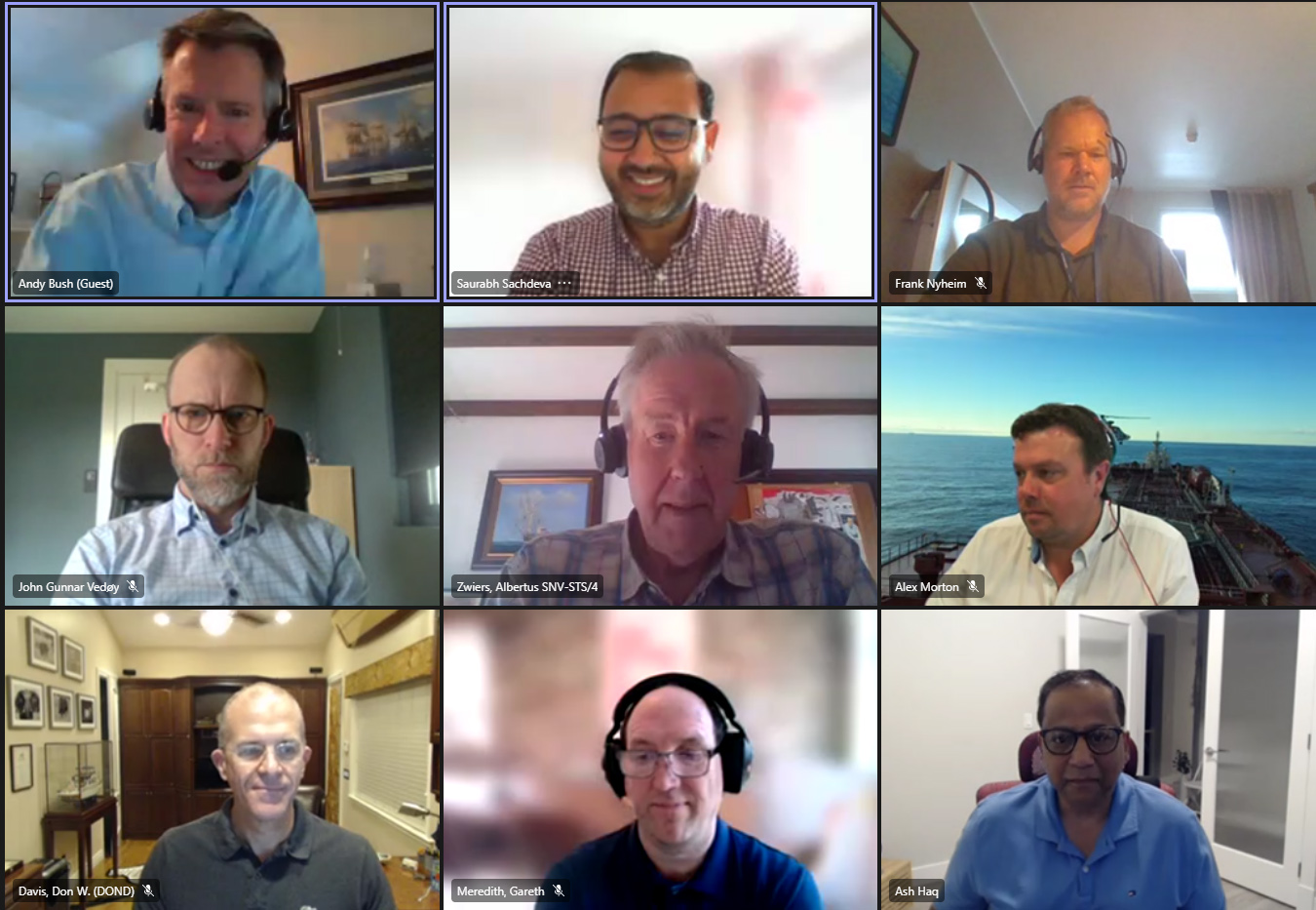 The Publications & Advocacy Offshore Principal Committee
Publications & Advocacy Principal Committee meetings
The 3rd Principal Committee meetings for P&A Tankers, Barges and Terminals (TBT) and Offshore were held virtually on 15–16 September and 22–23 September, respectively.
For each meeting, day one involved an interactive workshop led by strategy implementation manager Steve Alder that helped members to understand OCIMF's risk matrix, bow ties, review the end-to-end governance process, and get a feel for the new management of change and community of practice tools.
Day two focused on reports and decisions about ongoing work.
For TBT the key highlights to note are:
Approval of the Terms of Reference (ToR) for the working group tasked with urgent updates to ISGINTT.
Approval of the ToR for the new working group revising the Guidelines on the Use of Drugs and Alcohol Onboard Ships.
Review of the Publications plan for TBT to ensure that there is adequate support to conduct publication reviews in a timely manner.
Updates from expert groups and functional committees, including human factors, security, ship to ship, ship to shore, engineering, environmental, inland-barging, and external collaboration with other industry bodies and governments.
For Offshore the key highlights to note are:
Appointment of Don Davis as the new chair, after Andy Bush stepped down due to internal posting into a new role. Confirmation of Matthieu Bougeant as the 1st vice chair and selection of Ash Haq as the 2nd vice chair.
Review of the Publications Plan for Offshore to ensure that there is adequate support to conduct publication reviews in a timely manner.
Updates from expert groups on the ongoing activity across the Offshore space, from collaboration channels on lifeboats to seismic vessels.
For enquiries, contact Saurabh Sachdeva This email address is being protected from spambots. You need JavaScript enabled to view it.
Human Factors Functional Committee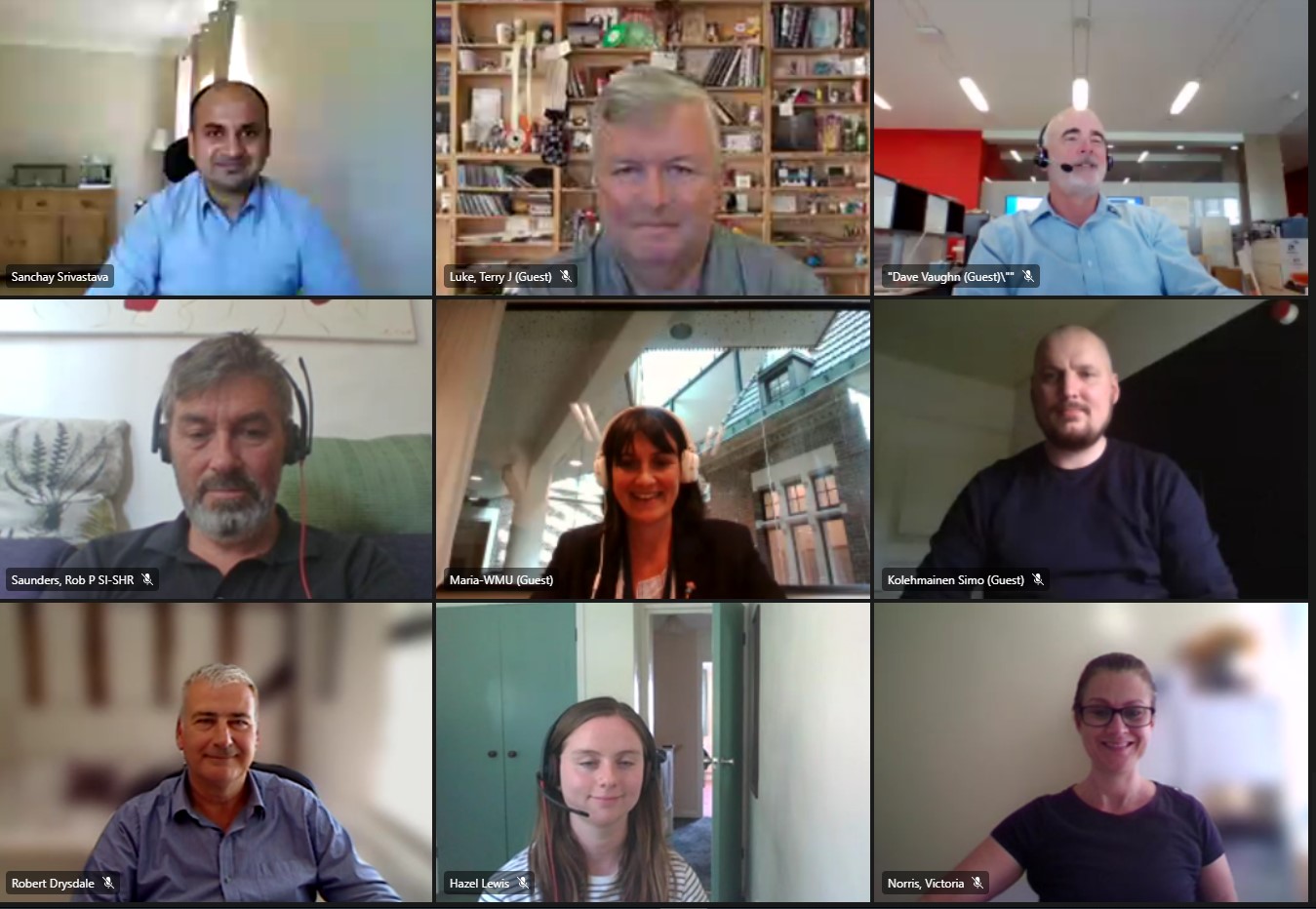 Chair: Terry Luke (Chevron)
Co-Chair(s): Victoria Norris (BP) and Laurent Routisseau (Total Energies)
Secretary: Sanchay Srivastava (Nautical Adviser) 
3rd meeting, 8 September (virtual)
The Human Factors Committee met virtually for their third meeting to progress various ongoing actions and included discussions on the following topics:
Guest Speaker Hazel Lewis, Human Element Policy Manager from UK MCA made a presentation on Human Element activities within MCA as well as the Safety Climate Tool.
Guest Speaker Dr Maria Carrera, Research Associate, World Maritime University provided an update on the SafeMode project.
The Human Factors Committee decided to conduct a workshop in November on 'Leading and shaping the culture you want' – one of the five focus areas within OCIMF's Human Factors Approach.
The much-awaited Information paper on Human Factors: Management and Self-Assessment is on track to be published this month.
Chair and Secretary of this committee have been invited to attend IOGP's Human Performance Summit due in October on behalf of OCIMF.
For enquiries, contact Sanchay Srivastava, OCIMF Nautical Adviser This email address is being protected from spambots. You need JavaScript enabled to view it..
Next meeting: Spring 2022
Maritime Security Committee
The MSC held their third formal meeting on 2 September. The agenda was wide-ranging, providing the opportunity for members to have an open discussion on current operational and policy topics. The following three items will be of general interest to members:
New guidance for the Employment of Private Maritime Security Companies to be published shortly.
The reduction of the Indian Ocean High Risk Area announced on 1 September and what might replace it in 2022.
Risk mitigation measure to counter attacks from loitering munitions and drones.
The MSC also noted the award of the Merchant Navy Medal to Chris Scothern, a long-standing member of the committee, and wished him well in his new employment.
If any member would like to nominate a representative to the MSC, please contact the Security Adviser, Russell Pegg This email address is being protected from spambots. You need JavaScript enabled to view it.
---
Withdrawn publications update
The following OCIMF books and information papers were withdrawn in March as part of the ongoing publications review. The reasons for withdrawal might be of interest to our readers, so they are summarised below:
An Information Paper on Pumproom Safety (1995): Included in ISGOTT6, primarily chapters 10.12 and 12.1.15.
Marine Injury Reporting Guidelines (1997): Since this paper was introduced industry and company reporting systems have become more widely adopted and standardised, so OCIMF no longer needs to provide guidance.
Ship Measurement – Deadweight or Displacement? (2000): Topic included in Marine Terminal Information System programme documents, Marine Terminal Information Booklet and MTPQ book.
Industry Code of Practice on Ship Recycling (2001): Publication superseded by more up-to-date IMO and other requirements as well as industry paper Shipping Industry Guidelines on Transitional Measures for Shipowners Selling Ships for Recycling (2016), of which OCIMF is a joint supporter.
Specification Guidance for Dock Hoses (2006): Included in ISGOTT6, predominantly chapter 18.2.
Oily Water Separators (2006): Out of date. See ICS's Engine Room Procedures Guide (2020) and the upcoming edition of Shipping and the Environment: A Code of Practice.
Guidelines on Safety Management Systems for Hot Work and Entry into enclosed spaces (2008): Included in ISGOTT6, chapters 4.7, 9.4 and 10.
Survival Craft – A Seafarers' Guide (2008): Significantly dated, and industry has taken further action since publication.
Ship To Ship Transfer Check List Appendix 1 (2009): Included in the Ship to Ship Transfer Guide for Petroleum, Chemicals and Liquefied Gases, chapter 3.4 and Appendix E.
Ship To Ship Transfers Considerations Reverse Lightering (2009): Included in the Ship to Ship Transfer Guide for Petroleum, Chemicals and Liquefied Gases.
Cargo Inspectors - Safe Working Practices (2009): Topic included in ISGOTT6, chapter 23.5.
Recommendation Briefing Paper for OCIMF Member Companies On Guidelines For Transiting The Straits Of Magellan Including Commentary On Passages Around Cape Horn (2010): Out of date information.
Maintaining Structural and Operational Integrity on Tankers Carrying Cold Oil Cargoes (2012): Relevant information included in ISGOTT6, chapter 12.1.11.2.
Recommendations for the Safe Management of Cargo Additive Activities Onboard(2013): Relevant information contained in ISGOTT6, chapter 12.1.6.16. Also references in 12.1.7/12.8.
Guide to Purchasing High Modulus Synthetic Fibre Mooring Lines (2014): Topic is significantly covered in MEG4 (2018), chapter 5.6 and Appendix B.
The Hazards of Snap-back – Initial learnings from a serious incident of mooring line failure (2014): Superseded by MEG4.
---
EU updates
The European Environment Agency and the European Maritime Safety Agency have jointly produced the European Maritime Transport Environment Report (EMTER).
According to these agencies, it provides "a factual analysis of the environmental pressures exerted by the maritime transport sector", gives up-to-date information on the relevant EU and international environmental standards and describes current and future actions to reduce the sector's impact on our environment.
For additional documents, see European Maritime Transport Environmental Report (EMTER) - EMSA - European Maritime Safety Agency (europa.eu)
Members can access impact summaries and relevant documents in the member-only area of the OCIMF website.
---
IMO updates
7th meeting of the Sub-Committee on Carriage of Cargoes and Containers
6-10 September online. The meeting developed the draft Interim Guidelines for the Safety of Ships Using Fuel Cell Power Installations and the draft Guidelines for the Implementation of the Inspection Programmes for Cargo Transport Units, both for approval by the 105th meeting of the Maritime Safety Committee (MSC 105) scheduled for April 2022.
 
9th meeting of the Intersessional Working Group on Reduction of GHG Emissions from Ships
15-17 September online. It focused on the draft Lifecycle GHG and Carbon Intensity Guidelines for Maritime Fuels and agreed on the base document for further work and identified the issues for further discussion, e.g., how to count GHG emissions, elements of Well to Tanks and Tank to Propeller (wake) emissions. The meeting considered measures for reducing volatile organic compound emissions from tankers and agreed to request the Marine Environment Protection Committee (MEPC) to task the matter to the Sub-Committee on Pollution Prevention and Response.
71st meeting of the Technical Co-operation Committee
20-24 September. The IMO's technical co-operation programme includes various work for assisting developing countries. It covers the protection of the marine environment, in particular programmes on the reduction of greenhouse gas. The IMO's work is also associated with the United Nations 2030 Agenda for Sustainable Development Goals. Due to COVID-19 pandemic, the delivery rate stayed low and many projects were delivered online. The meeting noted the current status of these technical co-operation activities.
Upcoming meetings
104th meeting of the Maritime Safety Committee
The meeting will be held 4-8 October online. Industry NGOs, including OCIMF, present updated status and future arrangements of High-Risk Area. The meeting will also review the draft Assembly Resolution on Prevention and Suppression of Piracy, Armed Robbery against Ships and Illicit Maritime Activity in the Gulf of Guinea. There are many proposals on new work, including OCIMF's initiatives on casualty investigation (mandating root cause investigation) and VDR (a 30-day recording requirement to all VDR).
The meeting will also review the draft Assembly Resolution on Comprehensive Action to Address Seafarers' Challenges during the COVID-19 Pandemic.
27th meeting of the Pollution Prevention and Response Working Group on Evaluation of Safety and Pollution Hazards of Chemicals
The meeting will be held 11-15 October and will review carriage requirements of chemical cargoes. The outcome will be circulated as MEPC.2/Circ.27 in December 2021.
10th meeting of the Intersessional Working Group on Reduction of GHG Emissions from Ships
The meeting will be held 18-22 October online. The focus will be CII correction factor, SEEMP guidelines, mandatory CII code, mid- to long-term measures, including market-based measures.
London Convention meeting
The meeting will be held 25-29 October online and consider marine geoengineering, sub-seabed (underground) storage of captured CO2 underwater noise from offshore activities, shore generated plastic litter and microplastic.
IOPC Fund meeting
The third meeting in 2021 will be held 1-5 November. The meeting will review incident reports of the oil pollution incidents that require compensation. The meeting will also elect the Director (Head of the Secretariat) for a five-year term.
For more information, visit the IMO section on the member-only area of the OCIMF website.